World Slogan - Will Chew for Beer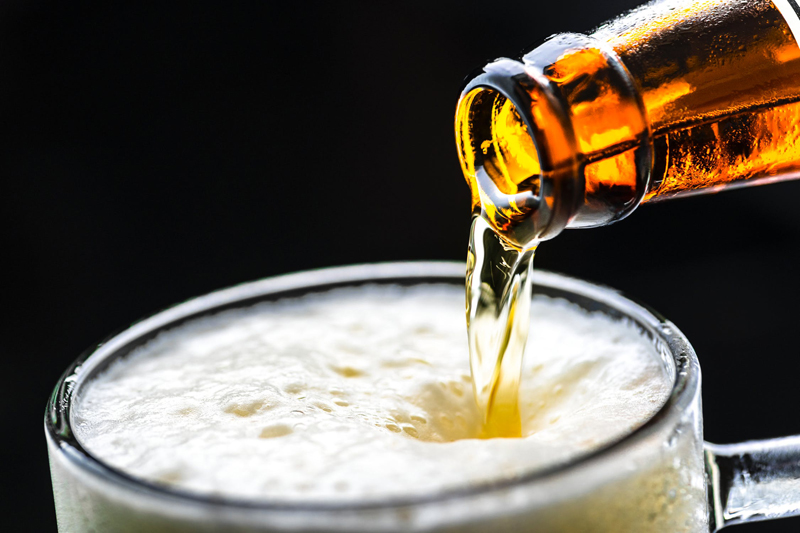 We had been tasting beers since sunrise, exposing our morning palate to delights of the spirit. Sweet tart flavors of freshly picked mandarins merged lightly with Uinta IPA, while yeasty aromas of baking bread poured forth from my oven. An old-world recipe for braided Challah, handed down from my European grandmother, never ceased to seize front-and-center stage. Only moments after the timer buzzed, we were slathering chunks of bread with melted butter and fresh plum topping. This simple food necessitates marriage with a spectacular morning beer, perhaps something coffeeish, like Founders Breakfast Stout. Better yet, Founders Canadian Breakfast Stout, with its light touch of maple syrup, makes a primo pairing with its black background of fig and roasted chocolate espresso flavors.

An old wives' tale cautions against beer in the morning, but I suspect those old wives were not from Belgium; nor were they from Philadelphia where craft beer is a celebrated entity.

By evening, full-bodied beers had meandered into our lineup, including Ayinger Celebrator, rich in caramel, its coffee-like profile dripping with impressions of dark fruit that sent heat to the breastbone. A silky sensation filled my mouth … satisfying, with doppelbock chewiness. Chewy beer, chewy ear lobes … giggles.

Speaking of chewy beer, what about beers that are chewed? Such a concept seems bizarre in our bacteriophobic American culture, but many societies created fermented beverages through the action of human saliva. Sake, Chicha, and indigenous African beers were, and still may be, produced this way.

White rice was a symbol of purity in Japan and became associated with religious Shinto rituals that connected the present to the past. The whiteness of rice was revered. It was an honor for virgins, selected from prominent families, to chew rice in the preparation of Kuchikami no saki, or "chewing the mouth sake." The introduction of ptyalin (tahy-uh-lin) enzyme, or amylase, from human spit converted starch into dextrin and maltose for fermentation. Eventually, this process of polishing the rice was done by entire villages, but fell out of fashion with the discovery that koji and yeast could assist fermentation.

Shinto rice temples were traditionally guarded by foxes. My fox ancestors, cherished for their cleverness, were kami messengers, closely aligned with spirits and natural forces, "the essence of the Shinto faith." Traditions carry cultural identities that link us to our ancestors and do not die easily.

None are more prominent in the world of beer than those followed in the production of Chicha and indigenous African Beer. Chicha hails from the Andes of Latin America and is principally known as Chicha de Jora, made with yellow maize, but may also be made with amaranth, apples, yucca, potatoes, or pineapple, with the addition of cannabis or coca leaf. During the Incan Empire, girls learned Chicha-making techniques in Aqlla Wasi, which were schools specifically for women.

Chicha is made following the same process as beer of European descent. Maize is germinated, the malt sugars are extracted, wort is boiled, and it is fermented in large fermentation vessels. But in the traditional Andean process, the germination step is skipped. Instead, the maize is ground; then chewed in the mouth where it is formed into little balls that are flattened against the teeth and dried in the sun. This is where the enzymatic action catalyzes the chemical decomposition of starches into maltose.

Sam Calagione, extreme brewer and owner of Dogfish Head Craft Brewery in Delaware, crafted modern-day Chicha with the chewing assistance of his entire staff and a bevy of world renowned archaeo-anthropoligists. In 2010, his second appearance in Season One of Brewmasters on the Discovery network traced his path through Peru, into the very areas where Chicha is still made today, documenting a fascinating journey in cultural tradition. Note that the chewing occurs before the boiling process and that boiling continues for over an hour. In addition, fermentation produces the byproducts of carbon dioxide and ethanol (alcohol), which further results in a purified product.

Before our modern-day understanding of sterilization, water was not to be trusted. It was easily contaminated; but alcoholic beverages were free from bacteria and germs. Beer was commonly trusted to sustain the health of sea voyagers, city dwellers (including women, children, and servants), and soldiers in the battlefields of the American Revolution.

Produced as a limited edition and no longer available, Dogfish Head Chicha, crafted with both yellow and purple Peruvian maize, pink peppercorns, and the addition of American strawberries, had an ethereal, pinky-lavender appearance with small, tight head. Complexity was king, with an interplay of fruit, spices, breadiness, and a light feathering of florals in the background.

The traditions of indigenous African beer also include the process of chewing grain, usually sorghum, although millet is also used for brewing. Urbain Coutteau, brewmaster of de Struise Brouwers in Oostvleteren, Belgium, regaled tales of his time in Nigeria where he was invited into a private house-brewery. "Eight women sat in a circle, chewing on sorghum and spitting it into a pot," he said. "Three weeks later, it's beer." The saliva, called amacandwe, implies unity of the community, a ritualistic reinforcement of identity with the group.

Crazy though it seems, there are many ways to create beer, creativity built upon old traditions born into a renewed brewing renaissance. Whether baked, chewed, or wildly fermented, the Beer Fox embraces the adventure. Embrace it with me.

Cheers!

Taste South American culture:
NEW ARRIVAL LUXURIOUS PERUVIAN ALPACA WOOL SCARF WARM & SOFT (Chocolate)


If you think chewing corn is easy, try it yourself:
1 Oz - Open Pollinated Corn Seeds - 'South American Yellow' Bulk Vegetable Seeds
You Should Also Read:
Exuberance of English Bitters
Mystery of Enzymes for Brewing Beer
Crooked Series from Uinta Brewing Company


Related Articles
Editor's Picks Articles
Top Ten Articles
Previous Features
Site Map





Content copyright © 2018 by Carolyn Smagalski. All rights reserved.
This content was written by Carolyn Smagalski. If you wish to use this content in any manner, you need written permission. Contact Carolyn Smagalski for details.