Eden at the Edge of Midnight by John Kerry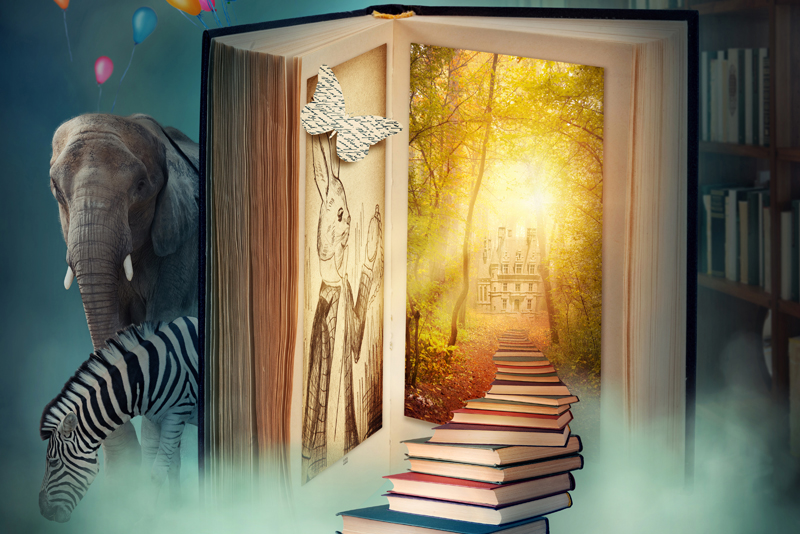 Teenager Sammy Ellis wants to be noticed, but how can she? Not even her father thinks she is important enough to pay attention to. Things change when an odd old woman gives her a bracelet and tells her it is magical. Of course Sammy doesn't believer it, at least not until the thing starts glowing and sends her to a strange world.
Perseopia is a fantastical and dangerous land that is in desperate need of a savior. Almost immediately Sammy finds Mehrak, a strange little man who's house is perched atop a dinosaur named Louis. Sammy wants to get back to the "Mother World" as Mehrak calls Earth, but it may not be so simple. The link between the two was severed ages ago. Sammy may be stuck.
Then they meet Hami, a mage who is positive that Sammy is the Chosen One that is meant to save Persiopia. He drives the rest of their journey, plotting just how to use Sammy. While she is more than willing to trust Hami, Mehrak is not so sure that his plan is what's best for Sammy.
Eden at the Edge of Midnight
by John Kerry shines in the world building and descriptions. It feels like there is a whole world behind Perseopia, but never is there an overload of details. The only problem I have is that Sammy came off as overly whiny. I understand that she is supposed to be young, but sometimes it felt that she was even younger. I also was a little bothered by the romantic interest between teenage Sammy and the two adult male characters. The men seem to reciprocate the feelings at least somewhat and the fact that they appear much older than her felt a little bit creepy to me.
My Recommendation
While I did have a few issues with the characters, overall
Eden at the Edge of Midnight
is a fantastic story. The world is something I would have adored as a young reader, but even as an adult I was thoroughly entertained. I look forward to seeing the rest of Sammy's journey.
Eden at the Edge of Midnight
by John Kerry is available at Amazon.com
My free review copy of
Eden at the Edge of Midnight
by John Kerry was provided by the author
You Should Also Read:
Abarat by Clive Barker - a review
A Knight of the Word by Terry Brooks - a review
The Crooked Letter by Sean Williams - a review


Related Articles
Editor's Picks Articles
Top Ten Articles
Previous Features
Site Map





Content copyright © 2022 by Laura Lehman. All rights reserved.
This content was written by Laura Lehman. If you wish to use this content in any manner, you need written permission. Contact Evelyn Rainey for details.