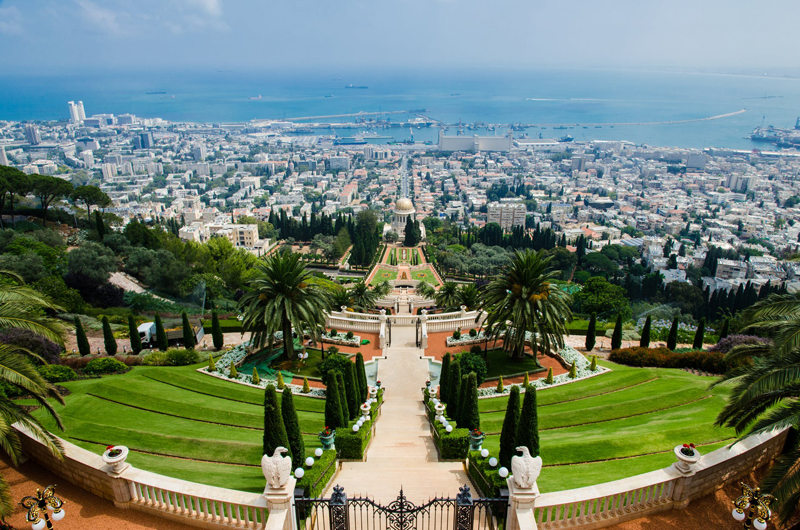 One of the unique principles of the Bahá'í Faith is the firm assertion that women are the spiritual equals of men. Bahá'u'lláh "...declared that as all are created in the image and likeness of the one God, there is no distinction as to sex in the estimation of God. [The one] who is purest in heart, whose knowledge exceeds and who excels in kindness to the servants of God, is nearest and dearest to the Lord, our Creator, irrespective of sex." - 'Abdu'l-Bahá,
The Promulgation of Universal Peace,
p. 394
Recognition of the importance of women dates to the very beginnings of this religion and even into the family of its Prophet-Founder, Bahá'u'lláh. His daughter, Bahíyyih Khánum, is the foremost female historical figure in the Bahá'í Faith, and one of the key elements in preventing schism after Her father's death. Her influence lasted for decades, without the slightest hint of arrogance or manipulation.
Bahíyyih Khánum was barely a toddler when her Father was first imprisoned and his wealth and properties confiscated. Later He and His family were exiled from Persia, so it is likely that she had few memories of any life but one of deprivation and imprisonment. Even as a child, she helped her mother manage the household and younger children, adored her brothers and her Father, and requested that she be allowed to remain unmarried, to better serve them.
The Prophet's daughter was never formally educated, per the custom of the time, but neither were her male siblings, due to the exigencies of exile. Instead, Bahá'u'lláh saw to it that each child of his household was educated equally, whether male or female, relative or servant. "He promulgated the adoption of the same course of education for man and woman. Daughters and sons must follow the same curriculum of study, thereby promoting unity of the sexes." - 'Abdu'l-Bahá,
The Promulgation of Universal Peace,
p. 175
Women of her class and time rarely left the confines of the household, and yet, this woman was effectively the Head of the Bahá'í Faith in certain periods of crisis, such as the deaths of her Father and later, His appointed successor--her brother, 'Abdu'l-Bahá Abbás. Even though authoritative leadership is vested in democratically elected institutions as a way to avoid some of the abuses traditionally associated with rank and privilege, Bahíyyih Khánum managed to lead without seeking power or position for herself.
Rather than building upon her rank as a member of the Holy Family, she gently guided the believers to 'Abdu'l-Bahá and later to his grandson, Shoghi Effendi, the only appointed interpreters of Bahá'u'lláh's teachings. Her understanding and commitment to those teachings allowed her to answer questions and direct attention to their application in daily life.
Bahíyyih Khánum several times acted as the designated point of contact for the believers and their institutions as a source of reliable information, and one they could turn to with problems. In this way, she fostered the development of nascent institutions as well as individuals.
But more than the administrative duties that she carried out, Bahíyyih Khánum was an example of how to live this new feminine equality. She did not try to take on a man's attitude or behavior, nor is it reported that she ever argued to get her point across. In fact, her patient education of the believers, her loving concern, and her steady nurturing of acceptance for the newly elected institutions, did much to build unity within the early Bahá'í community. It appears from historical documents that everyone turned to her with problems, no matter how small. She was a ready and sympathetic listener, no matter if her petitioners were household members or neighbors, children or adults, Bahá'ís or public officials. The deep respect of believers and the public alike was based not just upon her designated rank within the faith, but also upon her personal life and the enormous contributions she made in the development of the Bahá'í community.
Bahá'u'lláh referred to her as an archetype of the people of Bahá. For more biographical information, check out Wikipedia and the
Bahá'í Resource Library
free online.
And for a scholarly look at the sociological and religious implications of her life, see Janet A. Kahn's book,
The Prophet's Daughter: the life and legacy of Bahíyyih Khánum, outstanding heroine of the Bahá'í Faith,
Bahá'í Publishing, 2005.
You Should Also Read:
Equality of Women and Men
Importance of Education
Abdu'l-Bahá - the Perfect Example


Related Articles
Editor's Picks Articles
Top Ten Articles
Previous Features
Site Map





Content copyright © 2023 by Cheryll Schuette. All rights reserved.
This content was written by Cheryll Schuette. If you wish to use this content in any manner, you need written permission. Contact Cheryll Schuette for details.