Fate and Predestination in the Bahá'í Faith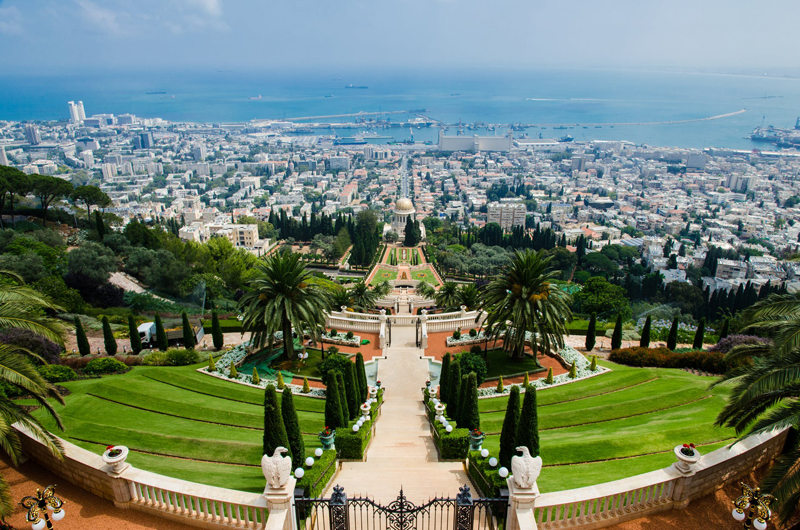 What does the Bahá'í Faith say about the perennial questions of Fate and predestination, and how does free will play any part in the Plan they firmly believe exists for creation? These are not new questions, of course, and the age old promise that all will come right in the end for the pious faithful is not the most satisfactory answer to an explicit request.
It seems to me that much of what people find attractive in religion, philosophy, political rhetoric and even marketing promises, is the guarantee of some control of their own fates. In the search of that power, we follow whomever and whatever we believe will relieve our helplessness and anxiety, not to mention improve material and physical well-being.
Alas, not much of what humanity puts faith in works over time. Religion has the greatest longevity, but even that after a few generations, suffers the machinations of those hungry for greater control, additional personal power or material goods, or whatever.
Bahá'u'lláh, Prophet/Founder of the Bahá'í Faith does not promise greater control of the physical world, nor does the religion teach helpless acceptance of whatever happens as being the will of God--or any other deity. Instead, He defines creation as being both determinate and potential,
i.e.,
there are the rules which only God can change, but there are also degrees of freedom available within those rules:
"Know thou...that the decrees of the Sovereign Ordainer, as related to fate and predestination, are of two kinds. Both are to be obeyed and accepted. The one is irrevocable, the other is, as termed by men, impending. To the former all must unreservedly submit, inasmuch as it is fixed and settled. God, however, is able to alter or repeal it." But then He warns those who would still wish to insist on changing something: "As the harm that must result from such a change will be greater than if the decree had remained unaltered, all, therefore, should willingly acquiesce in what God hath willed and confidently abide by the same. The decree that is impending, however, is such that prayer and entreaty can succeed in averting it." -
Gleanings from the Writings of Bahá'u'lláh,
p. 133
'Abdu'l-Baha was asked to explain whether if the predestination mentioned in the Holy Books was fixed, was effort to change it useless? To which he answered:
"Fate is of two kinds: one is decreed, and the other is conditional or impending. The decreed fate is that which cannot change or be altered, and conditional fate is that which may occur. So, for this lamp, the decreed fate is that the oil burns and will be consumed; therefore, its eventual extinction is a decree which it is impossible to alter or to change because it is a decreed fate. In the same way, in the body of man a power of life has been created, and as soon as it is destroyed and ended, the body will certainly be decomposed, so when the oil in this lamp is burnt and finished, the lamp will undoubtedly become extinguished.

"But conditional fate may be likened to this: while there is still oil, a violent wind blows on the lamp, which extinguishes it. This is a conditional fate. It is wise to avoid it, to protect oneself from it, to be cautious and circumspect. But the decreed fate, which is like the finishing of the oil in the lamp, cannot be altered, changed nor delayed. It must happen; it is inevitable that the lamp will become extinguished." - Some Answered Questions, p. 244
In my life (I am not an expert in anything else) this explanation means that I am predestined to suffer the consequences of not only my own decisions, but possibly also those made by others on the planet--and even the weather! That is how creation works. My fate is partly predetermined by such things as my sex, my heredity, and where on the planet I was born.
My happiness, however, is entirely under my own control. I can choose how to react to stuff that happens to me, whatever the source. I chose a religion whose teachings give me that power, as well as the confidence that it is possible to find gems of knowledge in everything, because creation has a purpose. It will take effort. And faith. Little by little, day by day.
You Should Also Read:
The Purpose of Creation
Benefitting from Life's Tests
How to Ask for Divine Assistance


Related Articles
Editor's Picks Articles
Top Ten Articles
Previous Features
Site Map





Content copyright © 2022 by Cheryll Schuette. All rights reserved.
This content was written by Cheryll Schuette. If you wish to use this content in any manner, you need written permission. Contact Cheryll Schuette for details.