Mike Lawrence Aces the Competition - Interview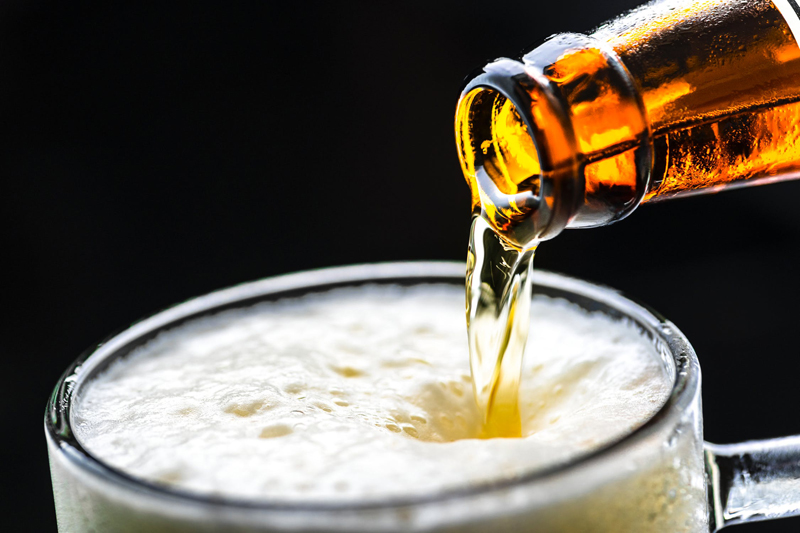 Michael Lawrence, 2013 Philly Beer Geek winner, hit pay-dirt, winning over $5,000 worth of beer-centric prizes on June 6th, as he edged ahead of his peers in the Philly Beer Geek Finals competition at the Field House in Philadelphia. How does one win this tournament that focuses on beer knowledge and passion? What are the feelings these geeks have, and is it really fun … or is it nerve-wracking? Let's get the scoop from the 2013 Philly Beer Geek himself:

Was it unnerving to have random questions thrown at you by any of the eight celebrity judges?

I don't think so. I've been told more than once that I talk too darn much so free-form questions are right up my alley. I love to talk and enjoy conversating about anything. Talking about beer with those esteemed judges was a privilege if anything else.

What was the scariest part of the competition – other than the zombie?

The blind tasting round was without a doubt. I didn't do well on that round in the semi finals and knew if I had a weakness it was that. It didn't help that I drank nothing but Berliner-Weiss before that and totally wrecked my palate. I was lucky to nail the blind single hop round because the last beer I brewed was with Jenn and she adores the Citra hop. We used it for aroma and dry hopped with it so it was fresh on my mind.

What was the most fun?

Had to be the Zombie skit. I think I chipped my brother Joe's tooth, but pouring craft beer down a Coors Light-drinking zombie's throat was an easy highlight for me.

At what point did you answer a question that made you proud to be a beer geek?

Being able to identify a single hop in a blind tasting was impressive to me but I think I was most proud of my Beer Geek versus Beer Snob answer as I'm not only passionate about that but I had the attention of the entire room and my answer seemed to resonate with everyone there.

Were any of the judges intimidating to you? Who and why?

Not at all. They all were a delight. I knew all six finalists deserved to be there so there was nothing to be intimidated about … plus I bribed them with amazing beer, a cheese, bacon and charcuterie plate from Sheppard Valley Creamery and Bespoke Bacon as well as beer infused cupcakes.

What about during the Semi-finals? You didn't seem quite as confident then. Tell me about that.

Yeah the Semi-finals were tough. I barely escaped the preliminary round at the Grey Lodge, which was trivia based and this was a much bigger ordeal. Prepared bits, blind tastings, celebrity judges and probably the biggest difference was my competition all had either been sponsored or won a preliminary round of their own. I also didn't know them very well so it was intimidating no doubt. I think that was a strength going into the finals because after the semis that intimidation was gone. I got to see that they were just like me … geeked up about beer and it was anyone's to win. I went into the finals confident that with a good showing I'd at least make it interesting.

Can you recap for me your pitch for a horror-humor Philly Beer Flick?


I knew I wanted to do something with a "Zombie" because I find the zombie is a great metaphor for a lot in today's society. As a species we often succumb to following the herd and mass advertising is our shepherd. This too is true with beer. If you gave a macro drinker just 20 beers and had them choose their favorite based on flavor alone, I'd be surprised if any would pick their usual macro swill. But there are still large groups of people that, when they decide to have a beer, drink the same unimaginable, never-changing and lackluster beer over and over again. Call it habit, brain-washing, laziness or being a zombie. It's an epidemic and one that bothers the shtuff out of me.

So in "The Night of the Liquid Bread" we would reach a total societal awakening that would start a revolution of the people to take back our vitality and freedom, our souls and our beer. There is only one place where such a revolution could take place. There is only one city with enough passion for beer to support such an attack on the mega breweries and their evil ways … one city who's reign atop the beer world would have enough soldiers for the war … and most importantly, there is only one city who has the vast amount of incredible craft beer that could defeat the hoards of swill drinkers. The revolution has arrived and will begin in Philadelphia! We will defeat these zombies the only way we know how - With Philly Craft Beer ... The antidote to the mass produced swill virus!

Should Philly Beer Geek have a mascot? What would it be?

Being a Phillies season ticket holder, I naturally know what a great mascot can do! Being The Hoparazzi I am kinda partial to what I think the mascot should be. But is there really any other choice than Hoppa-Delphia ?

Do you think making the movie Beeradelphia helped you in some odd, geekish way?

Without a doubt! The film may have only been an hour and a half long but it took years of research, shooting interviews, meeting and discussing beer with the greatest minds in the industry and of course a shovel ton of drinking. (yes drinking can be measured in "shovel-tons") But I think that goes along with being a beer geek. Past winners have worked for commercial breweries, written for beer publications, were sales reps for craft beer and even founders of a homebrew club. I think everyone has something beer related outside of the competition that helped them in a geeky way. Mine just happened to be a film.

Thirsty for more? Read on:

Philly Beer Geek 2013 Mike Lawrence – Interview
The Serious Side of Mike Lawrence – Interview

Cheers!

Photo Credits Tom Conville - tomconville.com: Mike Lawrence tries to identify the single hop varietal (he does!); Lawrence and Zombie fight it out onstage


You Should Also Read:
Hoparazzi Videographer Wins 2013 Philly Beer Geek
Beer Trivia for the Light-Headed Drinker
The Human Growler Becomes a Legend


Related Articles
Editor's Picks Articles
Top Ten Articles
Previous Features
Site Map





Content copyright © 2022 by Carolyn Smagalski. All rights reserved.
This content was written by Carolyn Smagalski. If you wish to use this content in any manner, you need written permission. Contact Carolyn Smagalski for details.