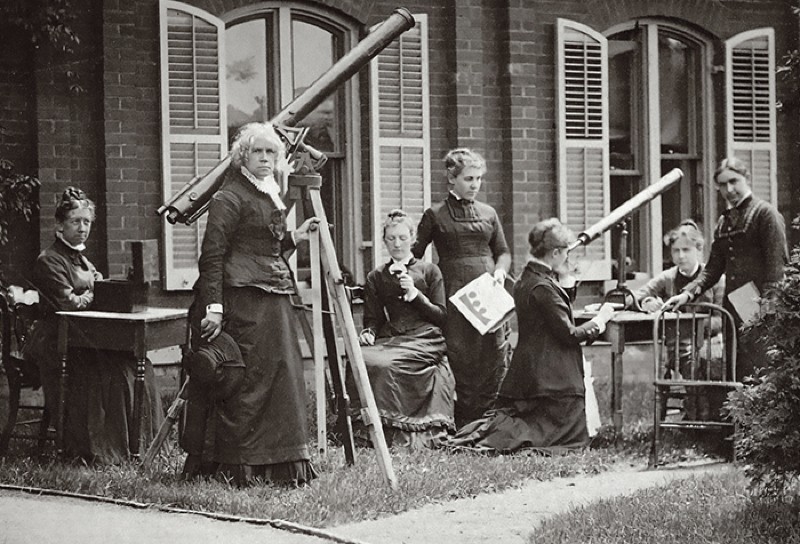 Maria Mitchell and students at Vassar
Maria (muh-RYE-uh) Mitchell was a true pioneer woman. She didn't brave a physical wilderness, but chose the harder job of pioneering education for women. She was the first American woman to discover a comet, the first to be elected to the American Academy of Arts and Sciences, the first woman member of the American Association for the Advancement of Science, and the first American woman to be a professional astronomer.
Family and Nantucket
Born on August 1, 1818, Maria was one of ten children. Her parents, Lydia Coleman and William Mitchell were Quakers (Religious Society of Friends) living on Nantucket, an island off the coast of the US state of Massachusetts. At that time the population was predominantly Quaker, a sect that was not hierarchical, and both men and women ministered. They lived plainly, believed in honest speaking and valued education for boys
and
girls. Although Maria later became a Unitarian, these influences show in her character and her life.
Her father was a teacher and a keen amateur astronomer. When he observed, he used a chronometer for the timing and had one of his children count the seconds for him. Maria was quite interested, but it was just another chore to some of her siblings. Yet, according to her sister Phebe, "they all drank in so much of this atmosphere, that if any one had asked a little child in this family, 'Who was the greatest man that ever lived?' the answer would have come promptly, 'Herschel.'"
When Maria finished her schooling, she became a teaching assistant for a while and at 17, opened a school of her own. The following year she became the librarian at Nantucket's Atheneum Library, a job she did for the next two decades. Besides a salary, this was an ideal job for an avid reader.
Comet
In 1847 an event changed the direction of Maria Mitchell's life. She discovered a comet and received a gold medal from the King of Denmark. The comet is now designated C/1847 T1, but is still commonly known as "Miss Mitchell's comet". At that time the only other woman to be credited with a comet discovery was William Herschel's sister Caroline who discovered eight of them. Miss Mitchell's comet was quite a novelty and made her famous.
The year after the comet, Mitchell was elected to the American Academy of Arts and Sciences, and a few years later to the American Association for the Advancement of Science. She was also offered work on calculating planetary positions, which gave her many years of part-time work.
Travel
Mitchell liked traveling. She lived frugally and always saved from her salary in order to do this. In 1857 she went to Europe, taking in the culture, the scenery and of course the observatories, where she was a welcome visitor.
One of the high points of her first European trip was an invitation to visit Sir John Herschel and his family. He was William Herschel's son and himself one of the most eminent scientists of his time. She wrote to her father from Collingwood, the Herschel home. William Mitchell must have been elated.
Professor Mitchell
In the 19th century only a few colleges admitted women. In 1861 Matthew Vassar decided to do something about it. He provided a piece of land and half his fortune to found a college to offer degree-level education to women. The very first professor he hired was Maria Mitchell. She was to be Professor of Astronomy and also Director of the Vassar College Observatory.
Vassar College opened in 1865. Mitchell was used to observatory work, which she very much liked, yet was unsure about teaching. But she had learned the basics of astronomy alongside her father and the rest through doing astronomy. Why not teach her students in the same way?
While men studying astronomy were sitting in lectures, young women in Vassar were busy in the observatory. They learned the math, how to make careful observations and time them, then how to record them and do the calculations. On two occasions she took students halfway across the country to observe solar eclipses. The students were expected to take a full part in the observations.
The header image shows Mitchell with a group of her students who are measuring the Sun's rotation using the movement of sunspots.
[Credit: ID 08.09.05, Archives & Special Coll., Vassar College Lib.]
But Maria Mitchell didn't expect to produce astronomers. She wanted to produce well-educated women with inquisitive minds and the ability to think. When she had to choose between her research and committing herself to the education of women, she chose to serve her fellow women. She was active in the American Association for the Advancement of Women and served as its president for a time. She also supported the suffragist movement.
Even at Vassar College, inequality crept in. Mitchell had been working there for some time when she realized that younger and less experienced male professors were earning more than she was. She succeeded in getting the salary terms changed so that male and female teaching staff were treated equally.
The end
There were no retirement years. Mitchell continued to teach, to inspire and even to fundraise until her health began to fail. In 1888 she resigned from the college, declining their offer to make her a professor emeritus and have her continue to live in her quarters at the observatory. She went to Lynn, Massachusetts where her family was, and died the following year. She is buried on Nantucket.
There's a
Maria Mitchell Observatory on Nantucket
, and her Vassar telescope is on display in the Smithsonian National Museum of American History.
Reference:
Maria Mitchell: Life, Letters, and Journals by Maria Mitchell
, compiled by Phebe Mitchell Kendall, 1896 https://www.gutenberg.org/ebooks/10202
You Should Also Read:
Caroline Herschel
Maria Mitchell - in Her Own Words
Doodles for Women Astronomers


Related Articles
Editor's Picks Articles
Top Ten Articles
Previous Features
Site Map





Content copyright © 2023 by Mona Evans. All rights reserved.
This content was written by Mona Evans. If you wish to use this content in any manner, you need written permission. Contact Mona Evans for details.