Saison de Rose - Marnie Old Speaks Good Beer Sense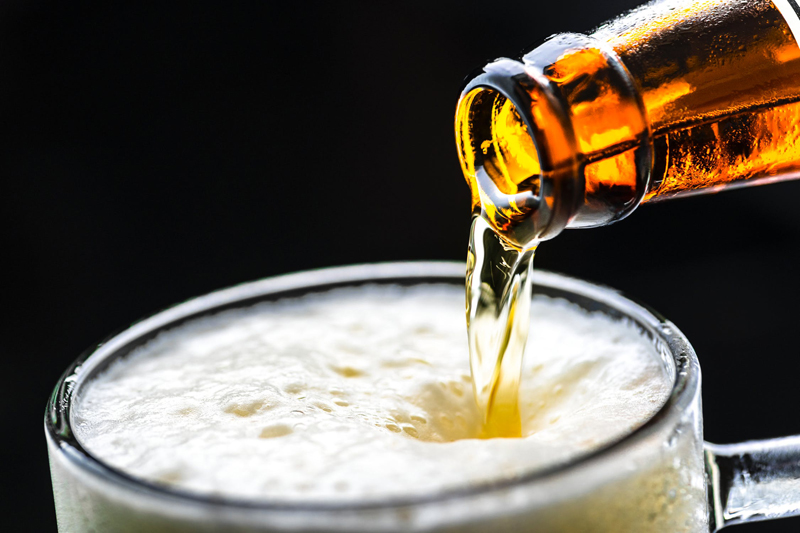 When a group of single-minded people join together for a common cause, the results can make a huge difference in the lives of other people. Saison de Rose, a Belgian-style, pink Saison Ale created for release during Breast Cancer Awareness Month, may just be a little, sessionable beer at 5% ABV, but she sure packs a wallop.

Designed by four Philadelphia-area women – Erin Wallace, Marnie Old, Tara Nurin, and Carolyn Smagalski – Saison de Rose is being brewed by Free Will Brewing Company in Bucks County, Pennsylvania. Proceeds from the beer are flowing into the Rena Rowan Breast Center at Penn Medicine in Philadelphia, benefiting local residents who are challenged with the potentially-deadly disease.

In her initial conversation with David Wood, Erin Wallace wanted to create a beer in collaboration with women who had a strong presence in the regional beer scene. Since this beer would have an impact on the lives of many women, she felt sure the ladies on her short list would rally around … and rally they did! One of our team players is the articulate Marnie Old. Tune in to hear what she says about her involvement in the project:

Q. Tell us a little about yourself. What do you do, and what is your role in the world of beer?

A. I am a sommelier and wine author, most recently of the award-winning digital book Wine Simplified. I have an irreverent wine column in the Philadelphia Daily News called Cheap Buzz, every other Thursday next to Joe Sixpack. Wine is my primary trade, but wine and beer are far more alike than they are different and I write and teach about beer alongside wine. In the beer universe, I'm best known for having co-authored He Said Beer, She Said Wine with beer guru Sam Calagione of Dogfish Head, a tongue-in-cheek debate over which drink pairs best with food, and as the founder of Philly Bierfest, an annual February event at the German Society of PA celebrating Pennsylvania's German brewing heritage.

Q. Creating this beer was a collaborative effort. With so many different styles of beer in the craft beer market, how did you decide on what style of beer to make?

A. The first step was to decide what ballpark attributes we wanted the beer to have and who we wanted it to appeal to. We all agreed that we wanted a refreshing session style to maximize appeal, something that could interest those outside beer geek circles. When you're brewing for a cause, you need to reach the widest possible audience, and we liked the idea of making a beer with cross-over appeal that could tempt and please drinkers of ales or lagers, wine or cocktails. From there, we quickly zeroed in on a light-bodied Saison as the ideal base for our brew. It's a style that can be balanced at varying strengths, marries well with all sorts of added ingredients, and can deliver great complexity without leaning on hops, which can turn off those outside the core geekhood. Once we decided on Saison, the core recipe took shape pretty quickly. We loved the idea of a naturally-pink beer and played off Free Will's experience brewing with hibiscus. Pink grapefruit seemed like a natural companion, cementing our commitment to brewing a tangy beer. Ginger and pink peppercorns were chosen to broaden and deepen the beer's aromatics and bring a fall feel to the flavors.

Q. How did you all get to know each other?

A. Carol, Tara and I are all colleagues who write about beer and who are active in the local beer scene. I have served many times on the judging panel for the Philly Beer Geek competition Carol organizes with Jason Harris, and that's where I met Erin during Philly Beer Week this year. However, I think we all know each other much better after this project.


Q. Marnie, I understand you have involved a number of merchants - who are not beer people - in the project. How do they intend to be involved?

A. Tara Nurin helped us connect with the folks at McGillin's Olde Ale House and BRU, who wanted to team up to run a Saison de Rose feature for the Midtown Village Fall Festival coming up on Sunday Oct. 6th. She connected us with the event's publicist and I provided them with ideas for how businesses who don't sell draft beer could still participate in the fundraising aspect of the 'Saison de Rose' project. Since they're already planning special offerings and activities for the event, I suggested that merchants could each riff on our signature flavors for the day and contribute a portion of proceeds to Penn's breast care center in solidarity. Pink grapefruit, ginger, hibiscus and pink peppercorns could make for a wonderful combination beyond beer - I can picture them together in a salad or a shower gel, in a margarita or a gelato.

Q. Tell me about the development of the beer. Why ruby pink grapefruit?

A. We thought a fruit flavor would broaden the beer's appeal, especially to women who might not normally order a craft beer. We didn't want to replicate popular styles, though, so the usual suspects like raspberry and strawberry were out. I was particularly drawn to grapefruit for a few reasons. First, we knew we didn't want to make a palate-pounding hoppy IPA, but liked the idea of the hop-like scent of grapefruit peels being a familiar touchstone for die-hard craft beer lovers. Second, we already knew that we wanted a beer that was light and a little tart with a little wheat to balance the barley malt, so the citrusy sourness of grapefruit seemed a good fit.

Q. Would someone who is a wine drinker like this beer? What would be attractive? How does it differ from wine?

A. All of the parties involved agreed from the start that it was more important to make a beer that had the potential to be popular than one that only appealed to the true beer believers, and that means something that can reach beyond the beer bar crowd. The modest alcohol and balanced refreshment of this beer should certainly appeal to wine drinkers, especially since it also features that zing of acidity found in wine and most fruits. However, to be honest, I was thinking just as much about drinkers of lagers and light beers, of cosmos and mojitos, of lemonade and orangina. There's a reason that wheat beers are the gateway drug of the beer world - modest alcohol and mild bitterness partnered with vivid, complex flavor is the recipe for maximizing appeal across all audiences.

Q. Did this beer need to be pink? Why?

A. Of all the causes out there, breast cancer is the one that has used color most effectively, so we definitely wanted to use pink foods and flavors in the beer. We debated a little about whether the beer itself should look pink in the glass, but ultimately decided yes because it would make a bigger splash and a bigger statement. We loved the idea that this beer would be vivid in hue and would stand out on the bar, and toyed with the idea of using beets. But, Free Will's experience brewing with hibiscus for natural color and tartness clinched the deal.

Q. October is about German beers – Oktoberfest, Bavaria, and marzen beers. Are you trying to re-write history?

A. I am all for seasonal beers, and couldn't be a bigger booster of German beers and local spins on German styles. However, I sometimes feel that the traditional roster of seasonal beers could stand to be shaken up a bit. In developing Saison de Rose, the question of whether the beer was too summery for October came up. Personally, I don't think refreshment ever goes out of style. People crave a quenching, drinkable brew even when the weather chills off. Besides, a German recipe was out from the get go if we wanted to use fruit or hibiscus, or brew up a beer that was pink, pink, pink in the glass.

Cheers!

Additional donations are encouraged through the Rena Rowan Breast Center website. When making donations by check, write "saison de rose" in the memo field on the check; online, type "saison de rose" in the "In Honor of" box.


You Should Also Read:
Saison de Rose Debuts in Philadelphia
Saison de Rose - Erin Wallace and The Launch
Pumpkin Ales and Foods That Harmonize


Related Articles
Editor's Picks Articles
Top Ten Articles
Previous Features
Site Map





Content copyright © 2022 by Carolyn Smagalski. All rights reserved.
This content was written by Carolyn Smagalski. If you wish to use this content in any manner, you need written permission. Contact Carolyn Smagalski for details.