Saison de Rose - Erin Wallace & The Launch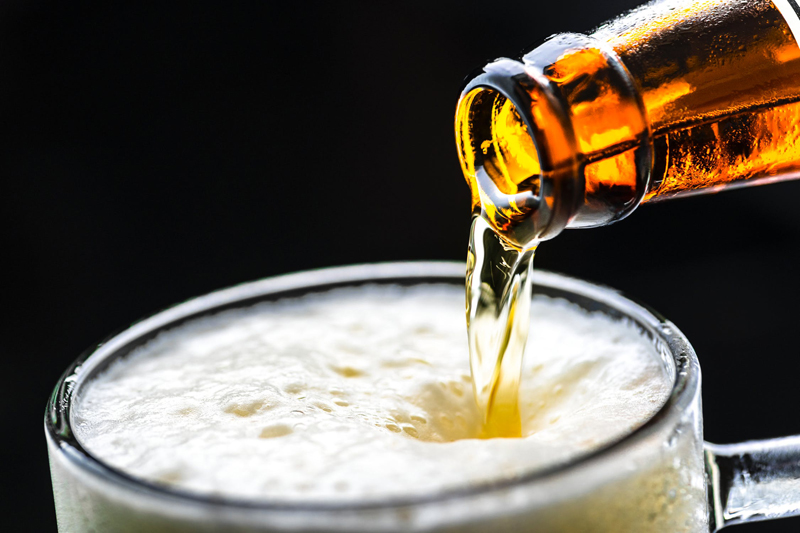 No doubt about it. Erin Wallace is one of the most dynamic women you could ever meet. She comes off a bit soft spoken, with round edges like a well-seasoned Winter Warmer, classically designed for a special occasion. But she doesn't wait for those special occasions. She creates them herself.

She is the energy behind the Saison de Rose Collaboration Beer, designed by local beer mavens and brewed by Free Will Brewing Company in Bucks County Pennsylvania. This "Season of Pink" beer is one of hope – one that meets the public in October 2013. The Saison de Rose Team has targeted the Rena Rowan Breast Center at Penn Medicine as the recipients of all proceeds from this autumn project.

The cancer center at Penn Medicine offers local residents a host of options, diagnostics, and rehabilitative services at a time in their lives when it seems like the earth has opened up, ready to swallow them. This little beer promises to deliver a big punch in knocking back the adversity associated with Breast Cancer in their lives.

We asked Erin Wallace to give us a bit of background on this Saison de Rose project, detailing her involvement with it. Here's her story:

Q. Tell us a little about yourself. What do you do, and what is your role in the world of beer?

A. I was born and raised in Baltimore, Maryland; then moved to Philly to attend Moore College of Art & Design. While finishing my degree, I started waiting tables and bar tending at Cherry Street Tavern. While working there I took a trip to Austria. That's when I really fell in love with beer. I came back and became more adventurous in my tastes for beers.

Soon after, the opportunity to open the Old Eagle Tavern came up and I jumped at it. This is where I really experimented and taught myself about beer by sampling, reading and touring breweries. Five years later, I opened the Devil's Den, a larger beer-oriented restaurant. And I'm currently in the process of opening the Barren Hill Tavern & Brewery in Lafayette Hill PA, a brewpub with 30 draft lines pouring 6-10 house beers.

Q. Erin, the story goes that you and David Wood came up with the idea to brew a collaborative-benefit beer for Breast Cancer Awareness, targeted for release in October, 2013. Can you tell me about how the topic came up?

A. We ran a Free Will event during the Homebrewer's Conference this June. Dave and Dominic where hanging out with me. Dave and I know each other fairly well. He is a regular at the Old Eagle Tavern and a member of the Homebrewers' Club, YTM, that meets at the Old Eagle. After a few drinks I was telling Dave about a few ideas that I have been rolling around in my mind for awhile.

One happened to be expanding on some events that we have run for the Rena Rowan Breast Center in the past, taking them to the next level. Dave looked at me, said he loved the idea and we started brain storming. Why not just a pink beer? Why not invite other women in the beer industry to take part? And so on. They next day, I got a text message saying that John heard about the idea and Free Will was committing to it. It actually took me a few minutes to remember what Dave was talking about.


Q. Most people don't just pull an idea like this out of the blue. Sometime in the past, you must have thought about doing something along these lines. Where did the roots of the idea come from?

A. I did run an event for Breast Cancer charities in the past. During beer week one year, we ran Bell's for Boobs with Bells Brewing Company for the Rena Rowan Breast Center. I loved working with them and we raised $3000 in one day. I always look at events that I run and think, "How can I make them bigger and better next time? The last time, we picked a brewery and donated $1 from the featured brewery to the Rena Rowan Center. What's the next step? Brew a beer for them!"

So this has been something that I have been thinking about for awhile. I actually have a few thoughts on how to expand this next year if I get the chance.

Q. You have the advantage of owning three beer establishments where you can feature this beer and run events to raise additional funds. Can you tell me about those pubs?

A. The Old Eagle Tavern is in its tenth year. It's a small neighborhood tavern with 11 rotating craft and import drafts and about 60+ bottles, depending on the day. Chef Rich has prepared a great menu with a fun 'take' on bar food.

The Devil's Den is in its 5th year. We are a 70-seat beer bar/restaurant that grows to 100 seats with outdoor seating in the summer. We have 17 rotating import and craft drafts with an over 200+ bottle selection. Our menu is very beer focused with mussels steamed in beer, homemade sausages and some amazing entrees.

The Barren Hill Tavern & Brewery is about to open. It is a 200+ seat brewpub, when both floors are open. We have 30 draft lines with 6-10 featured house beers brewed by Scott Morrison. Our Chef from the Devil's Den, Paul Trowbridge, will be Executive Chef at both the Den and Barren Hill.

Q. What were the thoughts that gave you guidance in choosing the charity that would benefit from this very special beer?

A. My aunt, my dad's eldest sister, passed away from breast cancer, so breast cancer charities have a special place for me. We have worked with the Rena Rowan Center in the past and have enjoyed it. It makes it even better knowing that the charity is local and the money is going to help people in the area. I love that the Center does state-of-the-art research but also helps people fighting breast cancer.

Q. Tell me about the major thoughts that guided you in this project.

A. I think that breast cancer is one of those charities that everyone can get behind because it affects everyone. Everyone knows someone that has somehow been affected by breast cancer in some way. I think that the charity and cause had influence over the beer and direction we chose. Pink is the symbolic color of breast cancer so the beer had to be pink; so, why not use fruits - ingredients that are pink, like grapefruit, peppercorns, hibiscus. I feel that a saison is a very feminine beer style … not because only women like it, but it is soft and gentle compared to the harsh bitter IPAs and similar beers. As I also stated, I've held some fundraisers in the past for the Rena Rowan Center and I wanted to make this one bigger and better and raise a ton of money!

Cheers!

Additional donations are encouraged through the Rena Rowan Breast Center website. When making donations by check, write "saison de rose" in the memo field on the check; online, type "saison de rose" in the "In Honor of" box.


You Should Also Read:
Saison de Rose Debuts in Philadelphia
Philanthropy and the American Brewer
Jason Harris - Keystone Homebrew Supply Adventure


Related Articles
Editor's Picks Articles
Top Ten Articles
Previous Features
Site Map





Content copyright © 2022 by Carolyn Smagalski. All rights reserved.
This content was written by Carolyn Smagalski. If you wish to use this content in any manner, you need written permission. Contact Carolyn Smagalski for details.