Saison de Rose - Becky Dublin Delivers the Punch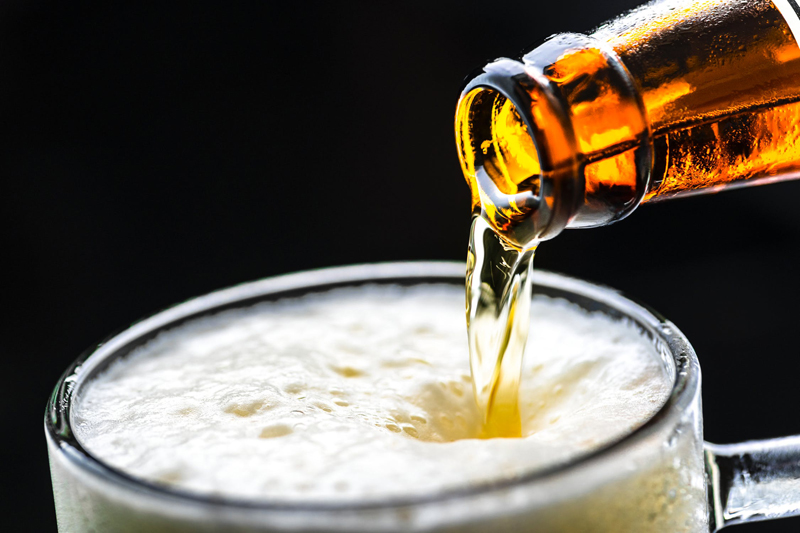 When four professional beer ladies from the Philadelphia region decided to team-up with the brewing pros at Free Will Brewing Company, magic began to happen. What began as an idea, quickly expanded into a Collaboration-Saison just in time for October, Breast Cancer Awareness Month.

Philadelphia's Rena Rowan Breast Center at Penn Medicine, with its strong track record for research, innovative cancer treatments, genetic and psychological support, and rehabilitative services was the ideal match for the team, who felt driven to have an effect on the lives of local women.

They designed a Belgian-style Saison, brewed with the splash of grapefruit, Asian ginger, and pink and black peppercorns; then added hibiscus, creating a sessionable beer of 5% ABV, glowing with a pinkish hue. All proceeds from this crisp, zesty ale will benefit the Rena Rowan Breast Center.

Erin Wallace, owner of three Philadelphia beer-centric restaurants and the idea-woman behind the Saison de Rose project, professionally leans on Becky Dublin of Punch Media for hype and ink in the public eye. With the launch of this project, Becky jumped onboard, pro-bono, to broadcast the project for the team.

We stopped Becky in her whirlwind day to ask her about her involvement with Saison de Rose:

Q. Tell us a little about yourself. What do you do, and what is your role in the world of beer?

A. I am a Public Relations Associate at Punch Media and have gotten involved with beer in this past year through working with Erin Wallace, owner of Devil's Den, Old Eagle Tavern, and Barren Hill Tavern & Brewery. We have other craft beer clients now, as the popular wave of craft beer crests in Philadelphia, but representing Wallace's establishments has been the catalyst for my involvement in the world of beer.

Q. Can you elaborate? How did you get involved with Erin Wallace's Saison de Rose project?

A. I work with Erin Wallace as her publicist at PunchMedia.biz, representing her three Philadelphia beer-centric establishments. Her involvement in this project is super exciting, not just for the exposure that her bars are getting, but for her as a budding beer authority in Philadelphia. Working with Erin over this past year has been such a pleasure - and I'm not just saying that. She knows her stuff and is genuinely excited about every project, developing creative ways to execute awesome ideas; it makes my job easy to promote her. Punch Media does a couple pro-bono projects each year-- in the past we've worked with Philabundance and Share Our Strength-- so this was an opportunity for us to get involved with yet another extremely worthy cause just in time for Breast Cancer Awareness Month.

Q. Tell us about any major thoughts that guided you in this project.

A. Breast cancer has impacted people in my life and I have seen the devastation of the disease, along with the incredible strength of the survivors. The Rena Rowan Breast Center has been a great organization to work with and I know that the money raised will go directly to patient care and benefiting the men and women who need the most help.


Q. Did you feel comfortable working with craft beer people?

A. I'm not a beer expert, I'm a publicist; so I've just tried to do my part with as much authority and grace as these established craft beer professionals. It has been an honor to work with some of the best beer minds in the city, and the fact that they happen to all be women is really empowering for me to watch. With so much talent behind this project, I really wanted to think outside the box and contribute as much as I could.

Q. Have you written about Saison de Rose in any publications? Press Releases? Where can we read these articles?

A. The press release has been all over the internet, and the excitement for this project has been contagious.

Q. What projects are attached with Free Will Saison de Rose?

A. Free Will Saison de Rose will be the featured beer at Devil's Den Free Will Weekend. Saison de Rose will debut on Friday, October 4, 2013 at 7pm at Devil's Den in South Philly and Devil's Den has dedicated eight draft lines to Free Will brews for the whole weekend, October 4-October 6. For that weekend, Devil's Den will donate $1 from every Free Will draft sold to Rena Rowan Breast Center.

Old Eagle Tavern's Free Will Night is Wednesday, October 23, starting at 7pm. Old Eagle Tavern in Manayunk will donate $1 from every Free Will draft sold to Rena Rowan Breast Center all night with food specials from the kitchen and four draft lines dedicate to Free Will. The brewers from Free Will Brewing will be on hand to discuss the beer and the Saison de Rose project.

Red Owl Tavern in Old City celebrates their one year anniversary on Thursday, October 24 and in honor of Breast Cancer Awareness Month, will be raising funds for the Saison de Rose project.

Q. What is your impression about this pink beer?

A. My impression of Saison de Rose is that it is a serious beer for serious beer drinkers. The beer is accessible to people who are not seasoned beer enthusiasts and appeals to a wide variety of palates, but still manages to please serious beer fanatics. The flavor profile is smart, which is important because the ingredients weren't just selected because they were pink for the sake of being pink. I'm excited to see where this project goes this year and hope to be involved in the years to come as it grows and evolves.

Q. How will this beer help local women?

A. This beer will help local women through the amazing local charity. Free Will, Stockertown Beverage Company, and every participating restaurant, bar, and bottle shop have all worked extremely hard to make this charity a large success. The project goal has been surpassed and the Philadelphia market has given Saison de Rose an extremely warm reception. Benefiting a local charity has a semblance of instant gratification, because we can see in our city how the money is being used.

Additionally, the unique part of this project is the involvement of four powerful female beer personalities. These women, Erin Wallace, Carolyn Smagalski, Tara Nurin, and Marnie Old, are breaking boundaries. It sounds so antiquated to say that beer is a man's world, but it is still largely true. This project turns that stereotype on its head and proves that women have a voice in the beer world. Not only are these women exceptional beer women, they are exceptional beer people, regardless of gender. I hope this project amplifies that point. These women weren't just chosen because they like pretty pink things and lipstick; they were chosen because they are truly the city's best.

Cheers!

You can read the first press release here:
Saison de Rose Press Release Hint: click the back-button to return to this story

Additional donations are encouraged through the Rena Rowan Breast Center website. When making donations by check, write "saison de rose" in the memo field on the check; online, type "saison de rose" in the "In Honor of" box.


You Should Also Read:
Saison de Rose - Erin Wallace & The Launch
Saison de Rose - John Stemler Behind the Wizardry
Saison De Rose - Counting Down with Tara Nurin


Related Articles
Editor's Picks Articles
Top Ten Articles
Previous Features
Site Map





Content copyright © 2022 by Carolyn Smagalski. All rights reserved.
This content was written by Carolyn Smagalski. If you wish to use this content in any manner, you need written permission. Contact Carolyn Smagalski for details.