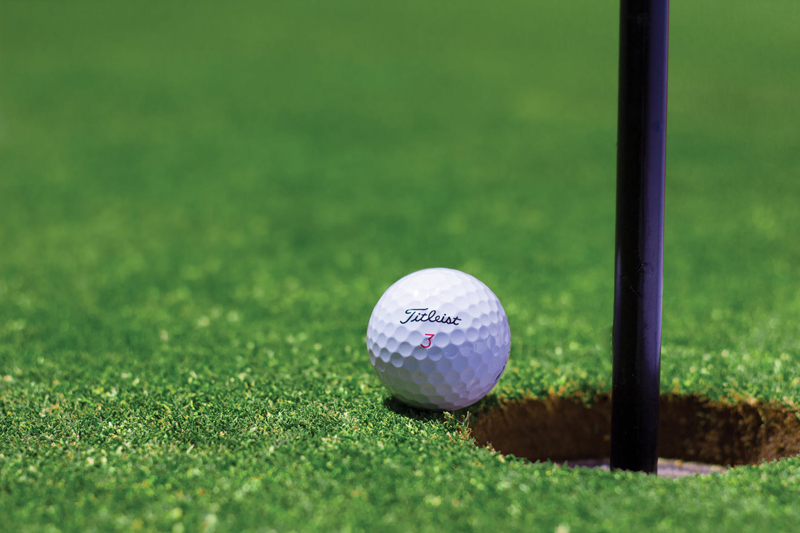 As years go by my family members are scattered and it is rare when we get a weekend to spend together. This happened this past weekend and it also happened we got rain which is rare these past two years of drought. It worked out fine when Sunday brought a dry day so golf was in the works. I had wanted them to get the chance to play the course to check out the new improvements by the new owners of the Mill Creek Country Club.
Sunday afternoon it had stopped raining and I called the club house if they could play and they said it was fine but it would be cart path only. This was fine with everyone and they arranged the teams of two groups. Those of us that remained we waited for them to come by the house so I was able to get some pictures. Both my daughter's in Law made great shots on this hole as they were close to the sand trap across the fairway from my house, which I consider great shots for the gals.
I was able to get some photograph of them hitting their second shot. They both hit good shots and then could get a picture of all of them on the Heart of Texas golf hole #3. I heard afterwards that my son Russ had sank a long putt for a birdie followed by his wife Jackie sunk her longer putt also for a birdie. We heard the shouts of all of them on that shot.
This shows them all in a row Bill, Pat, Jackie, Russ even Doug on the end it was their second shot to the Heart of Texas golf hole.
When they came back to the house they decided to play nine but they had a chance to check out the new areas of the golf course that the owners had upgraded. They all responded that it looked great and a much needed improvements on the holes that were upgraded. My son Russ and wife Jackie live in Fort Worth and play golf at Ridglea Country Club My other son Bill and his wife Pat living in Chicago and do not get to play golf that often but are members of Exmoor Country Club.
My daughter Cindy from Iowa is now retired and is getting into golf as it is the passion of her husband Brian and they play at a golf course in Ames Iowa. They may in the future look for a place here in Texas to stay for a time in the winter so they can still play golf. That is why they are spending this week but also visit their sons who live near Austin. Another son Doug who lives in Sealy Texas has also taken up golf again. He played in his younger days and now working less he wants to get his game back so he can enjoy becoming a member of a golf club where he lives.
My other daughter Jody lives in Ames Iowa but was caught in the government shut down as she works for the USDA office in Ames. With her husband Mike someday plan to drive down to Texas but it was not working out at this time. Thankfully she is back to work since the government worked out a deal to just settle it later this year or next. It seems when you work for the government your life is never your own. She has a good job and needs to keep it. It is great having family visit as we have a good time whenever we can get together.
This is the crew on the green-the green shaped like a heart.


Related Articles
Editor's Picks Articles
Top Ten Articles
Previous Features
Site Map





Content copyright © 2022 by Letta Meinen. All rights reserved.
This content was written by Letta Meinen. If you wish to use this content in any manner, you need written permission. Contact Sandy Eggers for details.