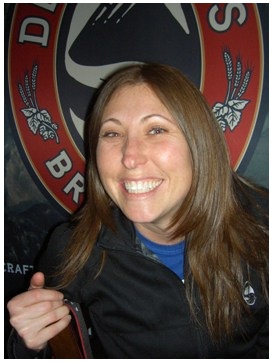 Deschutes Brewing Company of Bend and Portland, Oregon splashed-down in the Philadelphia beer market with Deschutes Base Camp Week in early November, 2013. In one short week, Deschutes held nineteen events and a dozen meet-and-greets as they introduced enthusiastic beer fans to a stunning portfolio of beers from the West Coast.

The sheer number of events likened Deschutes to a mini-Best of Show in competition as Philly Beer Week November-style. Among the events were Brewer's Luncheons, held at Jose Pistolas in Philadelphia and Iron Abbey in Horsham; Beer and Cheese events, launching Deschutes at various Foodery locations throughout the city; Railroad Street Bar & Grill in Linfield, who held a Pints, Pairings and Prizes event; Urban Saloon of Philly, with Beer-lesque: Tastings and Tassels; Hats off to Homebrewers, an event held at the newly operating Barren Hill Tavern & Brewery in Lafayette Hill; and Monks Café at 16th and Spruce Street in Philadelphia, with a Landmarks Beer Dinner, introducing a boatload of Deschutes' best beer experts.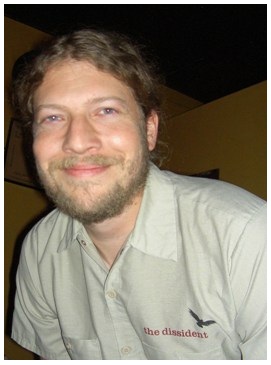 Tom Peters hosted the event at Monks, introducing Ben Kehs, assistant Brewmaster of the Deschutes -Bend Brewpub and Mike LaLonde, known as The Big Guy at Deschutes. In its 25th year, Deschutes is now distributed in 22 states, from the west coast to as far East as Illinois, and in Philadelphia, PA. Established in 1988 by Gary Fish, Deschutes has gained a following that puts it as the fifth largest craft brewery in the United States, and the 12th largest brewery overall in the country. Ernst & Young named Gary Fish as "Pacific Northwest Entrepreneur of the Year Award Recipient" in June 2013.

The Monks Dinner was a seven course extravaganza featuring eight of Deschutes finest beers:

Amuse Buche: Duck Sausage with Sour Cherry sauce, made with Monks own savory house-made sausage – served with Deschutes Mirror Pond Pale Ale on draft: Mirror Pond is infused with Cascade hops, presenting a floral and citrus nose atop a rich, caramel-malt base. As the flagship beer, it shines with a brilliant copper body and frothy white head.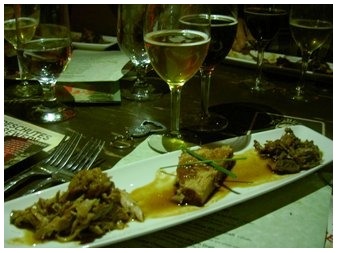 Organic, free-range Chicken Liver Pate with house-made pomegranate and blackberry compote and whole wheat toast – served with Deschutes Chainbreaker White IPA on draft: A cross between a Belgian Witbier and India Pale Ale, Chainbreaker breaks the status quo with aromas of coriander and orange peel, blended with Citra hops for and easy-drinking beer with a floral and spice finish.

Lamb Meatball with butternut squash and curry sauce – served with Deschutes Inversion IPA on draft: Deep coppery red, the colors of this IPA match-up with the butternut squash, touched with cinnamon and nutmeg. The hoppiness serves as an able accent to the spicy-sweet, savory, and light fats in the lamb, making a synergistic merging of flavors. Millennium and a touch of Nugget hops are used for bittering, while Cascade and Centennial serve as aroma hops.

Barley and Bulgher Salad with papaya and pineapple – served with Deschutes Chasin' Freshies on draft: As a fresh-hopped ale, Freshies has a green profile, meaning it has a freshness that emerges very clean on the palate. Paired with the Bulgher and Barley Salad, this hoppy beer picks up the pineapple and papaya and echoes it wit a good heft of its own fruitiness.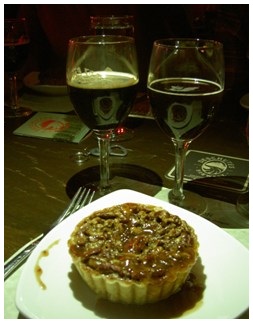 Braised Pork, braised Chicken, and Braised Beef rip cap – served with Deschutes Conflux No. 1 – Collage, an 11.6% collaboration beer with Hair of the Dog. Deschutes The Dissident and Deschutes The Stoic were combined with Hair of the Dog's Fre and Adam; then aged in a confluence of barrels: rye, cognac, sherry, Pinot Noir, bourbon, new American Oak, and new Oregon Oak: Fruitiness of raisins, plums, cherries, boysenberries, and sherry float in the ari, with hints of vanilla. Secondary flavors of leafiness, tar, tobacco and brown sugar come to the surface as it warms.

Venison Loin with horseradish smashed potatoes and Brussel sprouts with concord grape and veal demi-glace sauce – served with Deschutes Black Butte Porter on draft: Coffee, bittersweet chocolate, and roasty, dark maltiness emerge, like black bread with no residual sweetness. Rich and delicious, its roastiness blends well with the venison and sauces.

Pecan Pie topped with bacon caramel sauce – served with Deschutes Obsidian Stout and Deschutes Imperial Smoked Porter: Both are worthy bed partners for the Pecan Pie, but my personal favorite was the Imperial Smoked Porter. With 9% ABV, the smoke and rich maltiness married the sweetness of the pecan pie so well that I felt it was time to call trump.

As always, the dinner and beers were inimitable, as were the people.

Cheers!

Brew Your Own! Cascade hop pellets give well-balanced hoppy profile to you ales:
Cascade Hop Pellets for Home Brewing 3 oz


John Palmer advises clearly on that simple element we call water
Water: A Comprehensive Guide for Brewers (Brewing Elements)