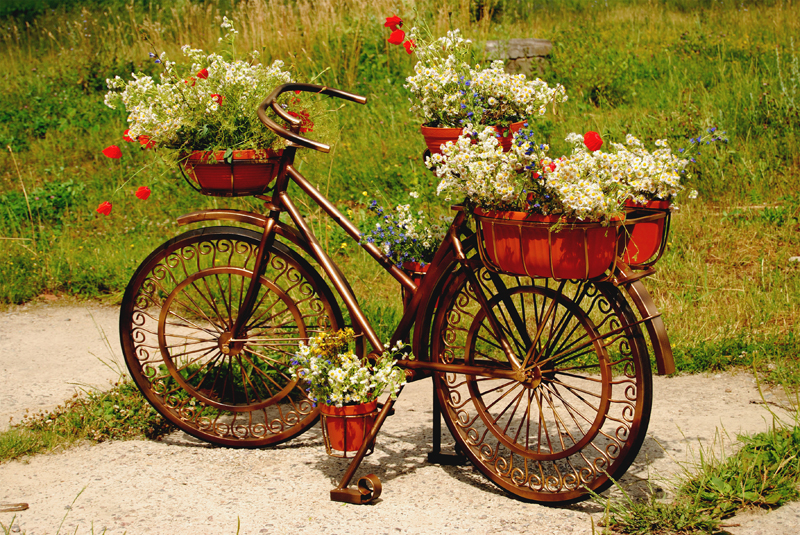 Cynara Scolymus, now there is a name to show off with, especially if you are a Globe Artichoke and one of those plants that are considered a gourmet delicacy!

Have you ever thought of growing your own in a container? Didn't think it was possible? Well it is so let's just see. I am a 'me too' here, but I have decided to be more adventurous and grow plants that are unusual or different for me, as much as I enjoy my favourites.

The artichoke is actually a perennial herb from the thistle group (the flowers will show you) and I think what caught my attention was reading about how the spiky silvery green leaves are the most effective part when it comes to adding up the health factors and for finding an excellent liver tonic. They are bitter and contain cynarin, an anti-oxidant that protects the liver against infections, stimulates its detoxifying actions and helps offset the ravages of alcohol (for instance). Apparently an age old remedy and liver tonic was to add fresh artichoke juice to water … and maybe a "spoonful of sugar to make the medicine go down".

But let's grow one first!

Artichokes are short lived perennial plants that should be replaced around every three or so years. They can and do last longer but you don't want that if you are going to use them as an edible. For show purposes just let them be, with your normal care.

They need lots of space! Your container should be wide (at least 3-5 feet) but it doesn't have to be too deep as the roots of an Artichoke are not so deep – they look like ginger tubers in a way. You need very good drainage. They require nitrogen rich, composted and well-drained soil and, as the plant matures, it needs lots of water to produce big succulent buds. Seedlings (the best way to start – so get yours from your plant centre) are very susceptible to root rot, so be careful not to overwater your plant(s) at this stage.

They prefer mild winters and cooler summers, they grow best in full sun – by the way California is the world centre for Artichokes. Plants will tolerate frost but not where temperatures drop consistently below zero in winter.

They are easy plants to grow and care for and once established; mulch as usual, feed with a balanced nitrogen-rich fertiliser, water regularly and remove dead leaves. Companion plants in the area or planted around the edge of your container include Tansy or Marigolds to help with black aphids; but if necessary use an insecticidal soap like Neem to blast off the aphids … that's if your companion plants are not scary enough. Use crushed egg shells or river sand for slugs.

Harvesting Artichokes:

After your first year the buds will be smaller but you can still harvest them for eating; or you may prefer to just let them flower and wait for your crops in the second and third year of growth when you may get up to 30 heads, fat and juicy. The flower heads must be picked before the bracts open and they are ready to pick when they have a 5 inch (10 cms) stem. If there are too many - give some away - or wrap them in saran-style wrap and keep them in your vege drawer in the 'fridge for a few days. I am sure the local farmers' market would be very interested in your produce as well.

Eating Artichokes:

The part that is eaten is actually a flower bud, the heart being the greatest delicacy. It can be steamed, fried or marinated or, leaf/bract by bract/leaf, dipped into melted butter or any other dip of your choice. Balsamic vinegar and olive oil is another favourite. You pull the leaf through your teeth to draw off the tender meat, but there are many recipes available. Just because, I am going to buy a tin of artichoke hearts to see what they taste like. Of course tinned aren't the be-and-end all, but it may be a start. How can I say I don't like tinned hearts if I have never tasted one?

Medicinal Uses:

The bitterness of the leaves also stimulates the production of bile which in turn is useful when it comes to nausea, indigestion and gall bladder problems. Constipation, stomach aches bloating – those too. You want more? Okay; it lowers cholesterol, blood pressure and blood sugar levels so diabetics take note. Further as a diuretic, artichoke is used to treat rheumatic conditions, it restores natural bowel flora which helps to counter the side effects of antibiotics and it also has anti-inflammatory properties.

When using the leaves for medicinal purposes they must be picked before the plant flowers. Use the leaves fresh, as an infusion or juiced, or you can use them dried. A teaspoon of dried leaves is fine daily and, if you make a tincture by submerging leaves in vodka (as a preserving medium) then you can take it as a herbal tonic a teaspoon at a time three times a day. It is much like our Buchu Brandy, another herbal liqueur first used by the Bushmen as a natural remedy, and by early settlers to South Africa as an invigorating tonic.

If you have more space for more plants such as a raised side garden somewhere (I count these as BIG containers!) then you may want to grow more than just one. When in bloom those thistle-like flowers in their deep pink and peacock blue may be inedible – but they are oh so pretty.

What do you want your container garden to do?

...............................................................................

CASUAL VISITOR … and just browsing? Why not sign up to the Container Garden newsletter? It won't matter what space or how many pots you have or even how much time you have to spend in your container garden; what will matter is that you get our reminders hot off the press and get good advice and ideas all in one easy read.

Join now, it's easy and your privacy is guaranteed.


You Should Also Read:
Pineapple Pots
Herb Tea - Grow Your Own
Sweet Bell Peppers


Related Articles
Editor's Picks Articles
Top Ten Articles
Previous Features
Site Map





Content copyright © 2023 by Lestie Mulholland. All rights reserved.
This content was written by Lestie Mulholland. If you wish to use this content in any manner, you need written permission. Contact Lestie Mulholland for details.