Religious Symbols in the Bahá'í Faith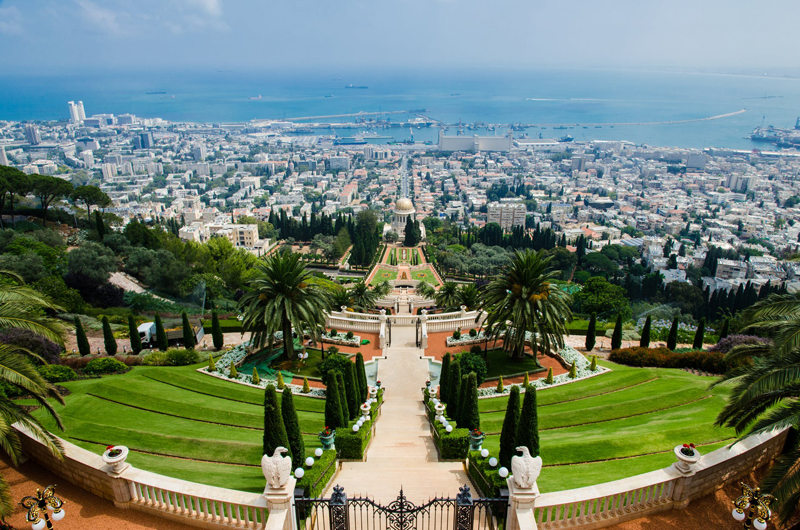 Symbols predate literacy, and history has a rich treasury of them. Humanity has always needed ways to define belonging, to feel part of a group, to advertize a position in society, a cause or an ideal. Perhaps symbols first arose in religious contexts, but even today, every profession seems to have its official and unspoken dress codes, set of activities, or other symbols used to mark territory.
Religion has always used visual cues and mnemonics, and some of those carried over into early sacred texts. The first Christians, for instance, adopted the fish as their symbol, perhaps because Christ recruited His apostles, those very earliest of believers, to become fishers of men. -
New Testament, Bible,
Matthew 4:19 (The cross is an ancient sign that didn't become commonly associated with Christianity until a couple hundred years after the crucifixion.)
Members of the Bahá'í Faith, whose religion claims to be only the latest in a long line of spiritual guidance from the same Creator over time immemorial, have symbols specific to their beliefs, as well:
The Greatest Name:
The concept of a Greatest Name of God exists in many religious traditions, including Hindu, Buddhist, Islamic and Judeo-Christian teachings. Bahá'ís use several forms, all based on the Arabic root word Bahá, which means glory, splendor or light, and is part of the title adopted by the Prophet/Founder of the Bahá'í Faith, Bahá'u'lláh. These Arabic words mean literally, Glory of God. One calligraphic rendition of this Name is displayed in Bahá'í homes everywhere in the world, as well as in Bahá'í houses of worship.
The Ringstone Emblem:
for believers who wished to wear a ring with the symbol of the Greatest Name, 'Abdu'l-Bahá (son of Bahá'u'lláh) made a different calligraphic design that is a visual representation of the relationship among the worlds of God, of Revelation, and of humanity. The top and bottom horizontal lines--each a stylized doubling of the Arabic letter h--represent respectively the world of God and the world of creation. In between, a stylized letter b represents the world of the Manifestations of God (Abraham, Moses, Krishna, Zoroaster, Buddha, Christ, Muhammad, Báb and Bahá'u'lláh). That letter is repeated vertically to represent the role and station of the Manifestations in joining the world of the Creator to that of His creation. The five-pointed stars at the right and left represent the Báb and Bahá'u'lláh.
A
nine pointed star
became popular among Bahá'ís after it was used as part of the artwork in the continental Houses of Worship. These buildings are a gift to the world and have nine sides and no dark corners, where all people are welcome to worship, no matter what their religious background. The Arabic letters that form Bahá add up to nine in that language, and nine is used as a symbol for unity or completeness, as it is the largest single digit number. While the nine point star is not a sacred symbol, it is a common emblem for the Bahá'í Faith.
The sacred symbol of the Bahá'í Faith is actually
The Five pointed star,
or
haykal,
which means temple in Arabic. There are even sacred texts written in the form of pentagrams in the Prophets' own handwriting for both the Báb and Bahá'u'lláh. To see examples of these, Google: Bahai Star Tablet.
You Should Also Read:
Bahá'í Houses of Worship
What is a Manifestation of God?
Who is Bahá'u'lláh


Related Articles
Editor's Picks Articles
Top Ten Articles
Previous Features
Site Map





Content copyright © 2022 by Cheryll Schuette. All rights reserved.
This content was written by Cheryll Schuette. If you wish to use this content in any manner, you need written permission. Contact Cheryll Schuette for details.