Vegetable Container Mistakes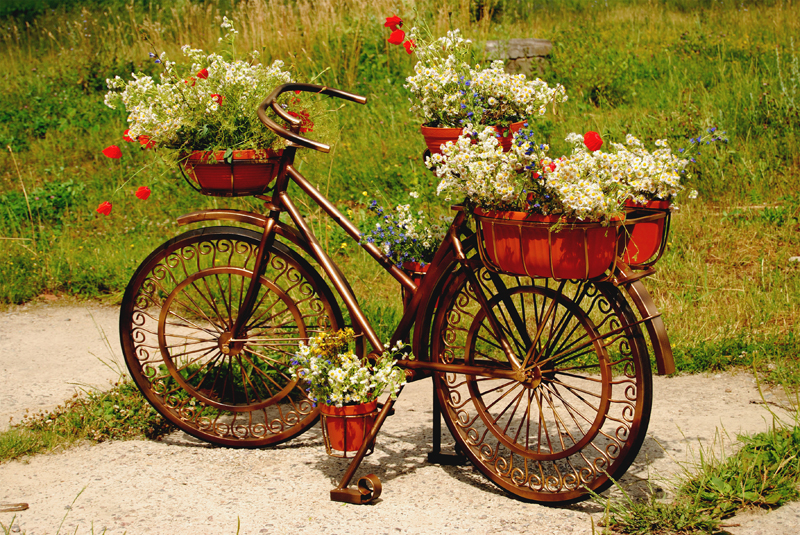 What's a container if you cannot eat from it? – Pretty, beautiful, miraculous, scented and joyful! So then what's a container that you can eat from? - Just plain smart plus all of the above! And a last question. Who's the smart person who can make this all come true? Yep. It's YOU!

When I was about 8 years old and small enough to stand under the fire extinguisher in the reception of our boarding hostel, I had an arithmetic teacher – Mrs Bennett who told us not to "make the same mistake twice as there are plenty of new one's available!" I have quoted this to all and sundry many times, and try to heed what I still think are words of wisdom, but hey, sometimes a person like her mistakes so much that she carries on making them!

So now, what is there to say about container gardening mistakes? In no specific order of importance (though each is connected to the next), let's start exploring today's theme.

Mistake the First – the GARDENER.
This is the biggest and most important. And what is it? It's YOU. You will make one of the biggest mistakes if you decide not to grow anything edible in a container – and why? Well you may have heard that it is difficult, time-consuming, too much of a fuss, that you are living in the wrong zone, that it's too expensive or that you only have a small space and there is not enough to start growing things to eat. Could also be that you have read or heard or seen other reasons that suit you for not growing veggies in a pot. Please think again. It's actually as easy as most container gardening is – and anyone can do it, anyone and you.

Mistake the Second – PLANNING.
Actually it's not planning correctly. Higgeldy piggeldy planting may suit some, you know, just hearing about something then finding a spare pot somewhere and planting it then getting disappointed when nothing much happens. Everything in your garden must earn its keep, and while gardening teaches us all sorts of things, it generally has no room for sentimentality. What you want to work towards is a steady supply of fresh organic food for your table. So, depending on the size of your family, stagger planting what you need and want, that way you will always have something to harvest.

Added to poor or no planning is not labelling your seedlings once you have planted them. This is such a simple thing to do – you can make your own temporary labels, or make plant naming into a craft of sorts ... paint stones or make flags or just buy simple plastic markers from the nursery. Whatever you choose to do, don't forget to label. Sometimes it is useful to make some 'care for' notes on your labels like 'needs water daily', or 'feed first and fifteenth monthly' etc. etc. and so on. No garden diary, journal or notebook? Another mistake easily avoided.

Mistake the Third - BUDGET BASICS.
Penny wise, pound foolish! I am sure you have heard of this proverb, and you don't want to be caught in this trap when it comes to your container gardening. Choose the best plant material and soil and containers and fertilisers (and all) that you can afford. That second best choice at the garden centre (on sale) is likely to give you second hand results or yield – while your efforts cannot be and never are second rate. Also, no matter how much money you have got, stick to a budget with a 10% leeway; throwing money at a problem never really works. Besides, part of the challenge of your gardening is good management.

Tools? Buy only what you need right now and as time goes by your collection will grow. Look after your tools, keep them clean and they will pay you back handsomely. And when anything has done its bit, de-clutter, donate, chuck or give away and buy a 'new' one.

Mistake the Fourth – GROWING CONDITIONS.
Growing conditions for any container planting is important – and especially so for vegetables. You need the right container for the job; enough sunshine (usually 4 to 6 plus hours a day); a steady water supply and the right soil. Vegetables use up a lot of nutrients and so fertilising and composting and mulching is necessary. Don't be skimpy when it comes to fertilising ... if you don't feed your vegetables they won't feed you. Use good potting soil in your containers, not garden soil, and keep your soil in tip top condition. After that you need you to plant and the plants that you want to plant! And what a great choice there is.

Keep checking your containers. Are the vegetable plants growing into their allocated spaces well? Are they healthy? Are you able to harvest good eating produce? Are there some bullies that are overwhelming other plants (i.e. do they need their own container to constrain spreading roots?) are the leaves healthy? Are there pests? If so, what can you or should you do about them? Don't forget the earthworms – they really are your friends and every well dressed pot has a couple.

Mistake the Fifth – PLANT CHOICES
Only plant what you can handle and what you like to eat. Only plant what is right for your area. Don't go buying seeds and seedlings for vegetables that need extra care because of the weather. Know your plants – how big do they grow? How do they spread? How deep are their roots? Allocate the right space and make sure they have enough sunshine and water and food and all and all.

For beginners, newbies and start-agains … try lettuce; sweet bell peppers; spinach; runner beans; cherry tomatoes; potatoes; and a selection of your favourite herbs. These can include basil, parsley, mint, chives, garlic, chillies and ginger. Also go for strawberries (buy a strawberry pot), and plant some marigolds are edible and pretty and also act as a natural pest deterrent. Grow some beetroot (go for a dwarf variety) and nasturtiums – a pretty edible climber that comes in jewel colours.

If you want to read about what not to do when it comes to vegetable container gardening, read the companion article posted separately - Five MORE Container Gardening Mistakes. Both articles cover their subjects in a manner that makes either of them a very good place to start. I have learnt a lot from all sorts of places, including my Gran and my Mom, and they were pretty smart gardeners, I can tell you. So that you won't get caught, think about these ideas and translate them into your gardening life – and you are sure to improve things all round if you follow the advice.

Container Gardening is not rocket science. Trust yourself, please do.

What do you want your container garden to do?

...............................................................................

CASUAL VISITOR … and just browsing? Why not sign up to the Container Garden newsletter? It won't matter what space or how many pots you have or even how much time you have to spend in your container garden; what will matter is that you get our reminders hot off the press and get good advice and ideas all in one easy read.

Join now, it's easy and your privacy is guaranteed.


You Should Also Read:
Vegetable Container Mistakes 2
Vegetable Garden Care
Start Vegetable Containers


Related Articles
Editor's Picks Articles
Top Ten Articles
Previous Features
Site Map





Content copyright © 2023 by Lestie Mulholland. All rights reserved.
This content was written by Lestie Mulholland. If you wish to use this content in any manner, you need written permission. Contact Lestie Mulholland for details.