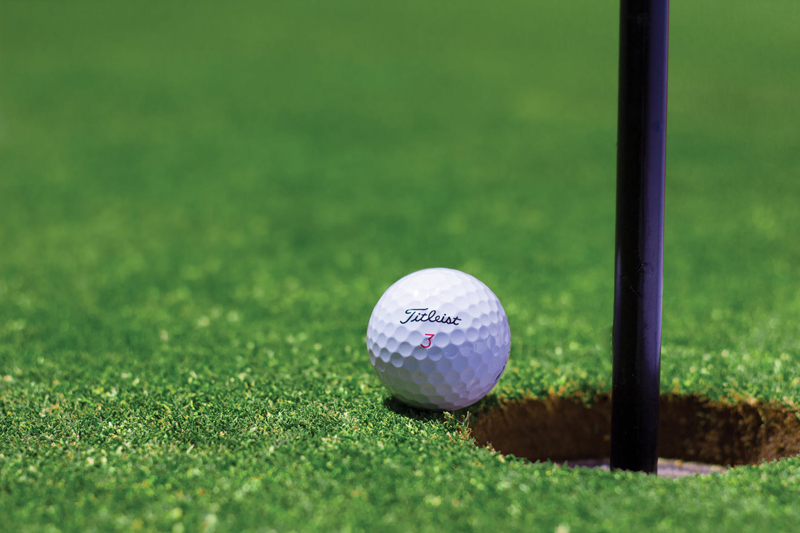 This past Saturday I was expecting my daughter Cindy and grandson Tyler to be coming to Mill Creek for golf. When I got to the clubhouse I found another grandson Travis came with his family. My daughter said she would not play golf and would take Travis's wife Koby and great granddaughter Zoe back to my house. I decided that I would only play nine holes as great granddaughter Makayla would be riding along with Travis, Tyler and me. Makayla has been going along with Travis when he plays golf so she knows what to do on the golf course.
I decided to photograph our first round so took a picture of the starter who organizes the first tee. I told him to let the foursome of men go ahead of us as it could be slow as no one was scheduled behind us, so we could take our time.
The first tee view down the fairway makes a good golf hole where it is important to stay in the fairway. The men's tee boxes are the blue and white and the ladies tee box is down the hill and over the creek we find the red tees. This does give us a good advantage but it is still a tough par five golf hole with a drainage ditch in front of the green.
My home is along this golf hole under those trees on the left side. Sure enough Cindy and Koby were there to wave to us on this golf hole. As you can see why I get lots of golf balls in my yard and even hit the roof. In the ten years I have lived there I have had one large broken window, one skylight and a small storm window. I get lots of balls in the yard since the grass is kept long and many times they can't find them so I never run out of ball plus have a lot to give to the pro shop for range balls.
I skipped taking pictures of the third golf hole but did take the fourth hole which is a par three so it takes a good high golf shot to make the green. Tyler made the green I was in the sand trap and Travis in the long grass on the bank of the green. We all played well with Tyler scoring a par.
I skipped the next hole and took the picture of the sixth hole a par four with a creek to cross before the green. While we were waiting on the next hole I got a picture of Makayla practicing with her driver. I gave Travis this club as it was one that came with a disc where you could practice your swing watching the demonstration. I did this in the house and had two broken light shades on my hanging light fixtures. It fit her so she can learn how to swing this club to hit the golf ball. Travis is very patient with her and teaching her about golf. She is six years old and willing to learn so she can go golfing with her dad.
I did not make it over the moat which is what I call this drainage area so picked up and went to the next hole. Here I took the picture of the rebuilt area of the seventh hole which is a very scenic par three hole. We all made it onto the green for some good scores. The eighth hole is a par four and is up a hill hole which can cause big scores if you get into any of those sand traps.
The ninth hole is all downhill to the club house area and a good view of the pond and water fountain. There are sand traps so keeping your ball on the short grass is important to make a good score. I left the boys and took Makayla with me back to the house. I would be getting lunch ready for the hungry group. It was a fun outing watching the grandsons play against each other, they always enjoy coming to Mill Creek for a golf game.


Related Articles
Editor's Picks Articles
Top Ten Articles
Previous Features
Site Map





Content copyright © 2022 by Letta Meinen. All rights reserved.
This content was written by Letta Meinen. If you wish to use this content in any manner, you need written permission. Contact Sandy Eggers for details.