The Earth Day Canopy Project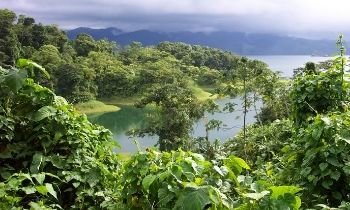 Earth Day is a time to encourage people to take action towards a more responsible Green lifestyle. Many wish they could do more, but in the hustle and bustle of everyday living, it sometimes proves an unobtainable task. The Earth Day Network appreciates the time and financial restrictions that people face. The organization devised a networking program that allows people to help the Earth in a way that is both time efficient and cost effective.
The purpose of the Canopy Project is to plant trees around the world in order to help restore impoverished areas, revitalize those devastated by natural disasters, and improve critical animal habitats. This approach helps to enrich the lives of people, while safeguarding wildlife, and restoring balance to Earth's delicate ecosystem. Part of the Canopy Project is the Avatar Home Tree Initiative, which focuses on countries where reforestation proves the most beneficial. These efforts have helped redevelop critical endangered habitats in areas like New South Wales; Victoria, Australia; and Brazilian rainforest regions.
New South Wales environmental department estimated that it was home to some 500,000 unique indigenous species. Substantial portions of these species are extinct and many more eminently face that fate without corrective action. Victoria has established a number of wildlife acts, such as the Flora and Fauna Guarantee Act and the Environment Protection and Biodiversity Conservation Act, to curb rapid extinction. One of the most significant means in wildlife preservation is the abundance and diversity of trees and plant life. The Canopy Project is successful in assisting with such restoration.
Without a doubt, one of the most critical restoration projects underway is in Brazil. The Atlantic Rainforest is the second largest to its neighbor the Amazon. The rate of deforestation throughout Brazil is alarming, and without immediate corrective action, it is hypothesized that nearly all of these rainforest regions will be depleted before the middle of the 21
st
century, and along with it the necessary wildlife to maintain a balanced rainforest ecosystem, even if it were restored. The plants and trees in Brazilian rainforests hold curative properties for deadly ailments. People are better able to survive cancer, in large part, because of the plants found in this region. The Earth Day Network works closely with Brazilian organizations to repair the devastation of deforestation through the diversified replanting of indigenous trees.
The Canopy Project is also part of the United Nations Billion Tree Campaign to reinforce the urgency of global responsibility to the Earth, our collective home, and the importance of Green living. The combined effort of all these programs makes it possible for every $1 donated to equal the planting of one tree. In addition to restoring depleted forests, and maintaining diversified plant and wildlife, this project provides revenue to local areas, many of which are impoverished. Participation in this project is quick, easy, cost effective, and produces positive results. Take a moment to thank the Earth for providing a bountiful home in which to live. Together, the damage is repairable with the absence of human complacency. Make everyday Earth Day.
For those interested, donate to the
Canopy Project
today.
You Should Also Read:
The Importance of Rainforests and Animal Diversity
Innovative Measure to Clean Oceans
Google Earth Helps People Save Rainforest Animals


Related Articles
Editor's Picks Articles
Top Ten Articles
Previous Features
Site Map



Follow @WildlifeWelfare
Tweet





Content copyright © 2022 by Deb Duxbury. All rights reserved.
This content was written by Deb Duxbury. If you wish to use this content in any manner, you need written permission. Contact Deb Duxbury for details.