Introducing a New Cat into a Multi-Cat Household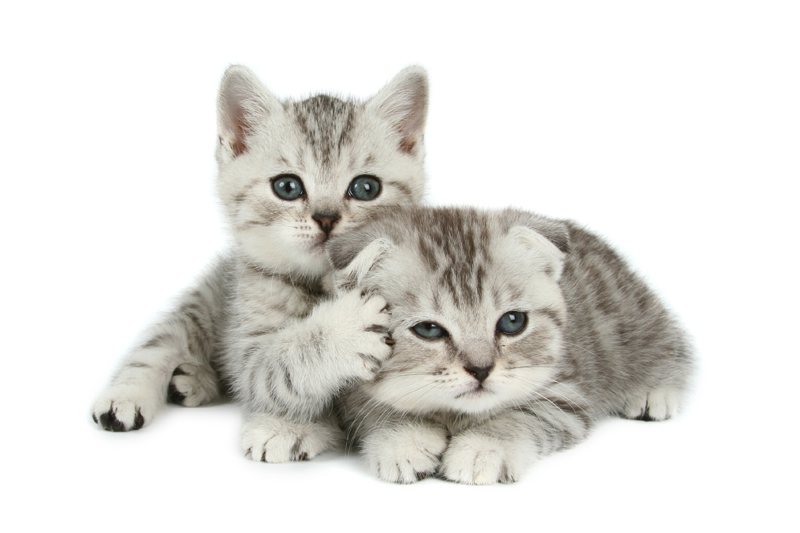 So you just adopted a new cat or kitten? Or you're considering a new addition to your family of felines? You might be asking yourself what the best way is to introduce your new little ball of fur to the other family cats. Well, I don't know if this is the absolute best way, but we have always had several cats and this method has never failed us! All of our kitties are strictly indoor cats, so that is the perspective from which I'm writing this.
First, you must realize it will take some time for your adult cats to accept the newcomer. Usually within a week or two the hissing stops. In our experience, most of the time it seems the cat that has the toughest time coming around is the youngest... aside from the new kitten. But, once the barrier is broken a real friendship can develop between these two. When we brought our Serena home, she and our former baby went through this and watching them develop that bond was quite amazing. She would walk over and stretch out in front of Jordan, the former baby, and purr. He would then give her a bath and lots of times this led to either falling asleep together or a session of play.
For the first week, give or take a few days depending on your specific situation and need, never leave the new cat or kitten alone with the other cats. When we're not home we shut the new fur baby in our room and let the others have the same run of the house they normally do. Any room where your new kitty has adequate space, food, water and a litter pan will do. At night, our new fur baby gets moved into the bathroom with his/her food, water, litter pan and bed. Our cats like to sleep with us or in our room, so this way they still have their same privileges and routine. That helps in the process of acceptance. Once you notice the new cat or kitten and your cats coming around with each other, then your new family member stay out for the night and see how they all do. You'll know when the time is right to leave them all together when you aren't home. If you're not sure then give it a couple extra days to be safe.
Most importantly, give your adult cats (or other kittens) just as much, if not more, love and attention as you normally would. This will help prevent or minimize those feelings of jealousy.
Even after years of togetherness there will be squabbles and fussing at times. But, we've never had any real serious problems and we've introduced several new kittens into our household using this method.

© Melissa Knoblett-Aman
You Should Also Read:
Adopting a Cat or Kitten
How to Help a Homeless Cat
Update on Your Editor's Cats


Related Articles
Editor's Picks Articles
Top Ten Articles
Previous Features
Site Map





Content copyright © 2022 by Melissa Knoblett-Aman. All rights reserved.
This content was written by Melissa Knoblett-Aman. If you wish to use this content in any manner, you need written permission. Contact Melissa Knoblett-Aman for details.