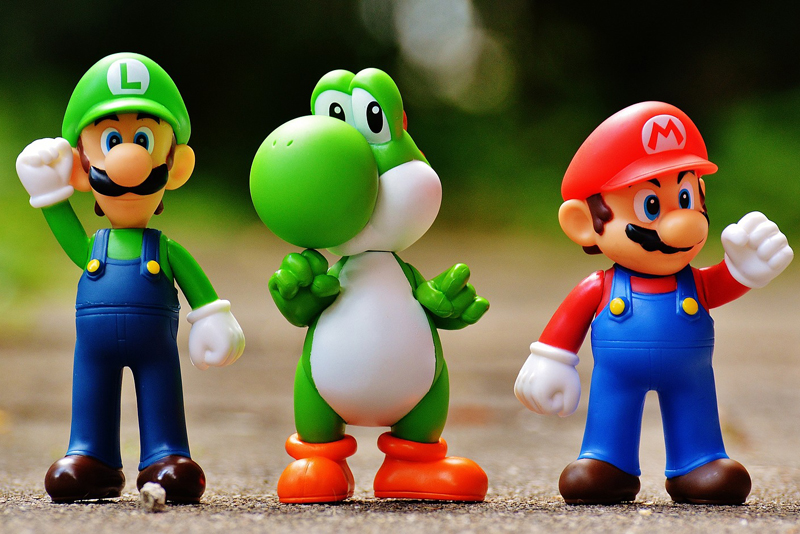 Rayman Raving Rabbids is in essence a collection of fun mini-games which involve both the Wii controller and nunchuck. Make sure you've got a lot of energy for this one!
Ignore the plot, it really doesn't matter. The key is that you have to win 3 out of 4 mini-games, go through a boss level, then do another 3 out of 4 mini-games to progress, and so on. Each of the mini-games is different, and many are quite inventive. There are the classic "marble in maze" games where you tilt the controller to guide the marble. There are drawing puzzles where you have to trace, with the controller, lines on the screen. There are shooting games where you're "run along a rail" and all you do is point and shoot. You're shooting plungers, so this is very kid-friendly.
There are numerous in-jokes in this game. For example, on one of the shooting levels, some of the rabbits that come after you are wearing the three-green-light Splinter Cell headsets. There are a set of music games where you move to the beat along with "Girls Just Wanna Have Fun" and other pop songs.
There's a few costumes to unlock and a few songs for your "jukebox", but the game is really about getting all of the mini-games unlocked so you can play them in standalone mode by yourself or with others. That really turns this into a great party game, especially with some of the humor involved.
While this is clearly aimed at kids with its non-violence and cute humor, many of the younger set will find themselves frustrated with the gameplay. The "bunnies in the outhouse" stands out as a mission that requires a lot of work to get through, as you have to both shake the nunchuck wildly and point carefully with the controller. It does best if you have a friend to help you out.
Many of the games here require so much arm movement that you can easily wear yourself out if you have to replay them too many times. The restriction on playing this all day long might not be others who want the tv - it might be that your arms give out even though you want to keep playing!
I suppose in one way that helps to ensure that kids don't play it for hours on end. Their arms won't last that long :) But that being said, I do feel a few games here are just too tough for their target audience. They'll need mom or dad to help out to get through those levels. Which is fine if mom and dad are the caring, game playing types - but could be really frustrating if they are told to just get through it on their own.
Buy Rayman Raving Rabbids from Amazon.com


Related Articles
Editor's Picks Articles
Top Ten Articles
Previous Features
Site Map





Content copyright © 2022 by Lisa Shea. All rights reserved.
This content was written by Lisa Shea. If you wish to use this content in any manner, you need written permission. Contact Lisa Shea for details.