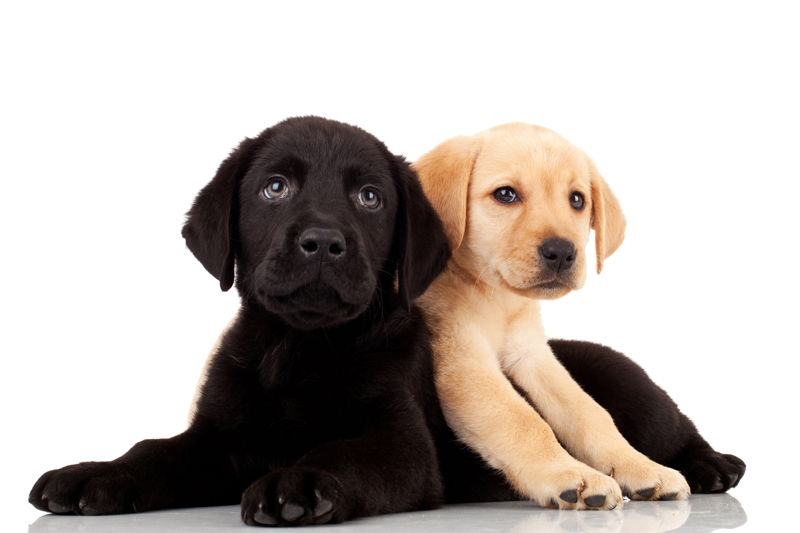 This is a picture of Schatzie and Fritz, ready to go with us to the shore for Memorial Day weekend. Aren't they cute and well-behaved? They're wearing their seat belt harnesses. This was the first real trip we've taken since they started wearing doggie seat belts to ride in a car. It's also the first time they were able to sit calmly and comfortably while riding for any great distance. The dogs were contented and all four of us could relax and enjoy the drive - with an added measure of safety.
Before the seat belts, there was always a commotion in the back seat until the two of them would settle down and find a place to sit. They'd go back and forth from one window to the other or from the middle seats to the back seat. At least one of them was still standing for at least the first few turns or stops. They would lose their balance and end up sitting on each other or sitting on the floor. Even after each one found his/her own best place to sit and relax for awhile, if "Daddy" rolled down his window just two inches for some air, two large gray noses immediately appeared behind his head, frantically trying to sniff it all in.
They must also be close to me at all times, touching if possible. Although there was no room for even one of them in my seat and no chance that either of them would be allowed to climb up front, that did not stop them from occasionally plopping a paw next to me as a reminder that they're right behind me - just in case I felt bad about sitting so far away from them.
Taking pictures like these, would never have been possible before. They never sat next to each other like that - both of them waiting, seated and ready to go for a ride. And, whenever we arrived at our destination or pulled into the driveway back home, the open door meant "let's see who can get out of here first".
With their seat belts fastened, the dogs can no longer roam around the car. The harnesses secure and restrain, but do not totally restrict movement. The dogs can sit and watch the scenery or they can just as easily lie down and sleep comfortably if they want too.
We were already well-pleased with the harnesses after a few short practice runs. Figuring out how to use them and make adjustments for a good fit was easy. Attaching the harnesses to the seat belts in the car or the van was equally simple and effortless. Much to my surprise, the dogs don't mind wearing them at all. Even Schatzie, who usually objects to wearing any type of garment.... a simple bandana around her neck gets quickly removed with the swipe of her paw..... seems to like wearing her soft padded harness. All this good behavior is a definite plus, but originally, I wanted seat belts for my dogs for the same reason we use seat belts.
Drivers and their passengers are using seat belts more than ever before. Seat belts reduce injuries and save lives, so we buckle-up ourselves and our children, but what about our dogs? Riding in a car, SUV, van or truck is as dangerous for dogs as it is for human passengers. A dog actually has less ability than a person to stay on the seat or even stay upright when the driver must swerve, accelerate or brake hard. Even in a minor collision, an unrestrained dog can be thrown into the dashboard or the windshield.
If a window breaks or a door flies open in an auto accident, a terrified dog will escape. That dog could run in traffic, be hit by a car or even cause another accident. Even a loyal, well-trained dog can become disoriented and run away. The worst possible place to lose a dog is on a trip, far from home. A frightened dog might become aggressive and prevent rescue workers from reaching it's injured master. An unrestrained dog, like any unrestrained object can become a dangerous projectile in a crash, hitting the driver or other passengers. The dog and anyone in it's path could be fatally injured.
Unrestrained dogs also cause accidents by distracting the driver. A driver who must focus attention on a canine passenger who's falling, jumping from seat to seat, or trying to climb on his lap can't pay attention to the road ahead. Securing a dog with a safety belt clearly reduces driver distraction. It also prevents an escape attempt every time a car door is opened and allows you to safely leave a window or sunroof open for ventilation.
Many dogs love fresh air when traveling, but they should never be allowed to ride with their heads outside a car window. Insects, dirt, gravel particles, and other flying debris can cause eye injuries or lodge in the throat, ears or nasal passages and cause serious problems. Even if children object, you put them in child restraint seats and fasten their seat belts. You want their ride to be enjoyable, but safety comes first. Children don't ride unrestrained, and neither should dogs.
For maximum safety, always use a car harness with a seat belt in the back seat. Passenger side air bags, if deployed in even a minor accident, could be dangerous to a dog sitting in the front seat. Air bags are designed to protect an average adult from hitting the dashboard. The impact of an inflating air bag can kill or seriously injure a small passenger who's head is too low. The safest place in a vehicle for children under 13 years old and for dogs, is in the back seat - properly restrained.
There are several brands and styles of harness-type restraints available. They all attach safely to a standard seat belt system in most vehicles. Some brands are sized according to the measurement around a dog's chest, just behind the front legs. Others are sized according to a dog's weight.
I chose the "Four Paws Safety Seat Support Harness" because I liked the vest style design and the fleece-lined panel that covers the dog's chest. I thought it looked more comfortable for the dogs and less complicated to put on and off than a strap style harness. They really do go on and off very easily and Schatzie and Fritz certainly look comfortable wearing them. There are others that also have some additional padding across the chest but I think the longer and wider front panel on this style really makes it fit well and stay where it's supposed to.
I put the harnesses on my dogs before they get in the car or van... even before they go outside. After they jump in and sit down, I just pull the seat belt through the strap on the back of the harness and click.
This seat belt harness, as well as most of the others, has another important feature that makes it perfect for long trips. Stopping for exercise and a potty break every few hours makes car travel easier for dogs and for people. Instead of having to remove the harness and put it back on, you can leave it on the dog for a sturdy walking harness. Just clip a leash on the D-shaped ring on the upper strap, remove the seat belt from the strap, and you're ready to walk your dog.
Seat belt harnesses are definitely one of the best and most useful accessories I've ever bought for my dogs! Now that they're such good passengers, and riding in a car is safer for all of us, Schatzie and Fritz can "go bye-bye" more often. They'll wear their harnesses not only when we travel, but for five minute errands too.
Even if your dogs are already calm and well-behaved riders, please do start using seat belt harnesses - not to confine them, but to protect them and to protect yourself and all your passengers.
---
This is the seat belt harness that Schatzie and Fritz use ....
Adjustable Auto Safety Vest Harness
This strong, durable, top-rated seat belt harness is simple to put on and take off, and fastens easily to your car's seatbelt. It's soft, generously padded and designed for a comfortable fit. When you reach your destination, it easily doubles as a walking harness.
It's available online at Petco.com
---
For your small dog's safety and comfort ...


Snoozer Oversized Pet Car Seat Lookout II
This handy booster seat elevates small dogs so they can see out the windows or take nap comfortably. It features a washable cover with a lambswool interior over a durable foam frame and includes a handy storage tray for treats and other travel accessories. It securely attaches to your vehicle using the safety belt. Use it with a with a car seat harness (not included) for complete car travel safety.
It's available online, in a variety of colors and sizes, at Petco.com


You Should Also Read:
Dog's Online Shopping Guide
The Traveling Dog
Warm Weather Hazards

Related Articles
Editor's Picks Articles
Top Ten Articles
Previous Features
Site Map
Content copyright © 2022 by Sandy Moyer. All rights reserved.
This content was written by Sandy Moyer. If you wish to use this content in any manner, you need written permission.
Contact Bettina Thomas-Smith for details.