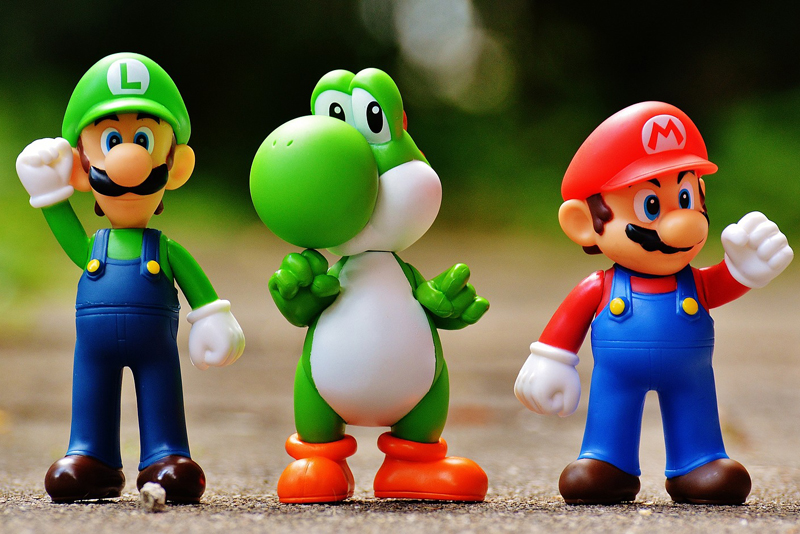 I think the WarioWare games are brilliant. They are short, great fun, perfect for all ages, and incredibly inventive!
If you've never played WarioWare games before, you're in for a treat. These are definitely games that text your reflexes as well as your mental quickness. You are shown a silly situation in kid-like graphics and given only the barest of hints about what to do. You might see a man's face with beard stubble. You have to figure out that your task is to shave off the stubble before the timer runs out. You get 3 seconds.
Half the fun in this is laughing your fool head off as you try and fail to figure out the key to the puzzle - and then doing it fast enough to win. Each of the puzzles gets more complex as you get deeper into the game. Maybe the first time around you just have to dodge one ball with the marionnette. Then later you have to dodge two, or three. You'll be busy slashing with your samurai sword, balancing brooms, tracking down hidden people with a flashlight, and much more.
In addition to these games, there are also several mini-games you can unlock. You can play a fascinating breakout style game with a never-ending tower. Try balancing falling tetris-like shapes on a narrow board. There are TONS of profiles here so you can have friends over and let them create their own profiles. Some of the games even involve your Mii characters!
Let's see, what complaints can I have about this. The graphics are really cheezy - but they're *meant* to be cheezy. It adds to the cuteness of the game. There's really no plot. The plot is really that you have to complete a series of mini-games before the timers run out, and then get through a 'boss' which may or may not be challenging. Who cares, the games are all fun by themselves.
Add on to this the numerous ways you're told to hold your controller - like a samurai sword, like a mowhawk on your head, like an elephant trunk on your nose, like a waiter's plate. The variety is great fun - and the droning, zen-like voice that gives you the description of what to do is hilarious.
Highly, highly recommended for all ages!
Buy Warioware Smooth Moves from Amazon.com


Related Articles
Editor's Picks Articles
Top Ten Articles
Previous Features
Site Map





Content copyright © 2022 by Lisa Shea. All rights reserved.
This content was written by Lisa Shea. If you wish to use this content in any manner, you need written permission. Contact Lisa Shea for details.