Kalimba - African Thumb Piano

Available for purchase at
AfricaImports.com
Literally translated Kalimba means
little music
. It is said to have originated in Zimbabwe about 1000 years ago. The kalimba is made from a board, box or calabash with wooden or metal keys are attached to the top. The metal keys were made from old spoon handles, bicycle spokes, or spring wire that were cut and hammered to the desired shape. The keys are plucked with the thumbs, or with combinations of thumbs and fingers. Modern day music boxes work in much the same way.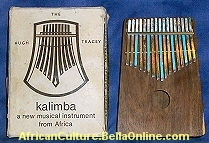 Hugh Tracey Kalimba
A small kalimba may have as few as 6 notes while the largest has up to 33 notes.
Hugh Tracey is known for bringing the kalimba out of Africa and to the rest of the world. He created a standardized kalimba made from kiaat wood (found in Mozambique) to sell outside of Africa. In the late 1950's, Hugh Tracey brought a few of his kalimbas to the United States to show as he lectured on African music. He met with some people from Creative Playthings and they ordered 10,000 kalimbas. Hugh Tracey found a company called African Musical Instruments (AMI) and built a small factory in Krugersdorp, South Africa to manufacture his kalimba.

Kisanji from the Mbaka
People of Angola
In the 1960's the kalimba had entered the hippie movement and took off. By this time, AMI had three variations of the kalimba - the treble kalimba, a larger alto kalimba, and a board-mounted treble called the Treble Celeste.
Kalimbas are also known as: budongo, climba, gsansa, finger harp, finger piano, kalimbaphone, kisanji, lamellaphone, likembe, marimba, marimbula, mbira, sansa, sanza, thumb piano, and thumb drum.
Listen to me play a Hugh Tracey Kalimba.

Or better yet, listen to Mark Holdaway from KalimbaMagic.com play a Hugh Tracey Kalimba.

This site needs an editor - click to learn more!

You Should Also Read:
Kora - African Lute
African Talking Drum
Rough Guide to Music of Kenya / Tanzania - Review




Related Articles
Editor's Picks Articles
Top Ten Articles
Previous Features
Site Map





Content copyright © 2022 by Jeanne Egbosiuba Ukwendu. All rights reserved.
This content was written by Jeanne Egbosiuba Ukwendu. If you wish to use this content in any manner, you need written permission. Contact BellaOnline Administration for details.