St. Patrick, Shamrocks, and Irish Tenors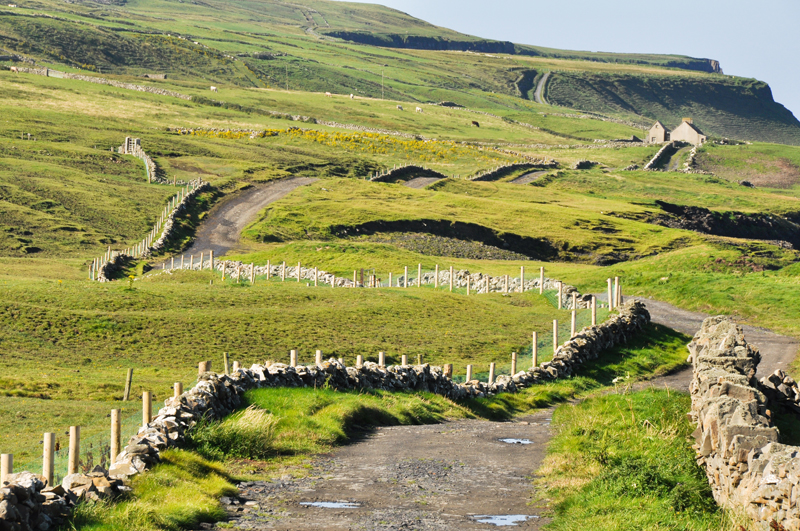 The shamrock is a universal symbol for Ireland, familiar to all. It's a good luck charm for many, and to the devout, it's a symbol for The Trinity. March 17, St. Patrick's Day, is a day that is celebrated by many "Irish for the Day" volunteers and is a great occasion that unites the Irish and citizens of all persuasions.
Saint Patrick arrived in Ireland in his youth, found employment as a slave, and was put to the lonely and dangerous task of herding sheep in the hills of county Antrim. He spent some years there before he escaped. In this busy solitude he must have learned many things about the hills that can be in sunshine one moment and in the next shrouded in mist and the precipices that are invisible in such conditions. I have to believe that he learned also about the plants that his flock dined on. Later he returned, on a mission, to preach to those who had enslaved him. When he felt he needed a teaching aid in his efforts to convert the pagan Irish he must have felt quite comfortable in reaching down and plucking a shamrock to illustrate the Blessed Trinity: the Father, the Son, and the Holy Spirit.
Saint Patrick's Day was a special one for my family. Mom and Dad were both "just over." A day or so before St. Patrick's Day, shamrocks would arrive from the family in Ireland, in tiny boxes, wax-sealed for freshness (or, as we later deduced, to contain the "damp.") The boxes were opened on St. Patrick's morning with great expectation and ceremony, and it was always a little disappointing to find a soggy mass of boggy-smelling greenery within. Never mind! Mom somehow managed to gather the good bits and pinned them to our breasts as proud green indicators of a direct line to the mother lode.
There was no green beer in our house. The menu was the same as every other day but perhaps a bit more festive: Irish soda bread (but with more raisins) with butter and jam, tea with milk (no sugar for Lent), and potatoes, meat, and vegetables. Whether there was corned beef or ham and cabbage was irrelevant. Maybe there wasn't even corned beef or ham. There might have been a stew or roasted chicken or beef. There was always Irish music: John McCormack and my mother in a duet. Him on 78 r.p.m., her live.
Today, shamrock plants can be bought fresh in local nurseries or even in supermarkets. However, if you want to grow your own, it is an easy thing to do. Oxalis, also known as wood sorrel, is abundant in Ireland. It has the heart-shaped leaves set in threes that we are all familiar with and all you need are the bulbs, bright light, and humidity. Keep the soil just lightly damp. Oxalis can be crowded in the container and thrive. The plant should be fertilized every few weeks in its growing season, or if using time-release fertilizer like Osmocote, twice in the season at the recommended dosage.
Shamrocks do have one or more dormant periods in a year, and in this phase should not be watered or fed. When the plant starts to look unhealthy, it needs a rest. At this time the plant should be placed in a cool, dark place for about three months. When it is ready to leave start active growth again, it will put out green shoots. Bring the plant out into the light, fertilize, and start to water it again. If it needs repotting, divide the bulbs, and repot with fresh soil.
Happy St. Patrick's Day!
John McCormack was a famous Irish tenor.
Contemporary Irish Gift Ideas from Cashs of Ireland - Visit the New Collection

You Should Also Read:
Irish Soda Bread
Subscribe to the Irish Culture Newsletter
Ireland in the Movies


Related Articles
Editor's Picks Articles
Top Ten Articles
Previous Features
Site Map





Content copyright © 2022 by Mary Ellen Sweeney. All rights reserved.
This content was written by Mary Ellen Sweeney. If you wish to use this content in any manner, you need written permission. Contact Bee Smith for details.