Yellow and Orange Container Choices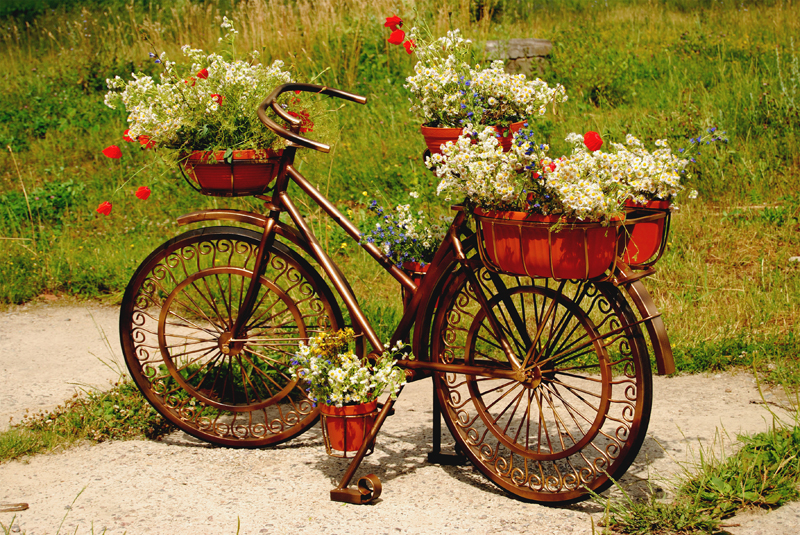 There are a wide variety of annuals available in colors of yellow and orange which do very well in containers. I have chosen twelve of my favorites because of their ease of growth, resistance to disease, and long bloom time: African Daisy, Bidens, Calendula, Calibrachoa, Coreopsis, Cosmos, Nasturtium, Marigold, Petunia, Rudbeckia, Snapdragon, and Zinnia. Here are twelve ideas for mixing and matching these beautiful flowers in your container garden.
Hanging Baskets
1. Plant one of the larger spreading bidens in a basket and hang in a sunny location. Add other hanging or spreading flowers for interest if you like- nasturtium, African Disy, and trailing viola are good choices.
2. Plant one or several colors of calibrachoa in a basket. Once the plants are established water sparingly, and enjoy the constant procession of small petunia-like flowers until first frost.
3. Plant one or two calibrachoa and one bidens at the edges of a large basket, and one petunia in the center. Train the branches to intertwine, or keep them separate for contrast.
Large Containers
1. For a partially-shaded area, plant three tall growing snapdragon in the center of a large container. Plant three to five yellow petunia around the snapdragon at the container edges. If the container is quite large, plant some shorter cultivars of snapdragon between the tall snapdragons and the petunia.
2. Plant a group of three cosmos together at the back of the container, a few inches apart (choose the same or complimentary colors). Plant two or three calendula in front of the cosmos, to either side. Plant three petunias at the front and side edges of the container to trail down the sides.
3. Intermix coreopsis or cosmos and zinnia at the center of a large container, surrounded by rudbeckia. Add some trailing nasturtium at the edges to drape over the side. Trim as necessary to keep looking neat.
Container Trio
Choose a flower mixture that blends well in color, size, shape and leaf texture. Have one or more of the same type in each container to connect the theme, or have two or more flowers from each container be carried through into the next size container – for example marigold and short snapdragon in the small sized container, marigold and tall snapdragon in the medium container, and marigold, short and tall snapdragon, and other flowers in the large container.
Large container:
Plant two to three coreopsis and one to three cosmos in a group towards the back center of the container in colors which blend well. Plant a color-coordinated tall marigold and two shorter marigold in front and to either side of the coreopsis and cosmos. Finish off with a bidens and two sweet allysum trailing over the sides.
Medium container:
Plant one cosmos and two coreopsis matching the large container. Surround with marigolds. If desired, add sweet alyssum trailing over the sides.
Small container:
Plant one to three marigolds, matching the larger containers. If desired and there is room, add a sweet alyssum.
Small to Medium Containers
1. A single African Daisy looks beautiful alone in a container. Deadhead or trim occasionally to keep looking neat and to prolong bloom.
2. A stand of coreopsis look well in a small container, especially the fancier varieties. Add some sweet allysum trailing over the side for interest.
3. One large growing marigold or two or three short cultivars will do well in a small container. Mix colors or plant all the same, as you desire. Deadhead regularly.
You Should Also Read:
Container Flowers - Yellow and Orange Annuals
Container Flowers - Red and Pink Annuals
Container Flowers - Blue and Purple Annuals


Related Articles
Editor's Picks Articles
Top Ten Articles
Previous Features
Site Map





Content copyright © 2022 by Jessica Carson. All rights reserved.
This content was written by Jessica Carson. If you wish to use this content in any manner, you need written permission. Contact Lestie Mulholland for details.