Spring & Summer Safety - Lawn & Garden Hazards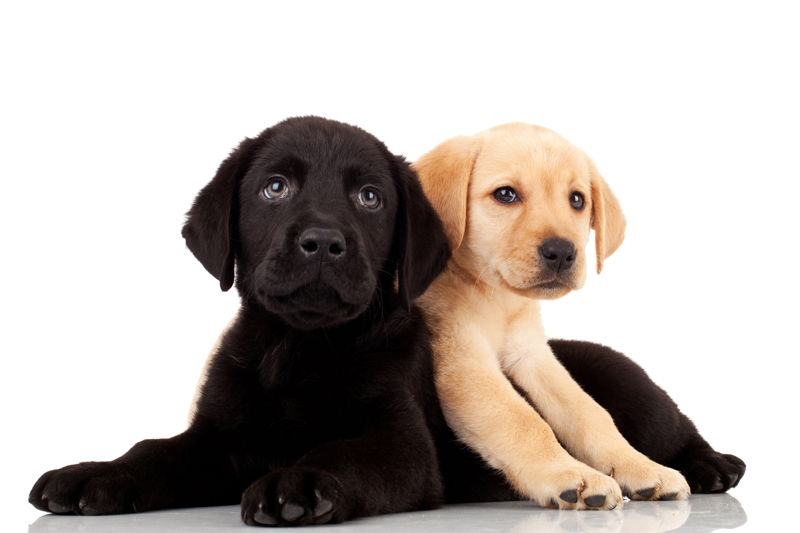 The drab gray and brown of winter are gone, and we're surrounded by the bright colors of springtime! Flowering trees are covered in pink and white blossoms. From forsythias and daffodils to azaleas and tulips, shrubs and flowerbeds are every color of the rainbow and lawns are turning green and beautiful again.
Everyone loves lush green lawns and Spring is the right time to apply lawn treatments .... fertilizers for healthy lawns and products to kill weeds and control crab grass. Unfortunately, the same products that produce healthy lawns can sometimes cause health problems for pets. Contact with herbicides can cause vomiting, excess salivation, problems with the central nervous system, and even sudden death.
By taking a few precautions, we can protect our pets and still have lush green lawns. Before applying lawn treatments or before treatment by a professional lawn service, remove any pet water and food dishes from the yard. Always keep your pets inside while chemicals are being applied and keep them off the treated grass for at least 24 hours after an application. If your dog manages to come in contact with a freshly treated lawn in spite of your best efforts, wash it's paws with soap and water immediately. If you live in a neighborhood with adjoining yards, make sure your dog doesn't wander onto a neighbor´s newly treated lawn.
There are other Springtime dangers.....

Tree Sprays, Garden Dusts, and Foggers
Spring is also the time to apply pesticides to gardens and trees. Chemical pesticides are applied as tree sprays, garden dusts, foggers, and in a variety of fruit and vegetable sprays. Keep pets away from the area under and around freshly sprayed trees for at least 24 hours. Keep them out of gardens and flower beds after applying pesticide sprays or dusts.
Slug and Snail Killing Pellets
Never scatter slug and snail killer pellets in gardens or flower beds if you have pets of if neighborhood pets have access to your yard. Dogs find the small blue poisonous slug pellets tasty. Use a commercial bait trap or pellet holder that´s out of reach to pets instead.
Rodenticides
Ingestion of mouse and rat poison is another danger. These poisons come in cardboard containers filled with poisonous pellets. Since dogs can obviously chew through the cardboard to get the tempting bait, their owners carefully place them in spots their dogs can't reach.
When rodents invade their homes to stay warm in fall, people put the little boxes underneath kitchen drawers and behind shelves in garages and sheds. When things are moved for Spring clean-up, the dog is right there to grab the forgotten poisonous traps. Most people realize how dangerous pest control poisons are to pets, but there may be things they DON´T know that could save their dogs' lives. Rodent poisons may not cause vomiting or other typical symptoms of poisoning. They contain a compound that causes a life-threatening bleeding disorder. Read this article from someone who had a terrible experience with her dog being poisoned.
Cocoa Mulch
The danger of poisoning from Theobromine, the ingredient in chocolate that is toxcic to dogs, does not end with the chocolate candy or the baking chocolate inside your home. Pet owners should never use cocoa bean mulch in their flower beds or as garden fertilizer. "Cocoa Mulch", made from cocoa bean shells, contains potentially toxic quantities of Theobromine. Even if your dog has absolutely no interest in other types of garden mulch, cocoa mulch smells like chocolate and that smell attracts dogs. Dogs have died from eating cocoa mulch!


According to the ASPCA.... "Eaten by a 50-pound dog, about 2 ounces of cocoa bean mulch may cause gastrointestinal upset; about 4.5 ounces, increased heart rate; about 5.3 ounces, seizures; and over 9 ounces, death." For more information, see ASPCA Animal Poison Control Center Issues Cocoa Bean Fertilizer Warning
Chemicals in Pressure Treated Decks
Don´t let your dog lie directly on a wood deck that has not been sealed. Most wood decks are built from lumber that´s been pressure treated and preserved with toxic chemicals. Sealants should be applied every 2 years. Since toxic chemicals from treated wood can leach into the soil, never let pets crawl underneath a deck to sleep or play.
Stinging Insects
Some dogs will try to catch bees and others might even swat at them. When a dog gets stung, its usually around the mouth, on the nose or on a front paw. Signs of a sting are - scratching it's head, rubbing it on the ground, bumps or a swelling around the head, face, mouth, tongue, or paws, excessive salivation, or finding a stinger. If you can see the stinger, carefully remove it with a tweezers, then apply a cold compress to the site. If possible, apply a paste made from a mixture of baking soda and water. Some dogs, like some humans, can be allergic to stings. If your dog has a severe reaction, get veterinary treatment immediately.
Heartworms
Do you need a new supply of heartworm preventative? Heartworms can cause severe heart and lung damage. Dogs get heartworm disease from mosquitoes. Fortunately there is medication to prevent it, but a dog must tested before starting it. Giving a preventative to a dog who already has the disease can be fatal. Early spring, before warm weather and mosquito season, is the time to have a heartworm test done. Only a veterinarian can dispense the medication. Even if your dog has been taking a heartworm preventative all year long, your veterinarian might still recommend periodic testing.
Fleas and Ticks
When outdoor temperatures reach 40 degrees, ticks become active and feed. They thrive in warm weather. Apply topical, spot-on products once a month, or as recommended by the manufacturer, for protection from fleas and disease spreading ticks. Use flea and tick protection year round in warm climates and begin use of these products in early spring in seasonal climates. In the U.S., April to November are high risk months for Lyme Disease, which has now been found in nearly every state. If you live in a state where there is a high risk, or if you will be vacationing with your dog in a high risk area, (See Map), your dog should have a Lyme disease vaccination. The first two doses of Lyme disease vaccine are given at 3 week intervals, followed by annual boosters.

Never use multiple types of flea and tick repellents on a dog at the same time. A mixture of different chemicals can make a dog very sick.

For more information about flea and tick protection, see Fall Fleas and Tick Tips.



Keep your dog safe and sound this Spring -

If you think your dog might have ingested a chemical poison, you must act fast to stop the poison from being absorbed into his system. Call your veterinarian or poison control center with the container at hand, if possible, to identify the chemical and the amount ingested. Keep syrup of ipecac and/or hydrogen peroxide on hand, but do not use it without instructions from your veterinarian or the poison control center. For lots more information, see my Household Poisons Help Sheet.
In an animal poisoning emergency, call the ASPCA's Animal Poison Control Center, at 888-426-4435, 24 hours a day and 365 days a year. There is a $45 per case fee, payable by credit card. This fee includes as many follow-up calls as necessary in critical cases, and, on request, they will contact your veterinarian. To order a free Animal Poison Control Center magnet with their emergency phone number and website address, Click Here.
Securely tighten lids on bottles of herbicides and pesticides after use. Place bags or boxes, both new and used, inside cans or plastic storage containers. Properly dispose of empty containers where there´s no chance a pet can get to them.
See your veterinarian for regular annual check-ups and heartworm preventatives. Make sure rabies, distemper and other vet recommended vaccines are up-to-date. If you're planning a vacation with your dog, ask about additional vaccines that may be recommended for pets in areas you will be traveling to.
Use an effective flea and tick preventative at recommended intervals.
See The Flea & Tick Solution Center at 1-800-PetMeds
for information on flea preventatives, flea and tick relief, and how to get rid of fleas and ticks inside and outside your home.



~~~ Springtime Lawn Care Help for Dog Lovers ~~~

Sani Scoop
Sani Scoops from General Cage are 2-piece pet waste shovel/scoopers with 36" handles. They feature rugged, heavy duty all-metal construction and are chrome plated.Choose from a straight edge, perfect for concrete and other flat surfaces or a toothed edge that works well in grass and on gravel.
Garden's Alive offers all natural and organic products for lawn care, weed control and pest control.
Click Here to get $20 off your first order of $40 or more at Gardens Alive!

Golden Retrievers Poster
Buy at AllPosters.com

You Should Also Read:
Dogs Online Shopping Guide
Spring & Summer Safety for Dogs, Part 2 - Warm Weather Hazards
What you Need to Know About Pesticides Used in Pressure-Treated Wood


Related Articles
Editor's Picks Articles
Top Ten Articles
Previous Features
Site Map





Content copyright © 2022 by Sandy Moyer. All rights reserved.
This content was written by Sandy Moyer. If you wish to use this content in any manner, you need written permission. Contact Bettina Thomas-Smith for details.