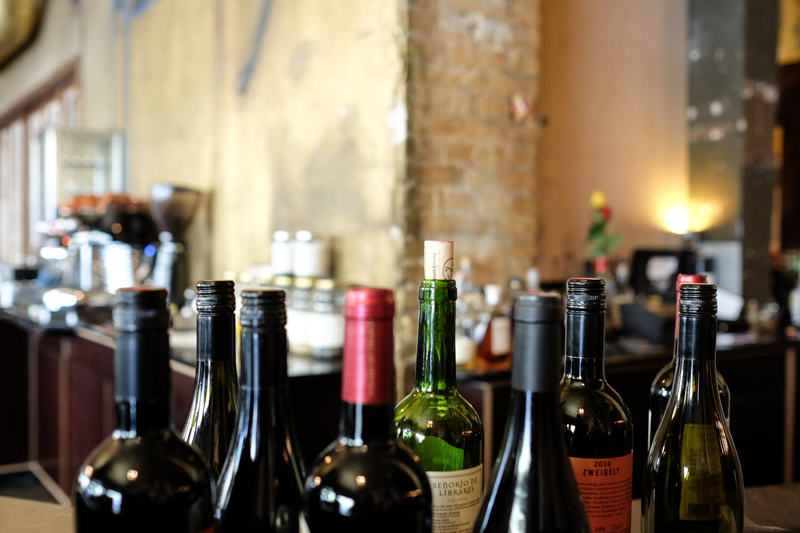 Wine tastings fall into two categories. Tutored tastings are led by someone who talks about the wines to be tasted with a limited number available. At walk-around tastings there are many wines on tables grouped often by producer, importer, region or style and tasters move around selecting which wines they want to taste. At most tastings the wines are poured by people staffing that table.
Here are ten things you should not do at tastings.
1 – Don't get drunk. There's more wine than you can taste and it's easy to overdo it. Take it slow, drink water and remember to spit.
2 – Don't spray. Take care and aim when you use spittoons. It's all too easy to miss and spray another person, and even easier to dribble down your own front. If you wear a tie, tuck it in; don't wear dangly scarves, bags or loose clothing that can drape in the spittoon. Best to practise spitting at home beforehand.
3 – Don't block. Don't block other's peoples access to spittoons, use them and move away. It's not only a courtesy to others but also in your own interest that you don't get sprayed by an inaccurate spitter.
4 – Don't pong. Perfumes and aftershaves are not welcome at wine tastings. People want to smell the bouquet of wines, not your Chanel No. 5 or Old Spice. Even if you think yours is discreet and hardly noticeable, that's because you're used to it. It will be overpowering to a wine lover trying to judge the contents of a glass.
5 – Don't smoke. Whether tobacco, weed or herbal, smokers are not welcome at wine tastings for the same reason as not wearing perfumes.
6 – Don't hog. Ask questions and chat to the pourers if you have their full attention, but don't hog them when others are waiting to get their pour. If you have an involved question that you must ask, or want a discussion, get to the tasting first thing while it's still quiet.
7 – Don't socialise – It's good to go with friends and chat about the wines you're tasting but once you have had a pour move away from the table to chat. Don't make a wall in front of the table preventing others from getting to it.
8 – Don't self pour – The pourers busy and the bottle you want to taste is right in front of you, but don't pour your own serving unless invited to do so. To self-pour is illegal in some jurisdictions. It's tempting to fill the glass more than the pourer would, yet they've calculated how many pours they'll make and have that number of bottles. Every pour is a cost to them, so amounts that can be poured is controlled. Again, the size of a pour is legally restricted in some jurisdictions
9 – Don't feast. The bowls of crackers, wafers, bits of cheese etc on tables are meant to clean tasters' palates, not to be a meal. Don't hoover them up, and it is poor manners to take them from tables that you aren't tasting at without asking.
10 – Don't grab. If there are goodies such as pens, bags, caps, corkscrews etc either wait to be given one, or ask. Don't grab or scoop up everything in sight. It's etiquette to be tasting from that stand, but not always, sometime they are just handed out to passersby. Unfortunately freebies are less common now in these tight times.
Ask questions on our
forum
.
Peter F May is the author of
Marilyn Merlot and the Naked Grape: Odd Wines from Around the World
which features more than 100 wine labels and the stories behind them, and
PINOTAGE: Behind the Legends of South Africa's Own Wine
which tells the story behind the Pinotage wine and grape.
You Should Also Read:
Top 10 Tasting Tips


Related Articles
Editor's Picks Articles
Top Ten Articles
Previous Features
Site Map





Content copyright © 2022 by Peter F May. All rights reserved.
This content was written by Peter F May. If you wish to use this content in any manner, you need written permission. Contact Peter F May for details.