Guest Author - Jeanne Egbosiuba Ukwendu
I discovered this book when the author, Ivy Newton-Gamble, started following me on Twitter.com. I saw she had published two African cookbooks - "A Sweet Taste of Africa" a cookbook of African sweets and "A Field of Greens" a cookbook of African soups and stews. I purchased "A Sweet Taste of Africa" from Amazon.com.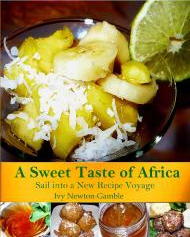 "A Sweet Taste of Africa" has some commonly asked for recipes such as maandazi, fried bananas, and chai masala. There is a wide range of recipes from all over Africa - Algeria, Angola, Central African Republic, Egypt, Ethiopia, Gabon, Ghana, Ivory Coast, Kenya, Lesotho, Liberia, Madagascar, Morocco, Mozambique, Nigeria, Rwanda, Senegal, Somalia, South Africa, Sudan, Swaziland, Tanzania, and Uganda. You will also find recipes with an Asian flair from North Africa - not unexpected as there is a very large Asian and also Muslim population in Africa. The whole of Africa is well represented in this cookbook.
With all the really great recipes in this cookbook of African sweets, I was actually disappointed so I am going to suggest a couple of changes for the second edition.
The first thing I noticed when I opened "A Sweet Taste of Africa" was the lack of photographs. There are some black and white photos of daily life in Africa, but there are no photographs of the recipes with the exception of the front and back covers. I was really disappointed. Personally, it's the photos that make me want to try out a new recipe. How do you know how the recipe is supposed to look when you've made it? Did you make the recipe correctly? Adding full color photos to this recipe book would be a huge improvement along with a list of the recipes pictured on the front and back covers.
Something interesting in this cookbook is the list of ten words from different African languages at the beginning of each chapter. What a great idea! However, I don't understand the choice of words used in the lists such as:
them
soup
not
we said
trowel
root
mile
taste
which place
one day
I would prefer to see words pertaining to the kitchen and cooking instead of seemingly random words. Even more interesting is to use the same ten words throughout the book. It would be fun to compare the words across various languages to see the differences and similarities between the languages. Perhaps a word list would include such words as:
kitchen
oven
stove
plate
bowl
cup
hot
cold
fruit
bread
Personally, if the above two suggestions were done to this cookbook for the second edition, I think this would be a really great cookbook.
"A Sweet Taste of Africa"
is available from Amazon.com