Adam Puchta Winery - Missouri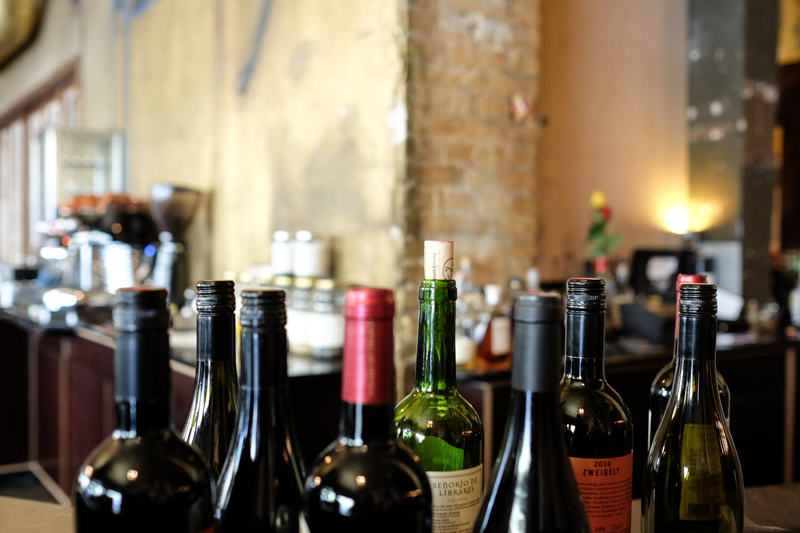 Tim Puchta is remarkably sanguine for a man who has yet again lost his entire crop from his main estate Norton vineyard. "We lost 2007 to frost and 2011, 2012 and 2013 because of drought. The drought was so bad that deer, wild turkeys and squirrels ate our sour unripe green grapes in desperation to find moisture. Turkeys have really long necks and they just stretch up and pluck the grapes, or fly up and perch on the trellis and eat the grape below. We managed to make just 100 cases of 2013 from a vineyard my father planted at his home, instead of the 6-800 cases expected."
Can't he shoot them? "That wouldn't be ethical, they can't help it. Anyway, if I could manage to kill them all, the void would be filled by others coming in." However he has a cunning plan. "I'm going to plant alternative crops they like better than grapes. Turnips for deer, they like the greens and dig up the roots. Sunflowers for the birds and I'm creating water pools for squirrels. There's a risk more animals maybe attracted, but they're territorial creatures and those that are already here will keep out newcomers. I'll also net the vines because deer like the leaves and to protect grapes."
"Conservation has been successful," he ruefully acknowledges. "In my Dad's time turkey and deer were almost extinct here."
Tim Puchta is the sixth generation owner of Adam Puchta & Sons Winery in Hermann, Missouri. It is the oldest continuously owned family farm winery in the United States.
The property dates from 1839 when John Henry Puchta from Bavaria, Germany, bought 6000 acres and started planting vines and making wine. It was his son, Adam, who in 1855 launched Adam Puchta and Son Wine Company. But when prohibition arrived things became tough. There were 61 wineries in Hermann and the local economy depended on wine. The Puchta's lost nearly everything. They planted different crops but had to sell most of their land to survive, retaining only 80 acres. In 1990 Tim's father re-opened Adam Puchta as a commercial winery. They now have 5.6 acres of vines.
"Our whole goal is to produce quality wine that goes with food," says Tim. "Our focus is on Norton – I grew up on Norton and it's become a passion."
What about Norton's notorious acidity? "Norton is a chemical anomaly. It has high acidity and high PH. You could raise acidity to lower PH and then remove acidity. We cold stabilise and age for 22-26 months in medium toasted French oak and heavy toasted American oak stave in tanks. Our staves are a lot thinner than usual and they're toasted on all four sides.
"We've worked with a yeast company and after many years of experiments have found some that work well. We use two to four different yeasts in order to build flavour profiles so we get layers of tastes. We also ferment much cooler and for longer which keeps the Norton fruit flavours that we'd lose during a hot ferment.
"We remove the skins after 7-10 days: any longer and you can get off-flavours. The colour comes from Norton almost instantaneously."
It was now time to taste.
Adam Puchta Winery
1947 Frene Creek Road
Hermann, MO 65041
www.adampuchtawine.com
Talk about wines on our
forum
.
Peter F May is the author of
Marilyn Merlot and the Naked Grape: Odd Wines from Around the World
which features more than 100 wine labels and the stories behind them, and
PINOTAGE: Behind the Legends of South Africa's Own Wine
which tells the story behind the Pinotage wine and grape.
Disclosure:. Peter F May travelled to Adam Puchta & Sons Winery at his own expense.
You Should Also Read:
Ten Missouri Wine Facts
Les Bourgeois winery - Missouri


Related Articles
Editor's Picks Articles
Top Ten Articles
Previous Features
Site Map





Content copyright © 2022 by Peter F May. All rights reserved.
This content was written by Peter F May. If you wish to use this content in any manner, you need written permission. Contact Peter F May for details.