Uji is an East African dish eaten for breakfast. It is a thin porridge made from a combination of millet, corn, and/or sorghum flours. This dish is also known as Ogi, Akama, Akamu, Burukutu, Mahewu, Pap, Pito.
With the combination of millet, corn, and sorghum flours, this recipe is a gluten free recipe.
Uji Recipe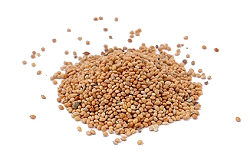 1/4 cup millet flour
3/4 cups corn flour
1 cup water
3 cups boiling water
1. Mix flours with 1 cup water.
2. Separately boil 3 cups water.
3. Add wet flour to the boiling water while stirring.
4. Cook for 5 to 10 minutes.
Fermented Uji Recipe
1/4 cup millet flour
3/4 cups corn flour
3 cups water
1. Put flours and water in a plastic container.
2. Cover the container and leave it for 2 to 4 days to sour.
3. Pour the water only into a pot and boil it.
4. Add the flour and stir it constantly for 5 to 10 minutes.
5. Add sugar to taste.
Uji is a thin porridge - almost thin enough to drink. The consistency of gravy would would just about right. Of course, you can make this porridge as thin or thick as you like.
Substitutions and Variations:
*Use 1/2 cup millet flour, 1/4 cup sourgum (sorghum) flour, and 1/4 corn (maize) meal for a more authentic flavor.
*Stir in the juice of one lemon after cooking.
*Add cinnamon and sugar (or sugar substitute) to sweeten the uji.
*Add fresh fruit like bananas, strawberries, blueberries, mangoes, etc
*Add honey to sweeten the uji.
Alternate Names for Ingredients:
*Sorghum flour is also know as sourgum or mtama flour.
*Corn meal may also be called maize meal. White corn meal is known as mealie meal in Africa.
Millet flour is made from the grain millet. Millet flour is gluten free. It has a sweet taste and lacks the bitter aftertaste often associated with sorghum flour. Millet flour is nutritionally equivalent to wheat flour. If one wants to reduce the number of carbohydrates in a bread recipe up to one third of the wheat flour can be substituted with millet flour. Millet flour produces a lighter, crunchy crust in breads.
Sorghum flour is also gluten free. It originates from Africa. Unlike most grains, sorghum is eaten with the hull on thus retaining a lot of it's nutrition. Sorghum is high in protein, iron, and fiber. Sorghum has a neutral flavor and is sometimes sweet, but can have a bitter aftertaste.
Corn meal or flour is also gluten free. Corn has been in cultivation for over 100,000 years. Corn meal is a fine flour that has been ground from dried kernels of corn.

You can purchase sorghum flour from Amazon.com.
Bob's Red Mill "Sweet" Sorghum Flour, Wheat & Gluten Free, 22 oz.
This site needs an editor - click to learn more!

You Should Also Read:
Injera - Ethiopian Flat Bread Recipe
Chapati Recipe - East African Flat Bread
Mandazi Recipe - East African Donuts




Related Articles
Editor's Picks Articles
Top Ten Articles
Previous Features
Site Map





Content copyright © 2022 by Jeanne Egbosiuba Ukwendu. All rights reserved.
This content was written by Jeanne Egbosiuba Ukwendu. If you wish to use this content in any manner, you need written permission. Contact BellaOnline Administration for details.