Oskar Blues - Leading Man of the Micro Can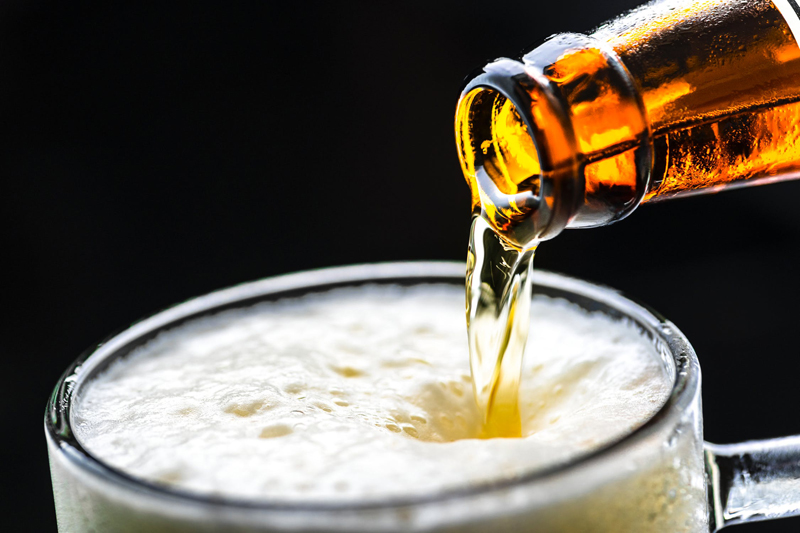 Some folks are always a piece of the action, aren't they? They seem to get their fingers into every "happenin' event." Whitewater Festival? They're in! Great American Beer Festival? They're in! Promoting bands that scream of rock and blues, bluegrass and jammin' jazz? They're in! Cajun cooking? They're in! Crafting great beer in the middle of the Rockies? They do that, too!

Dale Katechis is synonymous with passion – that's how he spreads himself like a fine barbecue sauce over the face of the Rocky Mountains. As founder of Oskar Blues Grill & Brew in Lyons, Colorado, Dale's enthusiasm for frontiersmanship is boundless. Started in 1997, Oskar Blues quickly morphed into a brewpub two years later, producing fine craft brews that created excitement among the locals and tourists alike.

Passion for his Southern Alabama roots brought Cajun cooking to this little gem in the Pacific Northwest. Andouille sausage, crawdaddies and jambalaya quickly became a part of the mountain magic. Add a passion for the night music of local bands and national celebrities, and a swirling atmosphere of hot action became the norm.

As the finest of Brewmasters, Steve Schott creates beer with exceptional clarity, tantalizing aroma, and seductive flavor. These brews are so exceptional that Katechis needed a way to protect their delicate balance. It is common practice for the"big guns" to can beer, so this little microbrewery saw the brilliance in an idea, and started canning their own – two cans at a time. As progress would have it, Dale K. had access to the microcanning revolution, and purchased equipment from Canada that would enable him to can 1,800 cans an hour.

Canned craft beer?

Absolutely! The benefits of such a move are beautiful to a beer lover who lives an adventurous life. Heart healthy adults who love the great outdoors – hiking, canoeing, mountain-biking, camping, and white-water rafting - can now take along specially crafted beer in a lightweight can without the worry of broken glass. Oxygen contamination and light exposure that cause skunkiness, so common in bottled beers, is never a problem. Cans also chill more quickly than their brown-dressed counterparts. And the recyclable cans are environmentally friendly – easy to crush, transport home, and pass back for reprocessing.

You may wonder if it is possible to have truly great beer in a can. Dale and Steve have carefully selected two of their finest brews as "Royalty for the Can." Dale's Pale Ale (Gosh! Who do you think this one is named after?) is a brisk American Pale Ale of sparkling, jewel-toned amber with a creamy, ivory head and stratus lacing. The caramel sweetness of European malts are balanced by the clean bitterness of American hops – Cascade and Columbus for flavor, Northern Brewer for bittering, and Centennial, imparting the delicate aroma of dried flowers and fresh pine. The taste is spicy and evergreen, with light sweetness and moderate citrus hoppiness.

Old Chub Ale is a celebration of malt in typical Scottish style. This remarkably cola-brown brew tips-its-hat with a dense, tawny head. Malts from the US, UK and Belgium, kissed by beechwood smoked grains from Germany, create a creamy mouthfeel, with a satiating palate of caramel, chocolate and delicate roasted smoke. This brew is in the class of a fine, single malt scotch, with 8% ABV.

Dale's Pale Ale and Old Chub are available in a patented Singing 12-pack Series, with a bonus seven-song CD featuring the Seattle-based Supersuckers in original-styled, rippin' country rock.

If you are a solid hold-out for bottled beer, Oskar Blues has reserved their 750 ml corked champagne bottle for your drinking pleasure. Gordon Imperial India Pale Ale is a hop monster at 90 IBUs and a whopping 9.2% ABV. Get out your tulip glass, and enjoy the full nose of a bottle conditioned IPA. Enjoy the intensity of this bitter giant!

If you prefer the atmosphere of the brewpub – hot music, fabulous food, and draft beer – One Nut Brown Ale, clear and smooth, with a balanced, lightly hopped edge is your lady-in-waiting. With St. Patty's Day around the corner, Reverend Sandi's Sinful Stout, a nitro poured black Irish draft, will create easy drinkability for the grand celebration of the green.

Oskar Blues Beer is available in Washington, Oregon, Colorado, Arizona, New Mexico, Georgia, and Virginia, with distribution coming soon to California. If you are planning a trip to Rocky Mountain State Park, join other locals and global warriors with some chillin-time at Oskar Blues Grill & Brew. Get the details at www.oskarblues.com.
 
You Should Also Read:
Scottish Ales of Celtic Mystery
Beer Lovers Cookery Celebration - Dogtown Jambalaya
Heart Healthy Beer


Editor's Picks Articles
Top Ten Articles
Previous Features
Site Map





Content copyright © 2023 by Carolyn Smagalski. All rights reserved.
This content was written by Carolyn Smagalski. If you wish to use this content in any manner, you need written permission. Contact Carolyn Smagalski for details.