Red and Pink Container Choices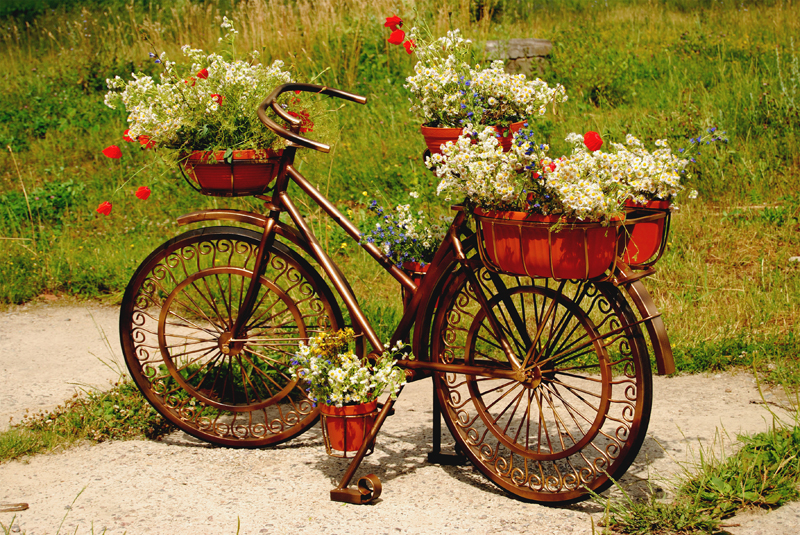 There are a wide variety of annuals available in colors of red and pink which do very well in containers. I have chosen ten of my favorites because of their ease of growth, resistance to disease, and long bloom time: Celosia, Coleus, Cosmos, Impatiens, Nasturtium, Pansy, Petunia, Poppy, Salvia, Zinnia. Here are twelve ideas for mixing and matching these beautiful flowers in your container garden.
Hanging Baskets
1. Plant several colors of trailing nasturtium in a basket and hang in a sunny location. Allow the branches to hang, or train them up the hanging wire and along hooks hung from the wall, or along a fence or trellis.
2. Plant several colors of Impatiens in a basket including right along the edge. If the basket has side openings, plant some impatiens in the sides, as well. Keep well watered and enjoy the cascade of blooms all summer long.
3. Plant a mixture of Pansies and Petunias of complimentary colors in a basket. As the plants grow be sure to train the petunias around the pansies so that all flowers are visible.
Large Containers
1. For a shady area, plant a tall growing large-leafed Coleus in the center of a large container. Plant 3 Celosia around the Coleus, and plant impatiens along the sides. If desired, plant red or pink lobelia interspersed at the edges so that it cascades down the sides of the container.
2. Plant a group of three cosmos together at the back of the container, a few inches apart (chose the same or complimentary colors). Plant two or three California Poppy in front of the cosmos, to either side. Plant three Petunias at the front and side edges of the container to trail down the sides.
3. Intermix Salvia and Zinnia at the center of a large container, surrounded by mounding and trailing Nasturtium. Train the trailing Nasturtium branches over the sides as the plants grow. Trim as necessary to keep looking neat.
Container Trio
Choose a flower mixture that blends well in color, size, shape and leaf texture. Have one or more of the same types in each container to connect the theme, or have two or more flowers from each container be carried through into the next size container – for example pansy and salvia in both the small and medium sized container, and salvia, and cosmos in both the medium and large sized containers.
Large container:
Plant 2-3 salvia and 1-3 cosmos in a group towards the back center of the container in colors which blend well. Plant color-coordinated pansy or poppy in front and to either side of the salvia and cosmos. Finish off with some red alyssum or lobelia trailing over the sides.
Medium container:
Plant with 1 cosmos and 1-2 salvia matching the large container. Surround with pansies. If desired, add alyssum or lobelia to match the large container.
Small container:
Plant 1 salvia and 1 or 2 pansies, matching the larger containers. If desired and there is room, add alyssum or lobelia
Small Containers
1. A single coleus plant looks beautiful alone in a container, especially if the container matches one of the colors in the coleus leaves. Pinch occasionally to encourage branching.
2. Two or three small celosia look well in a small container, or plant a single celosia if it is one of the larger varieties.
3. Plant a Thai Silk poppy with two red or pink lobelia trailing down the sides.
You Should Also Read:
Container Flowers - Red and Pink Annuals
Container Design Ideas - Blue and Purple Annuals
Container Flowers - Blue and Purple Annuals


Related Articles
Editor's Picks Articles
Top Ten Articles
Previous Features
Site Map





Content copyright © 2022 by Jessica Carson. All rights reserved.
This content was written by Jessica Carson. If you wish to use this content in any manner, you need written permission. Contact Lestie Mulholland for details.