Guest Author - Michelle Taylor
This movie is, in my opinion, one of the most thought provoking and visually stimulating films ever made. It is also the most emotionally wrenching; both good and bad. No other film has ever made me feel so much like sobbing one minute and laughing the next. Robin Williams (one of the goofiest comedians ever born) just tears at your heart and takes you along with him on his emotional ride. Never at any time in this film do you feel he is acting. You just
feel
.
What Dreams May Come
Takes you on the life and afterlife journey of Dr. Chris Neilson. Early in life Chris meets his soul-mate in Annie, an amazing painter. They soon marry and have two beautiful children, Ian and Marie. Their life is the typical American family life. Then one day, the two children are tragically killed in a car accident, and the parents are left to go on without them.
Annie suffers from a breakdown and tries to kill herself. She winds up being hospitalized, but Chris never gives up on her. She is his one true love, and he is her lifeline. He pulls her back from the brink of madness and they go on with their lives, although Annie's light is much diminished by the loss of her children. She constantly needs Chris to affirm her existence and pull her through the days.
On the day of their anniversary Chris goes to bring some of Annie's paintings to her at her studio. However, he is in a horrible car accident, trying to save others, and is killed instantly.
At first he cannot let go of his life here on Earth. He longs to remain with his wife, whom he sees grieving so deeply for him. He manages to touch her lightly and make her hear his voice in whispers – but only succeeds in driving her mad and causing her more pain. He is eventually persuaded by a guide that it is worse for Annie if he remains here. That she cannot heal so long as he stays so close, that it hurts her. So he finally says goodbye and lets go.
And opens his eyes to find himself
inside
one of his wife's most beautiful paintings.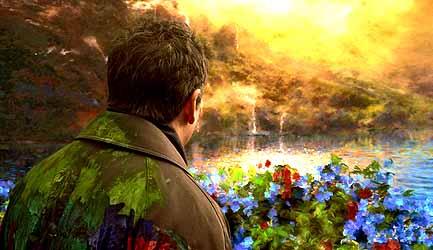 His guide informs him that Heaven is of our own making, and we can each create it to look exactly as we wish it. That we paint it from our imaginations – although this is the first time someone has actually used real paint!
Once Chris is able to wrap his mind (or soul) around the idea of being dead and in Heaven, he realizes he can look for his children who passed away 4 years ago, and begins that journey. While searching for them he receives the news that his wife Annie has committed suicide. He at first is happy, thinking that she will be able to join them, but his guide corrects him.
As Heaven is of the mind's own making, so is Hell. The only people that suffer Hell are suicides – not because they have committed an unforgivable sin, but because they have lost all hope and cannot dream a good dream. They are forever lost in their despair, cut off from all contact, from all comfort and love. Hell is madness in solitude. And no one has ever been able to break free from that despair which caused them to end their life to begin with.
But Chris is not content with that answer. He resolves to rescue his wife from the Hell of her own Making. She is his soul-mate, he can feel the pull of her, and he is sure that the pull will be just as strong for her.
That
will be the thing that will allow him to rescue her from despair – their love.
Chris fights through condemned souls, the fires of hell, and even his own bleakness in order to reach his wife. Ultimately they must save each other.
What Dreams May Come
is a powerful film. It is one that will make you think long and hard about religion, the afterlife, love, suicide, and about a dozen other topics. It is
heavy
. This is not a popcorn and M&Ms movie. This is more like a glass of fine wine movie, one to ponder and sit pondering even after it is over. It can leave you emotionally exhausted. It challenges you.
In other words, if you are seeking meaning and want to get away from the books for a while – this is a good way to go. You may not agree with everything in the film – but it will challenge you to think about what you
do
believe.
Rated PG-13 for thematic elements involving death, some disturbing images and language. I would even caution that most kids under 16 are not ready for this film. If you do allow your children to watch it – watch it
with
them and have a family discussion about it afterwards. This is an opportunity to discuss a deep and sometimes painful subject with your child that you don't often get, outside of losing a family member.