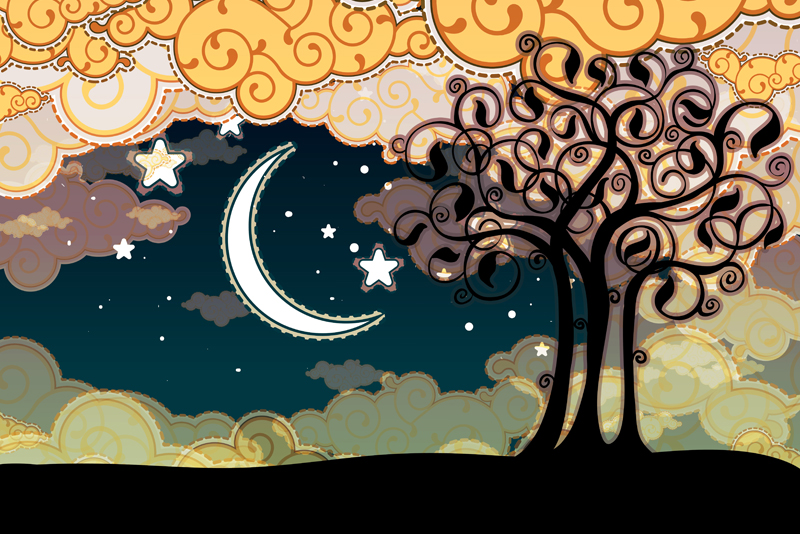 Wealth spells can be useful for boosting income on an "as needed" basis, but for a more long term effect wealth altars have a stronger effect. They can also help focus your efforts on managing your financial affairs, especially your attitude to money which can be at the root of many financial issues affecting your life. The choices of Deity and the rituals you practice both say a lot about the way you approach money, and what you expect wealth to be. These can not only help you to become more adroit with money, but actively aid in your self-development.

Wealth altars come in all shapes and sizes, from a discrete shelf in your bedroom to a full blown centrepiece in your temple/sacred place depending on circumstances and feeling. Our own wealth altar is set up discreetly by the front door and most people- even Pagans- never notice it's there as it blends in with the décor. It incorporates crystals, a main wealth talisman and mandalas based on Chaos Magick, but still looks like a series of decorative items on shelves by the front door. Others I have seen were private and far more impressive but, as with all magick, it's the effect on the mind and spirit rather than the actual materials of which the altar is made that is important.

The other consideration for siting your wealth altar is if you follow one of the systems of Geomancy, such as Feng Shui, or its Western equivalent, which attributes different energies to the shapes of buildings and their siting on various landscape features. Usually this is used in conjunction with astrology and ley lines depending on the individual and the structure of the system they use. Sometimes this extends to making the whole building a wealth altar or talisman which I covered in depth in one of my books*.

Having decided on where you are going to site your altar you then have to decide what kind of focus you are going to give your altar. Many Pagans prefer to work with a particular Pantheon, or Deity, to whom they have a particular affinity. Others work with thought forms or entities such as fairies, dwarfs, or elves, especially if they are working on wealth symbolised by gleaning precious metals or jewels. These may come to the magick worker by trade or even looking around charity (thrift) shops. A surprising amount of good quality jewellery can be found in them, especially the ones run by individuals or small groups who don't have specialists on the staff. For those of you who feel that this may be 'ripping off' the charity you can always return what you feel is a reasonable amount to the charity or shop you bought the item from. If you feel any guilt at all, it's well worth doing this as any negative feeling can create a psychological block that can negatively affect any wealth spells or rituals you might do.

It is always more effective to work magick for material things than actual cash, but sometimes wealth can come in the form of ideas for making money. Commercial ideas that can be turned into a viable business rather than gambling-type 'hunches' that rarely work out for sustainable wealth growth. This approach also works well for aiding in advancing your career path, especially if you are aiming to reach a high level in your particular field of endeavour. An altar that emphasises these aspects of the income you get from your job or career can greatly help your creativity in this area.

After you have constructed your altar leave it for a few days and notice any changes, positive or negative, that happen both wealth-wise and to your life in general. If all generally goes well then it is set up correctly for the current circumstances, if not it is worth looking at your altar layout from both the practical and worldview angles. Sometimes the solution is obvious, such as an item symbolising incoming money – such as they Feng Shui symbolism of a picture or model of a boat loaded with cash or goods- poorly positioned. The most common mistake in this case is the item positioned as if it were leaving the house rather than entering it.

Looking at the layout as though it was a Tarot card can also reveal a lot about your underlying attitude to money which can have a major effect on how you perceive and utilise wealth. This psychic aspect of wealth generation underpins all the other factors because if you work magick out of greed, or anxiety about poverty, these attitudes can weaken the enchantment lessening the chance of it having the intended result. Key signs of this type of negativity to look out for are:

• Symbols or spells for several luxury items- especially high end goods or services
• Focusing on gaining and keeping wealth rather than balanced development

• A cluttered altar purely focussing on material gain
• Never feeling satisfied no matter how much money your spells and rituals attract
• Using magick to attempt to 'beat the odds' such as winning the lottery.

These, and similar approaches for gaining wealth highlight an unhealthy attachment to money and wealth that can be an active block to wealth growth. Like the Zen concept of "The Finger Pointing at The Moon", if you fixate on the finger you miss appreciating the Moon in all its glory.

The best way of attaining and maintaining wealth is to appreciate what you have and act as a lens or conduit for wealth rather than trying to accumulate it per se. One of the best Deities to help with this is the Hindu God Ganesh. A very distinctive God with the head of an elephant and his attributes include the removal of obstacles, and learning. The items which He holds also have great symbolic power on many levels, as does his actual appearance, and I encourage you to research these aspects. Once you can appreciate fully what you already have you are well on the way to true wealth and it can form an effective platform for further gain.

*"The Wizard's Way to Wealth" published by Cappall Bann
You Should Also Read:
Money and Magick
Wealth and ProsperityTechniques For the New Year
Wealth Spells and Techniques


Related Articles
Editor's Picks Articles
Top Ten Articles
Previous Features
Site Map





Content copyright © 2022 by Ian Edwards. All rights reserved.
This content was written by Ian Edwards. If you wish to use this content in any manner, you need written permission. Contact Ian Edwards for details.