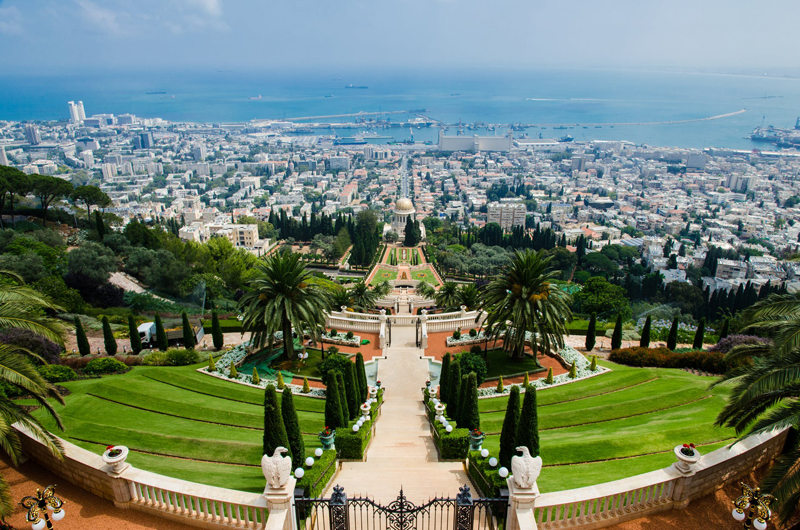 "All that has been created is for man who is at the apex of creation and who must be thankful for the divine bestowals, so that through his gratitude he may learn to understand life as a divine benefit. If we hold enmity with life, we are ingrates, for our material and spiritual existence is the outward evidences of the divine mercy. Therefore we must be happy and pass our time in praises, appreciating all things." - 'Abdu'l-Bahá,
Divine Philosophy,
p. 134
As I get older it is daily more difficult to expect joy when I wake. I must decide to anticipate happiness first thing every day. Alas, the longer I live, the more proof I have that things aren't going to go my way all the time--or even some of the time, depending upon the day!
Small children don't have this problem, as a rule. Perhaps they lack experience when observing the world around them. Presently there are more people living longer than any time in human history, and adults know more about what's happening in the world than ever before. And it isn't just because bad news seems to be more commonly reported than the good stuff.
Part of growing up is taking responsibility for not only what we do, but what we think and feel, as well. As we grow, we learn that happiness is a choice, and not something we search for outside ourselves. While children don't seem to need to be told to look at life with anticipation, adults often do. And often we use religion, which has always promised comfort, if not outright happiness. For me, at least, that morning attitude adjustment provided by some prayer and meditation is absolutely critical. Without it, the day just goes downhill before I've even decided what to wear!
I am not alone in this commitment. Followers of many religious and philosophical doctrines practice mindful responsibility for creating personal happiness. The Bahá'í Faith teaches that all knowledge comes from the same source--one Creator known by many names. What looks like many religions is actually a series of chapters in the same religious Book, the Word revealed over time as mankind developed.
"The purpose of the one true God in manifesting Himself is to summon all mankind to truthfulness and sincerity, to piety and trustworthiness, to resignation and submissiveness to the Will of God, to forbearance and kindliness, to uprightness and wisdom. His object is to array every man with the mantle of a saintly character, and to adorn him with the ornament of holy and goodly deeds." - Gleanings from the Writings of Bahá'u'lláh, p. 298

"The divine messengers come to bring joy to this earth, for this is the planet of tribulation and torment and the mission of the great masters is to turn men away from these anxieties and to infuse life with infinite joy. When the divine message is understood, all troubles will vanish. Shadows disappear when the universal lamp is lighted, for whosoever becomes illumined thereby no longer knows grief; he realizes that his stay on this planet is temporary and that life is eternal." - 'Abdu'l-Bahá, Divine Philosophy, p. 69
Psychology tells us that humans need to find meaning in everything that happens to them, as well as how they respond. Religion has always provided that meaning, shaped to the understanding of the day in which each chapter was revealed. Knowledge and understanding change, and can be modified by hubris and the longing for more control, of course. But at its core, religious teaching is about finding contentment in meeting the challenges of this material life.
Each of us must find his/her own way--and I prefer to believe that if God is the Center of all creation, then the paths toward that Center have equal importance, even when they may appear to be different, or even going in opposite directions, from my point of view. For me, the path happens to be what understanding I have of the Bahá'í Faith. It makes sense of what I see around me physically, emotionally, and spiritually.
Since what I see may not be what others do, I need to be okay with differences because perfect knowledge belongs only to the Creator. Therefore, I need to respect my own abilities AND limitations, but also recognize that I need the perspectives of others in order to make sense of what I can see. I work to accept and cherish differences because they enrich the whole.
I can find contentment in that.
"If thou standest steadfast and firm in this seeking and advancement, not becoming agitated by the trials, giving repose and composure to the mind, and freeing thyself from attachment to this ephemeral world, be thou assured that thou shalt become an enkindled lamp, spreading the lights of faith, assurance, knowledge and the love of God in every gathering-place." -
Tablets of 'Abdu'l-Bahá v3,
p. 695
You Should Also Read:
Finding Joy
Change Your Perspective
Hope Requires Adversity


Editor's Picks Articles
Top Ten Articles
Previous Features
Site Map





Content copyright © 2018 by Cheryll Schuette. All rights reserved.
This content was written by Cheryll Schuette. If you wish to use this content in any manner, you need written permission. Contact Cheryll Schuette for details.