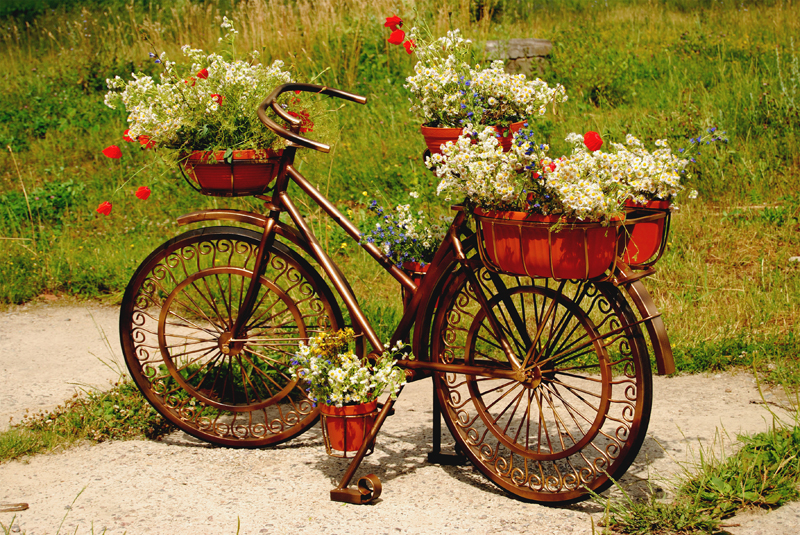 Bewitched, Bothered and Bewildered?

Get garden-bedazzled and bejewelled by growing some intriguing gorgeous snapdragons – easily one of the more charming additions to anyone's container garden. This familiar if old fashioned (?) flower comes in a rainbow of colours … as kids we used to collect the flowers and play 'snapdragons' and drive our teachers mad because they said we were desecrating the school gardens by this 'silly game.' Of course we didn't agree!

Many will be familiar with the common snapdragon, Antirrhinum majus, where the flowers bloom on upright spikes and come in different sizes, growing styles and wonderful colours and colour variations (except blue). As such, they are so complimentary to any garden space and easy to cultivate and care for. If you use the 'thriller, filler, spiller' idea for designing and planting out your pots, then I would say that snaps are definitely thrillers … but they can be fillers … and spillers – it's your choice, this versatile flower offer so much and is not demanding as container plants go.

If you have garden facilities – like work benches and space to store soil and compost and germinating seedlings, and grow lights and garden tools and such, then you can grow snapdragons from seed easily, they just need things that strict 'balcony' container gardeners often don't have. If this is your case, then seedlings bought from the nursery or garden supply store is the answer. I stand in the middle somewhere – sometimes I borrow space from a friendly 'neighbour' which helps to some degree, but I usually opt for visiting my favourite nursery.

Essentially, there are five types of snapdragons and each has its role to play.

TALL SNAPDRAGONS grow from 24 to 36 inches tall, come in a beautiful array of colours, blossom styles and shapes, and they make wonderful cut flowers for the vase too. Moreover, they provide a nice vertical backdrop for your container garden. Depending on your placement of these, you may have to stake them to support them, easily done with thin bamboo rods. You could go for theme pots using only one colour or you could get a rainbow effect by choosing a combination of colours as these come in gold, bronze, red, and rosy-pink. In this category try "Rocket" You have most likely seen the popular "Toppers" which come in red, white, yellow and pink or "Double Supreme" which would make a tall splash of colour with their fragile flowers with ruffled edges. Lastly for the 'talls', try "Bright Butterflies" so named because their flowers come in wonderful colours and have blossoms like butterflies.

INTERMEDIATE SNAPDRAGONS grow from 12 to 24 inches tall, also come in wonderful colours, also make fine cut flowers for the vase and serve their purpose as fillers in your containers, so for best effect plant these between small plants and tall plants for they will serve you well here. They would do okay alone in their own pot because they are so pretty anyway, but would do better if they have a backdrop against which to show off. You get more colours here which include yellow, maroon, orange, crimson, white, rosy-pink and carmine. The deep green and russet stems of "Liberty" snaps are lovely, or you can go for the "Sonnet" series or "Black Prince" will cause a stir with its deep red flowers and purple leaves.

SMALL SNAPDRAGONS grow from 6 to 12 inches tall, also come in multi-colours, can be used as 'pot edge' fillers but serve so well in rockeries, borders, sidewalk edgers and as living mulch. Red, white, orange, purple, yellow, pink … just what the doctor ordered! Dwarf varieties for snaps include "Floral Carpet" which has an undulating effect when grown en masse or bright "Montego" or look out for "Liberty Bell" and Little Darling" which have delicate bell-shaped blossoms and also come in a wonderful array of colours.

TRAILING SNAPDRAGONS, as the name denotes, are the spillers of any arrangement and are well suited to window boxes, cascading pots and hanging baskets and any space or function that needs a trailing, falling or tumbling floral effect. You will be spoilt for choice here when it comes to the splendid colours available – they come in both brights and pastels … pink, white, yellow, lilac … look for them all. You will get fragrant airy blooms from "Lampion" or "Luminaire" which cascade (even though only to lengths of around 12 inches) in fabulous colours or "Chandelier" trailing rainbows wherever planted. Aren't the names gorgeous?

CLIMBING SNAPDRAGONS, also known as the Hummingbird Vine, Mauradya antirrhinifora is easy to grow in southern areas zones 8 and 10 where temperatures are hot. Blooms on the climbing snapdragon are not large so make sure you place your pots where they can be seen and as the size of this gentle climber is contained – it is a very suitable balcony plant. It needs support, would be good as an entrance plant with trellising or even against a wall with patterned string supports. It comes in pink, claret or purple flowers with white throats. Some of the strands at the bottom of the pot could be left to trail down and if needing to fill a space in the garden, this pretty climber can even creep along as a ground cover. Easy to grow, they would make a welcome addition to your patio or balcony.

Caring for your snapdragons is easy. Follow these general rules, in no special order, to your reward.

** Pinch back the vines to make them bushy, give them enough water to ensure moist (not soaking wet)soil and once established, climbing snaps do not need more fertiliser.

** When watering, avoid spraying the leaves from overhead – this could lead to mildew and rot the leaves, rather water the soil.

** At planting time, add a slow-release fertiliser to the soil and ten follow this by using a liquid fertiliser every 6 weeks or so – read the label on the product you choose, do not be casual about measuring. Add it directly to the soil and do not use it as a foliar spray.

** Mulch around your plants – it will conserve water, pretty up the area and hinder weeds.

** Deadhead often, keep your plants tidy and this will extend the blooming season and stop the plants from going to seed too quickly.

** Make sure they get enough sun and that your soil is rich and well-draining, snaps hate wet feet!

One of the 'problematic considerations' of container gardening is space … because once you get going, very often you run out of space and pots long before you run out of ideas, needs and wants. What to grow next? Should I replace something or should I just settle back and enjoy it for another season? Do I feel guilty unless I grow something edible?

With snapdragons, these answers may be easier to find than not – grow some, find the space … they earn their keep with beauty and ease of care and will make a beautiful statement in any pot anywhere.

What do you want your container garden to do?

................................................................................

CASUAL VISITOR … and just browsing? Why not sign up to the Container Garden newsletter? It won't matter what space or how many pots you have or even how much time you have to spend in your container garden; what will matter is that you get our reminders and good advice and ideas all in one interesting article.



You Should Also Read:
Poppy Containers
Cactus Containers
Rose Colours


Related Articles
Editor's Picks Articles
Top Ten Articles
Previous Features
Site Map





Content copyright © 2022 by Lestie Mulholland. All rights reserved.
This content was written by Lestie Mulholland. If you wish to use this content in any manner, you need written permission. Contact Lestie Mulholland for details.