What Are Bahá'ís Working For ?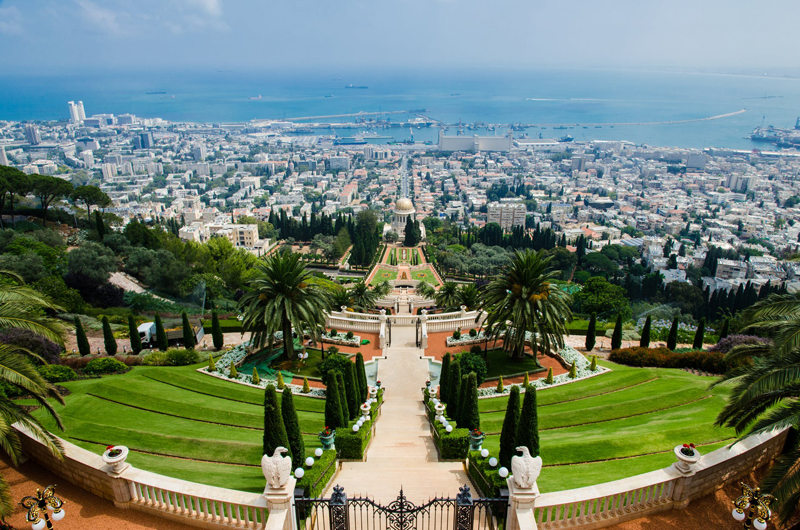 The quick answer is, "God's Kingdom on Earth as It Is in Heaven." That is the promise, in one form or another, of all ages and religious persuasions. Humanity has been waiting so long that some folks expect such a thing to happen as the result of outside forces, aliens or God cleaning up the mess for the true believers. Others think it must happen only in a spiritual place and not on the planet at all. Bahá'ís think it will be built right here on Earth:
"I wish to awaken you out of your deep slumber. Do you know in what day you are living? Do you realize in what dispensation you exist? Have you not read in the holy scriptures that at the consummation of the ages there would dawn a day--the sum total of all past days? This is the day when the Lord of hosts hath come on the clouds of glory. This is the day in which the inhabitants of the world shall enter under the tent of the word of God....This is the day when the east and the west shall embrace each other...; war and contention shall be forgotten and nations and governments shall enter into an eternal bond of amity and conciliation. This century is the fulfillment of the promised century, the dawn of the appearances of the glorious visions of past prophets and sages." - 'Abdu'l-Bahá, Divine Philosophy, p. 37
Bahá'u'lláh, the Prophet/Founder of the Bahá'í Faith, announced that there was only one God, and one religion which has been renewed regularly as mankind developed. His followers believe He produced the latest installment in that guidance. Not only do they not oppose other belief systems, Bahá'ís respect and revere each of those previous Teachers:
"These sanctified Mirrors, these Day Springs of ancient glory, are, one and all, the Exponents on earth of Him Who is the central Orb of the universe, its Essence and ultimate Purpose.[God] From Him proceed their knowledge and power; from Him is derived their sovereignty. The beauty of their countenance is but a reflection of His image, and their revelation a sign of His deathless glory. They are the Treasuries of Divine knowledge, and the Repositories of celestial wisdom. Through them is transmitted a grace that is infinite, and by them is revealed the Light that can never fade.... These Tabernacles of Holiness, these Primal Mirrors which reflect the light of unfading glory, are but expressions of Him Who is the Invisible of the Invisibles. By the revelation of these Gems of Divine virtue all the names and attributes of God, such as knowledge and power, sovereignty and dominion, mercy and wisdom, glory, bounty, and grace, are made manifest." - Gleanings from the Writings of Bahá'u'lláh, p. 47
So the Bahá'í Faith teaches that not only is a peaceable and prosperous world possible, but it is also inevitable. Things will get better; God wants it to. Bahá'í do not, however, expect good stuff to happen just because they believe in it.
"We cannot bring love and unity to pass merely by talking of it. Knowledge is not enough. Wealth, science, education are good, we know: but we must also work and study to bring to maturity the fruit of knowledge.
"Knowledge is the first step; resolve, the second step; action, its fulfillment, is the third step. To construct a building one must first of all make a plan, then one must have the power (money), then one can build. A society of Unity is formed, that is good--but meetings and discussions are not enough....These meetings here in London are good, the knowledge and the intention are good, but how can there be a result without action? " - 'Abdu'l-Bahá in London, p. 54

"Knowledge is not enough; we hope by the Love of God we shall put it into practice. A spiritual universal Force is needed for this. Meetings are good for engendering spiritual force. To know that it is possible to reach a state of perfection, is good; to march forward on the path is better. We know that to help the poor and to be merciful is good and pleases God, but knowledge alone does not feed the starving man, nor can the poor be warmed by knowledge or words in the bitter winter; we must give the practical help of Loving-kindness." - 'Abdu'l-Bahá in London, p. 60
And the followers of Bahá'u'lláh are very busy learning how to do just that. His Words are their guidance and encouragement, as well as a promise in which they have faith:
"Immerse yourselves in the ocean of My words, that ye may unravel its secrets, and discover all the pearls of wisdom that lie hid in its depths. Take heed that ye do not vacillate in your determination to embrace the truth of this Cause--a Cause through which the potentialities of the might of God have been revealed, and His sovereignty established. With faces beaming with joy, hasten ye unto Him. This is the changeless Faith of God, eternal in the past, eternal in the future." - Gleanings from the Writings of Baha'u'llah, p. 136

You Should Also Read:
What Bahá'ís Think is Happening in the World
Do Bahá'is Worry ?
Bahá'u'lláh's Steps to World Peace


Related Articles
Editor's Picks Articles
Top Ten Articles
Previous Features
Site Map





Content copyright © 2022 by Cheryll Schuette. All rights reserved.
This content was written by Cheryll Schuette. If you wish to use this content in any manner, you need written permission. Contact Cheryll Schuette for details.