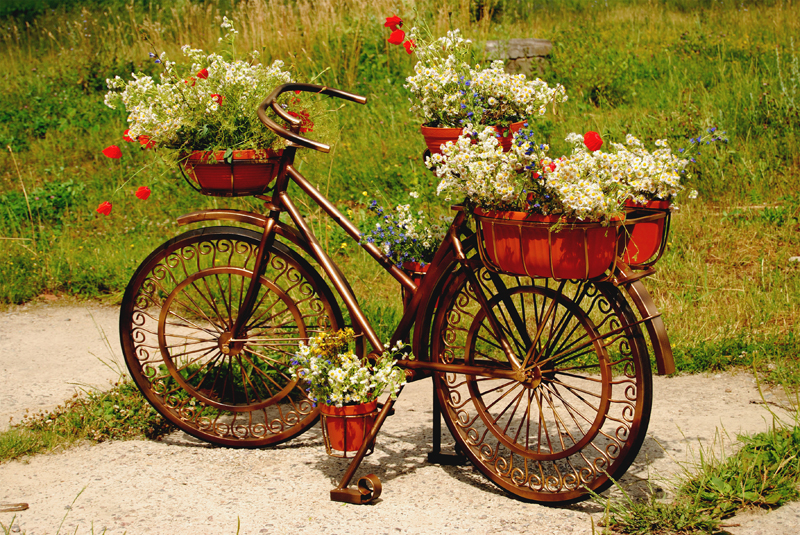 Do you ever see a beautiful plant somewhere and say "Ah gee! I can't have one of those in my small garden space – I only have room for containers and an ugly (or available) side wall."

Many would disagree with you if that plant you saw was a bougainvillea. You can grow these versatile and popular plants as a creeper, a rambler, a hedge, a topiary and in a pot and they will look spectacular as a focal point for your space wherever you place them. Further, they make wonderful bonsai plants and respond very well to the right conditions and care.

Originally from South America bougainvillea are found right across the world and, being suited to arid, subtropical and tropical climate zones, they are also semi-hardy to frost when young. When flowering, the impact of colour comes from the bracts which surround the tiny flower. These bracts come in an amazing array of hues from bright purples via pinks to oranges and include many shades in between, and there will certainly be one to enchant you. Experience has taught gardeners that the dark colours are hardier than the lighter ones.

Bougainvillea are evergreen so always look good in your container garden anyway, but burst into bloom more readily in drier years and usually in spring, though this will depend on your situation and circumstances. Pruning, trimming and re-shaping is best done at the end of summer moving into the beginning of autumn.

These plants are easier to grow than a lot of people think and some even say they thrive on a bit of neglect. I'm not sure but then I guess one has to define 'neglect'. I think that as with all planting in pots, if you stick to some simple rules then you won't go wrong. For ease here below is a summary of pointers for growing bougainvillea in containers.

** Bougs like growing in full sun and hot bright light. Do not put your container in a shady or windy place. Heat is not an issue for these hardy plants – they are not shy and thrive in hot hot sunshine!

** Choose a large container (18" square plus) unless you aim to bonsai your plant where you choose your container accordingly. I have seen bonsai bougainvillea in pots 12"x 6"x 6" and in full bloom – amazing!

** Raise your containers (put them on bricks or use pot feet) to ensure water runoff. If using an 'old' container, make sure you clean it with vinegar water.

** When repotting know that bougainvillea do not tolerate root disturbance, they like to settle down and stay settled. So, when repotting or transplanting, do not disturb the roots in any way, just pack the new soil around the edges in the larger or home pot. If the plant from the nursery is in a back plastic bag make slits up the sides of the bags and plant it as is. Just do not disturb the roots. This is the only plant you should do this with ... all others remove the plastic packing.

** Do not add compost to your soil mix when first planting – only use some bone meal as these plants can thrive in what most would think of as 'poor' soil. The bone meal is to promote strong roots. To start, add some vermiculite to help with water retention and a cupful of dolomitic lime. If you can't find this then don't worry, just make sure your good potting soil drains well and that you do not overwater.

** Make sure they go into well-drained soil in containers with good drainage. They cannot grow in clay-like soils, so help drainage by adding rocks or gravel around the drainage holes so that the soil does not compact and then block the drainage outlets, bougainvillea will not tolerate wet feet.

** Regular watering is essential and as always, make sure to water enough to get to the roots – surface watering is no good BUT, water them sparingly (twice a week should do) as too much water too often may kill the plant and will anyway cause the plant stay green and not produce flowers.

** If you do not get any flowers let the plant dry out completely, almost to wilting, then feed it with some magnesium sulphate and water it well. It should only take a couple of weeks after this for you to get a wonderful display of colour.

** Compost is to be avoided but not fertiliser. Fertilize your bougainvillea three weeks or so after planting with a fertiliser high in phosphates such as 2:3:4 (or super phosphates) and water this well around the roots. Cut back on fertilizing if the plant starts to grow too vigorously as you do not want it to become leggy or to bolt – bougs in containers should be compact. For general feeding and maintenance, use 3:1:5 (hoof and horn) every three months or so as a top up.

** You can grow bougainvillea most times of the year but they would do better when planted in the hot months.

** Bougainvillea plants need good support. You could add a wooden pyramid or make a cane teepee for your container and train the plant up; or you could put two big planters at either side of a trellised wall.

** Care for your plant - keep it tidy and trimmed but only prune after it has finished flowering. If you prune all the time you will not get flowers or they will bloom erratically. Make sure your pruning scissors are clean and sharp; cut wayward growth, do not tear it off.

** Wear protective gloves to avoid the big thorns when working with bougainvillea ... yep, they're there on mature plants. It also makes sense to plant this and use them as an extra pretty security option (as a hedge or over a dividing fence).

** Compact varieties include Sunvillea Dwarf Cream and Sunvillea Dwarf Pink, but choose any to suit your theme or a colour that you like. Mix and match will do too.

Let them cascade in wonderful fountains of colour, it's what they do best and you will get such an excellent return and 'bang for your buck' as they say when you give these beauties a chance.

What do you want your container garden to do?

................................................................................

CASUAL VISITOR … and just browsing? Why not sign up to the Container Garden newsletter? It won't matter what space or how many pots you have or even how much time you have to spend in your container garden; what will matter is that you get our reminders and good advice and ideas all in one interesting article.

You Should Also Read:
Sunflowers in Pots
Chocolate-coloured Containers
Lemon Trees in Containers


Related Articles
Editor's Picks Articles
Top Ten Articles
Previous Features
Site Map





Content copyright © 2022 by Lestie Mulholland. All rights reserved.
This content was written by Lestie Mulholland. If you wish to use this content in any manner, you need written permission. Contact Lestie Mulholland for details.