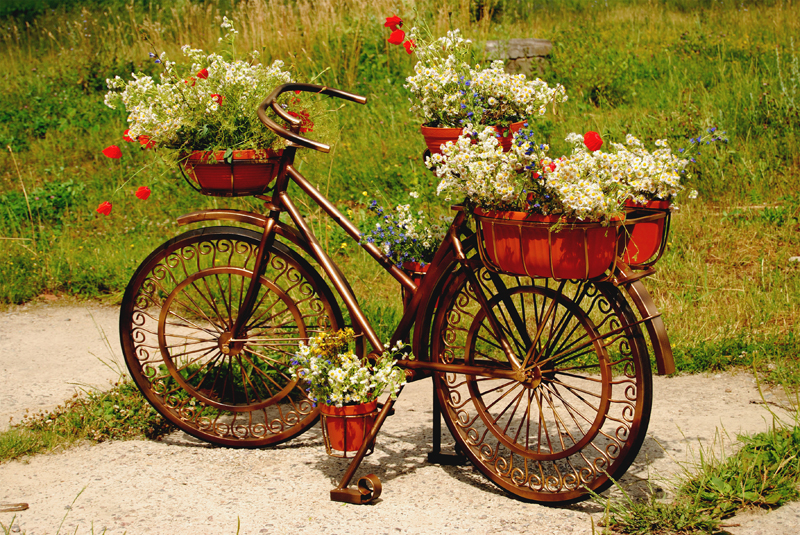 "Today the garden whispered the promise of tomorrow when I sowed the seed of yesterday." Louis van Aswegan.

How true the quote above is for anything that we grow – seeds of action have potential and promise in all areas of life. As far as our container gardens are concerned, promise and delivery go hand in hand when it comes to herbs since anyone can grow a wide selection of these life-enhancing plants easily, and in a variety of containers. Herb pots live up to all sorts of expectations because we all know that health and herbs go together like salt and pepper or bread and butter.

After the indulgence of any celebratory event, be it a birthday bash or a Halloween or Thanksgiving or Christmas get-together, we often promise ourselves that never again will we have so much pie or ale or sweeties or ... and then if it's a New Year facing us (as it does every Monday morning!) we resolve to live better, go to the gym, eat moderately, lose weight and just 'do' better to 'be' better.

Herbs to the rescue! To achieve a long-lasting sense of well-being with a gentle detoxifying of the system we can use herbs that help the liver, kidneys and skin to flush away ever present toxins. Herbs do this because they are rich in easily absorbed natural mineral salts, nutrients and vitamins.

Many of the cleansing and healing herbs used for healthy reasons are easy to grow and readily found. I am not so lucky with seeds so I go for seedlings.

*** Herbs like parsley, chamomile, hyssop, lemon balm, yarrow thyme and pennywort have tonic properties that revitalize body organs.
*** Thyme and pennywort are known as the 'longevity' herbs.
*** Hyssop, lemon balm, yarrow, fennel and celery can be used to strengthen liver function and cleanse the blood.
*** Yarrow and parsley support the kidneys and urinary system.
*** Cayenne (or any other capsicum that causes you to break a sweat) and peppermint are diaphoretics that promote perspiration.
*** Mint (any of them) aids the digestive system as does sage which helps to break down fatty foods.

Now you can discuss going on a special detox diet with a nutritionist or other health practitioner who will formulate a diet specifically for you (good advice if you have current health issues) or you can just get into the habit of incorporating herbs into your daily eating plan so that the health benefits are continuous. Along with this it makes sense to replace processed and prepared foods, fizzy drinks and colas, caffeine, and nicotine with fresh foods, fruit and vegetables, moderate dairy and meats, lotsa lotsa water and herbal teas. Include herbs by adding them to fruit drinks, smoothies and salads and by drinking herbal teas made from fresh (organic-grown-in-your-own-container) leaves. Even if you just do this for a short time, you will develop healthy habits and feel much better by default. Enough I say – this lecture is over!

Making herbal teas and tisanes is easy – and you can use any one of the known 'detox' herbs by itself or you can experiment and find your own mixed concoction for different flavours and tastes.

A good way to make an herbal tea is with a coffee plunger (but if you don't have one no worries). Bring filtered water to the boil and pour over the fresh leaves then allow it to stand for ten to fifteen minutes before pressing down the plunger (if used) and pouring the tea. Glass cups/tempered drinking glasses are great – they add an extra dimension to the enjoyment.

If you make these often enough you will get to know your favourites, get to know how strong you like your teas and get to add complimentary sweet tastes like honey, agave syrup, stevia etc. or even fresh lemon slices. Some, if not most of the herb teas you can make are also delicious if served iced.

One of the most highly regarded detox herbs which is nutrient rich and a fine herb tonic is PENNYWORT, so we highlight this amazing herb by telling you more about it in the hope that you will use the grow instructions included below to get some into your containers asap.

Pennywort (CENTELLA asiatica) is a low-growing perennial that has rounded leaves in a similar shape to a nasturtium. It is really well suited to containers and hanging baskets as, like mint, it can be invasive. It is a lovely spiller (part three of the thriller, filler, spiller trio). It likes moist fertile soil which must not be allowed to dry out, so watch the watering. If you grow it in a container, use a drip tray and let that always be wet - not filled with water, just wet. For vigorous growth Pennywort likes the sun but dappled shade is good too and it can be grown inside in a sunny room. By the way, I add bone meal to the soil when I first plant any combination of herbs.

Why grow it? Besides being so easy to grow just look at some of its properties. It is particularly rich in mineral magnesium, calcium, sodium, manganese, zinc, chlorophyll and vitamins A, B, C, G and K, it is also known as 'brain food'. What does it do? Well it has a long list of benefits which include its detoxifying ability as a diuretic or stimulant to the kidneys and bladder, and it is also a blood purifier. Studies have shown that Pennywort has antibacterial anti-viral and anti-inflammatory properties as well. In India (and in a lot of other places) it is eaten, as it has been for centuries, to improve health disorders like poor memory, anxiety, fatigue, rheumatism, arthritis, neuritis, nervous complaints, abscesses and high blood pressure. Because it can be made into a tea, added to a smoothie, juiced or added to salads, consuming it is easy enough.

There are possible side effects (for anybody at sometime) to anything we eat and Pennyroyal is not an exception. It is a strong herb, some say an acquired taste but if taken sensibly and in moderation it seems it can do so much for anyone in search of a better and healthier lifestyle.

What do you want your container garden to do?

You Should Also Read:
Herbs in Action - CILANTRO
Edible Flowers for Containers
Window Boxes


Related Articles
Editor's Picks Articles
Top Ten Articles
Previous Features
Site Map





Content copyright © 2023 by Lestie Mulholland. All rights reserved.
This content was written by Lestie Mulholland. If you wish to use this content in any manner, you need written permission. Contact Lestie Mulholland for details.