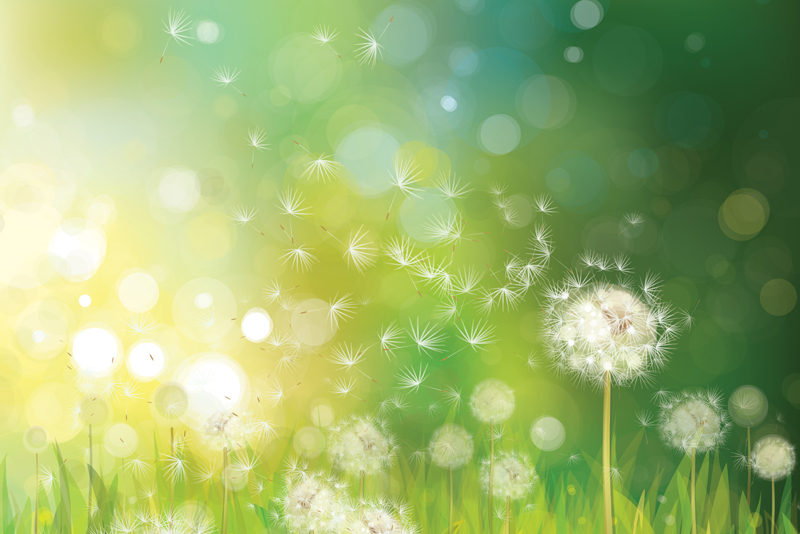 Fall's arrival doesn't always spell relief from seasonal allergy symptoms. For many, it means another round of itchy eyes, sneezing and nasal congestion, brought on by fall-blooming weeds, such as ragweed, sagebrush and chenopods, as well as household dust mites and molds. Freezing temperatures will eventually bring relief.

The majority of individuals who are allergic to spring pollen also have fall allergies. In my area, the main villain is sagebrush which blooms and releases pollen from mid-September to mid-October. I know I am in for big trouble when I see the mountain plateaus turn yellow with sagebrush blooms.

This year, something called chenopods, which are weeds or native desert plants, are actually outdoing sagebrush for stirring up allergies in many areas, especially dessert-like places like where I live. Chenopods include pigweed, Russian thistle, iodine bush, lambs quarters, scale, greasewood and burning bush. The worst thing about chenopods is that the pollens can travel for miles and miles in the wind.

I can still vividly remember going on a Girl Scout campout in the desert when I was a kid and having to be sent home because of an asthma attack brought on by sagebrush. This year, the same thing is occurring but caused by pollens from sagebrush plus chenopods.

I used to avoid hiking or camping in the fall because of these dreaded weeds. Now, I still go but realize I need to be prepared for wheezing, congestion, itchy eyes and dripping nasal passages.

In many areas, fall allergies are provoked by ragweed, which is responsible for 85-90 percent of symptoms. Ragweed, which resembles a young tomato plant, can be found along roadsides, and in vacant lots and fields, and other sunny spots. Almost no place in the U.S. is ragweed-free but the plant is most prevalent in the Northeast, South and Midwest. Each plant can produce one billion pollen grains, with each capable of traveling 400 miles.

Other key players in fall allergies are mold, which thrives in damp areas such as piles of leaves, and household dust mites, microscopic insects, which get stirred up the first time furnaces are turned on.

Children and teachers returning to school may experience an increase in symptoms because mold and dust mites thrive in schools. Chalk dust can be an irritant as well. Fortunately, most schools have gone away from using chalk with the advent of dry erase boards.

Fall allergies are often mistaken for colds because symptoms are similar but without a fever, muscle aches or yellow mucous. Nasal drainage from allergies stays clear. Sufferers may experience fatigue, insomnia, and problems with concentration and work performance. Fall allergies can weaken your immune system and make you more susceptible to colds, flu or sinus infections.

Fall allergies usually don't let up until after the first hard frost. In the meantime, what do you do?

•Reduce your exposure. Keep windows shut in both your house and car. Avoid going outside between 10 a.m.-3 p.m. when allergen levels are at their highest. Shower and change after being outside to remove allergens that tend to stick to hair and clothes. Monitor pollen levels for your area through the National Allergy Bureau.

•Take medication 10-14 days before symptoms appear. Nasal steroids, antihistamines, decongestants and eye drops are available over-the-counter and by prescription.

•Avoid foods that may worsen allergies. Exposure to ragweed causes some individuals to experience Oral Allergy Syndrome, a tingling, swelling or itchiness of the mouth, throat and tongue after eating certain foods. These include banana, cucumber, watermelon, cantaloupe, sunflower seeds, chamomile tea and Echinacea.

•See your doctor if medications and sprays aren't working. Allergy shots that reduce your sensitivity are another option.

•Use a Neti Pot. The simple remedy involves sticking the spout of a small ceramic pot, called a Neti Pot, up each nostril to pour warm saline solution through the sinus passages. Regular use helps clean the sinuses, clear the head of congestion during allergy season, and reduce incidence of colds and sinus infections.

•Clean air ducts before turning on the furnace for the first time.

•Use a HEPA filter in your heating system to filter out molds, pollens and other allergens.

•Wear a mask when raking leaves to avoid inhaling mold spores.

•Use a home humidifier to keep air humidity between 35-50 percent.





Related Articles
Editor's Picks Articles
Top Ten Articles
Previous Features
Site Map





Content copyright © 2022 by Sheree Welshimer. All rights reserved.
This content was written by Sheree Welshimer. If you wish to use this content in any manner, you need written permission. Contact Sheree Welshimer for details.