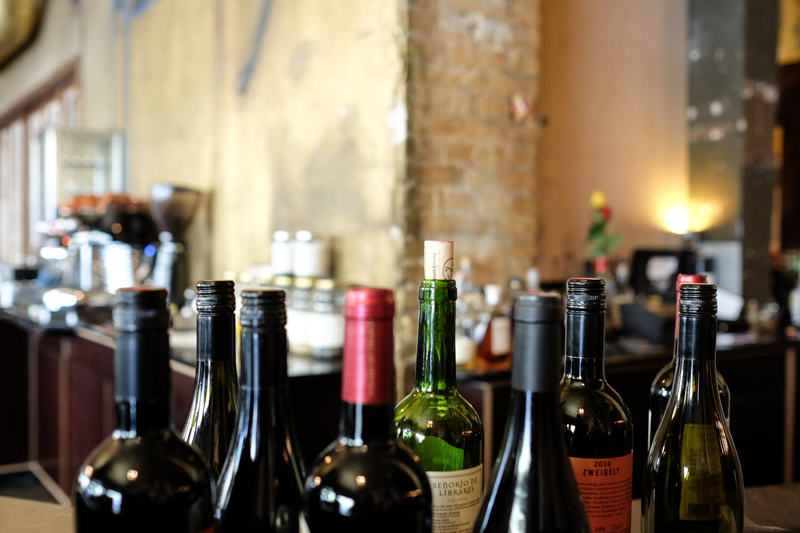 Taking a winery tour is a good learning experience but it can be confusing. This article discusses what you'll see and explains some of the buzz-words you might hear.
Once your guide opens the door marked 'staff only' remember that you are in a working factory and floors may be wet, there could be pipes across your path and sharp edged equipment along your way. So take care and wear shoes that won't slip, and also warm clothing as winery cellars are cool.
Large or small, winery tours usually follow the route grapes take as they are made into wine. So your first stop will be the receiving bay where grapes are delivered and you'll be shown the
Destalking Machine
This is a long hopper into which the grapes are tipped. There is a screw at the bottom that moves the grapes into the machinery that strips individual berries from stalks. The stalks are ejected into a trailer to be taken back to the vineyard for use as mulch.
Sorting Table
Some wineries then send the berries onto a conveyor belt where they are inspected by hand or machine and unripe grapes are ejected.
BUZZ WORD: MOG = Material Other than Grapes. This is what is not wanted and included leaves, snails, stones etc.
Press
Grapes for white wines go next into a press that squeezes out the juice from the skins. Red wines go to the press after fermentation.
BUZZ WORD: Bladder Press. Commonly seen, it's a long rotating metal cylinder with many small holes. Inside is a long tubular balloon. Compressed air expands the balloon squeezing grapes against the sides and the juice comes out the holes to a tray below.
Fermenting Tanks
Often tall stainless steel cylinders, but can be square concrete or huge upright wooden barrels. The juice (for white wine) or grapes (for red wines) go into these tanks and yeast is added to start fermentation.
BUZZ WORD: Wild Yeast and Natural Fermentation – instead of adding commercially produced yeast the wine ferments using yeast naturally present in the air and on the grapes.
Storage Tanks
Used to keep wine and also for blending wine from smaller containers to get a standard wine for bottling
BUZZ WORD: Cold Stabilisation – wine is chilled in tank to precipitate tartaric acids so the finished wine doesn't develop crystals that look like tiny bits of glass in white wines.
Bottling Line.
In smaller wineries the bottling line may come on the back a truck hired when needed.
Your tour usually ends in the
Barrel Cellar
The most romantic part of a winery are rows of wooden barrels resting in cool storage. Wineries like to show them to visitors because it speaks of quality and commitment – barrels cost around $700 each and are effective for at most four years. The commonly used 'Bordeaux' barrel contains enough to make 300 bottles so a quick sum shows that if a barrel is used for every vintage it would add about $2.50 to the cost of a bottle of wine or $0.63 if the barrel is used for four years.
Next, final and most welcome, stop on the tour is the tasting room. Enjoy
What is your favourite winery to visit and why? Tell us about them on our
forum
.
| | | | |
| --- | --- | --- | --- |
| | Grape Man of Texas is a detailed and exhaustive biography of T V Munson. Co-author Roy E Renfro founded the Munson Memorial Vineyard and has been a driving force in ensuring T V Munson is not forgotten. | | This book was never reprinted after the plates were destroyed in wartime bombing. Peter F May spent a year transcribing this new edition of A I Perold's masterpiece. Not a scan or photocopy, this is a newly typeset edition available in both hard and softcopy. |
---
You Should Also Read:
Visiting a Winery Tasting Room


Related Articles
Editor's Picks Articles
Top Ten Articles
Previous Features
Site Map





Content copyright © 2023 by Peter F May. All rights reserved.
This content was written by Peter F May. If you wish to use this content in any manner, you need written permission. Contact Peter F May for details.