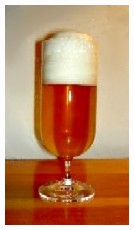 So, what's your style?

How does your personality profile merge with your preference for beer? Perhaps you will see a little of yourself in one (or more) Beer Fox Personality Profile(s), and open your world to a new style of beer.

Dagur, the Skydiver

Dagur is wildly adventurous and courageous. This one is not influenced by the opinions of others, or by what is considered normal or average by the standards of society. His spirit is filled with wanderlust, and he seeks out challenges with the enthusiasm of a wild windstorm. He becomes immersed in the joys of sexual experience, and is physically strong and resilient.

Recommended Beer:
Hercules Double IPA by Great Divide Brewing Company, Denver, Colorado, USA – India Pale Ale – malty backbone, creamy Hopheads' delight with a huge, crisp profile of florals, citrus and pine;

Immort Ale by Dogfish Head Craft Brewery, Milton, Delaware, USA – American Barley Wine – Strong, complex, oak aged, with a lingering whisper of juniper berries, caramel, vanilla and maple, wrapping you in euphoric clouds with its 11% abv;

Saint Rogue Red by Rogue Ales, Newport, Oregon, USA – American Amber Red Ale – Roasted caramel malt with citrus and spice notes wrapped in subtle piney, earth tones.

Freya, the Interpreter

Freya has intense dedication to the relationships in her life and prefers to be surrounded by the warmth of her lover, friends and family. She is a cooperative spirit, and follows the lead of authority members with an agreeable nature. She is thoughtful of others and is a pleaser in every segment of her life.

Recommended Beer:
Half-e-Weizen by Rogue Ales, Newport, Oregon, USA – Witbier – Aromas of coriander, ginger and wheat - spicy and fruity, with the magic of citric zest;

Midas Touch Golden Elixir by Dogfish Head Craft Brewery, Milton, Delaware, USA – Ancient Ale – Muscat grapes and saffron in a seductive mead style;

Anchor Liberty Ale by Anchor Brewing Company, San Francisco, California, USA – American Pale Ale - Crisp and clean, with an ample hand of citrus and cloves in a balanced body of bready malts.

Anteros, the Community Musician
Anteros is a rather impulsive sort – passionate, charming, physically affectionate. His life is one of colorful emotion, richly imaginative in scope. He lives a joie de vivre existence, loves to be applauded, loves the limelight, finds joy in the encore. His seductive style and charisma sets up an animal magnetism that is hard to resist.

Recommended Beer:
Sunrise Weiss by Victory Brewing Company in Downingtown, Pennsylvania, USA - Hefe Weisen – Fluffy white head over a misty golden-orange body gives way to the fruit aromas of banana and lemon, while spices of clove float with panache through the bready malt, ending sharp and crisp;

Dreadnaught IPA by Three Floyds Brewing in Muenster, Indiana, USA – India Pale Ale - Smoke and wood flavors are awakened by a dancing aromatic palate of mango, pineapple, citrus, grape and papaya, wrapped in the fresh taste of hops and a high powered 9.5% abv;

Insanity by Weyerbacher Brewing Company, Easton, Pennsylvania, USA – American Barley Wine – Burgundy red with a substantial, rocky head draw you into its bourbon-like fruit-and-vanilla body, with oak and tart, spicy hops creating the snap to a grand finish.

Airmid, the Animal Breeder

Airmid lives for her singular pursuit of happiness. She adores the comforts of life, and believes in her inalienable right to use her talents and her time as she determines. She has a laid-back attitude, and will not allow others to take advantage of her. She does what is needed and no more, while expecting that others will respect the limits she has set. Contentment surrounds her life.

Recommended Beer:
Chamomellow by Rogue Ales, Newport, Oregon, USA – American Pale Ale – This herbal golden ale is wrapped in the aroma of floral fields and chamomile, softening the stresses of the day, and imparting the calming characteristics of its select herbs;

Maudite by Unibroue, Chambly, Quebec, Canada – Belgian Strong Dark Ale – A light and crisp profile is gently infused with spices of coriander and allspice, with pear and apricot notes, a splash of hops, and a spicy ending;

Augustiner Brau Lagerbier Hell by Augustiner Brau Wagner KG, Munich, Germany – Munich Helles Lager – Pale straw in color, with complexity that is rare in a lager. Smooth, fruity and grassy with a touch of yeast - well-balanced!

Vulcan, the Gladiator

Vulcan is comfortable with power. With his take-charge attitude, he displays strength in his confident manner. Guts, without any thought of failure, lead him into competition, where courage, level-headedness and assertiveness are his companions. He is highly disciplined, and finds no distraction by fear. He loves sports, action and responsibility.

Recommended Beer:
Dead Guy Ale by Rogue Ales, Newport, Oregon, USA – Maibock/Helles Bock – Vibrant reddish gold shows off a silky body of lightly, sweet, caramel malts, with no cloying effects, and bright fruits, honey and roasted-nut overtones, balanced by a hop bitterness that sneaks out to seduce the unwary;

Cave Aged Ommegang by Brewery Ommegang, Cooperstown, New York, USA – Belgian Strong Dark Ale – Pours a deep ruby with orange-red head, this enticing brew fills the palate with caramel malts, pears, apples, raisins, citrusy hops – sweet, yet tart, all at the same time;

Arrogant Bastard Ale by Stone Brewing Company in San Marcos, California, USA – American Strong Ale – Slightly roasted toffee malts, charged with bitterness and an alcoholic warmth infused with complexity. Full-mouth feel and robust character.

Maia, the International Trade Analyst

Maia is a master at organization and detail. She is intense – absolutely committed to her work, forging ahead with singleness of purpose. She has strong principles and strives to do things the "right" way. She prefers practical gifts, and tackles tasks with a no-nonsense attitude. She is a bit of a "pack rat" – an orderly one – but gets caught up in her sense of cautious thrift - she unflinchingly believes she will find a future need for those "things of value" she, so meticulously, saves.

Recommended Beer:
Dale's Pale Ale, Oskar Blues Grill and Brewery, Lyons, Colorado, USA – American Pale Ale – A solid malt background gives way to zestful citrus hops and a rich body. The can is light, portable and recyclable;

Wild Raspberry Ale by Great Divide Brewing Company, Denver, Colorado, USA – Fruit/Vegetable Beer – Ruby red intensity, brewed using real red and black raspberries. Balance of sweet malted barley and fresh, tart raspberry, with effervescence that finishes dry;

Aprihop by Dogfish Head Craft Brewery, Milton, Delaware, USA – Fruit/Vegetable Beer – Slick, malty toffee middle is perked full of light apricot, while keeping the complexity of citrus hop bitterness and cedar.

Kama, the Curator

Kama has a polite demeanor and takes great care to be politically correct. He prefers routine and repetition and is careful to use the utmost discretion in all situations. He prefers guarded relationships, always maintaining an air of caution, even around close family members or his one or two select friends. He is sensitive to what others think of him, and uses restraint in judging others.

Recommended Beer:
Blanche de Chambly by Unibroue, Chambly, Quebec, Canada – Witbier – Light yellow mist with subtle notes of citrus and cloves and dancing carbonation;

Poleeko Gold Pale Ale by Anderson Valley Brewing Company, Boonville, California, USA – American Pale Ale – An infinite white head tops the golden body, while buttery sweetness balances against the floral citric tone of Northwest hops;

Sierra Nevada Rauchbier by Sierra Nevada Brewing Company, Chico, California, USA – Rauchbier – Pleasant balance of Vienna malt with touch of hickory smokiness, lending a velvet characteristic of sweetness, while a wisp of clean hops pulls in a balance that is tantalizing.

Odina, the Attorney

Odina has tremendous self-belief and a high regard for her own ability to achieve. She has a high energy level and understands that her purpose is unique. She is a cunning, able competitor, and is proudly open about her ambition to succeed. She knows she has the ability to be the star, and is effective in her stylistic presentation, convincing others to join in supporting her ideas and projects. She gracefully accepts compliments, and is enthusiastic in her awareness of self and purpose.

Recommended Beer:
Hot Shot ESB by Great Divide Brewing Company, Denver, Colorado, USA – Extra Special/Strong Bitter – Somewhat complex in the mingling of malt candy with flowers and spice. Chewy and earthy with full-mouth appeal, making it highly quaffable;


Morimoto Black Obi Soba Ale by Rogue Ales, Newport, Oregon, USA – Fruit/Vegetable Beer – Chocolate graininess and sweet dark malt merge with the toasted nuttiness of roasted buckwheat. Hops are herbal, woodsy and intense, with a burnt bitterness that lends to the complexity of a highly satisfying ale;

120 Minute IPA by Dogfish Head Craft Brewery, Milton, Delaware, USA – Double India Pale Ale – Bold, sweet malts of toffee and caramel go up against the intense grassy hops with fire in its soul. A seductive sipper.

Sol, the Film Director

Sol is the original visionary, completely infused with the energy emanating from his own being. He is the monument of independence, eccentric and directed by his own dreams. He is open to new ideas, tireless in his enthusiasm, and delights in the speculative aspects of each new project. He is keenly aware of the nuances in the behavior of others, and uses his observation in self-directed effort.

Recommended Beer:
Founders Devil Dancer by Founders Brewing Company, Grand Rapids, Michigan, USA – Double India Pale Ale – Deep copper crimson with tawny tight head and pungent, clean, spiced aroma. Piney, grapefruit hoppiness with a solid body of malt sweetness, and a sly infusion of warming alcohol;

Great Lakes Dortmunder Gold by Great Lakes Brewing Company, Cleveland, Ohio, USA – Dortmunder Export Lager – Buttery malt with biscuit body and lemon-pepper zestiness rounds out into a clean finish;

Dragonslayer Russian Imperial Stout by Middle Ages Brewing Company, Syracuse, New York, USA – Russian Imperial Stout – Opaque ebony with dark, creamy head, and large, robust espresso notes, roasted malts, and bittersweet attitude. Big, BIG beer!

Kentopa, the Journalist

Kentopa is resilient in her independent nature, exhibiting an air of feistiness that sets the stage for her enduring autonomy. She is a good listener, and uses this skill to determine whether an association with someone would be beneficial. She is adept at multiple communication levels, evaluates criticism for what it is, without becoming the least bit intimidated. Loyalty is high on her list, and she is appreciative of the joy that it holds.

Recommended Beer:
Samuel Adams Boston Lager by Boston Beer Company, Boston, Massachusetts, USA – Vienna Lager – tantalizing aroma of caramel and butterscotch malt with silken mouthfeel and crisp, balanced bitterness;

Fat Angel by Magic Hat Brewing Company, South Burlington, Vermont, USA – American Pale Ale – Citrus hops, almost fruity in nature, with medium body and toasted caramel malts;

Fantome Saison by Brasserie Fantome, Soy, Belgium – Saison Farmhouse Ale – Sweet fruit profile of green apple, tart cranberry, orange peel, pear, and pineapple, with a complex spice blend of coriander, black pepper and ginger, awakened by a distinctive earthy, "farmhouse" character that adds life to the complexity of this one.

Bram, the Veterinary Assistant

Bram has a dedication to others that is unique in its level of generosity. He willingly gives everything he has to assist in the welfare of those in need. He is unambitious and non-competitive. He does not desire the center-stage, and feels uncomfortable with the attention of others. Tolerant, ethical, and patient, Bram has a tolerance that is unmatched by others, and endures high levels of discomfort in exchange for the opportunity to lend a helping hand.

Recommended Beer:
Yuengling Black & Tan by J.D. Yuengling and Sons, Pottsville, Pennsylvania, USA - Black and Tan – Robust, hop infused chocolate malts with porter profile and mild hop bite;

Lumpy Dog Light Lager by Rock Bottom Restaurant & Brewery, USA – Light American Lager – Light bodied and crisp with a whisper of malt/barley and grassy notes. Refreshing;

Kolsch Ale, Victory Brewing Company, Downingtown, Pennsylvania, USA – Kolsch Ale – Tropical fruit lightness to the body with gentle toasted Pils malt, and grassy, fresh accents for high drinkability.

Kvasir, the Political Advisor

Kvasir is passionate and intensely involved. She wears her heart on her sleeve, where nothing is taken lightly. She is ingenious in her ability to ignite action with her spontaneity and enthusiastic charisma. This energetic lady embraces broad attitudes and cultures with dynamic ease, and her imaginative verve adds energy to everything that surrounds her. She thrives on one-on-one relationships, yet is fearless in the face of risk.

Recommended Beer:
Juhlia by Heavyweight Brewing Company, Ocean Township, New Jersey – Sahti – Raw funk and green bush touches are lightly kissed with juniper spice and lambic tartness. Gin undertones, with complexity and exceptional refreshing character;

Lake Louie Warped Speed Scotch Ale by Lake Louie Brewery Company, Arena, Wisconsin, USA – Scotch Ale/Wee Heavy – Peat, malt and smoke, with prominent dark-bread overtones, while fruitiness of raisins and plums emerge in the middle. Finishes with a mouth-coating appeal;

Alaskan Amber by Alaskan Brewing Company, Juneau, Alaska, USA – Altbier – Sweet malt, balanced by spicy florals make this an ambrosia that the gods would fight over!

Flidais, the Archivist

Flidais has little need of the companionship that most other profiles seem to crave. He is even-tempered, lacks any drive toward sentimentality, and is calm in all situations. His nature is steady-as-she-goes, and he is not easily swayed by praise or criticism. He enjoys sex, but is not driven by a need to express passion.

Recommended Beer:
Shakespeare Stout by Rogue Ales, Newport Oregon, USA – American Stout – roasted coffee and chocolate aromas carry over into a rich, bittersweet cappuccino-espresso body and satisfying bitter hop warmth on the back of the tongue;

Marynka Pils by The Tap/ Haverhill Brewery, Haverhill, Massachusetts, USA – Czech Pilsener – Marynka hop flowers lie with pungent grace within a pale nut malt body, with honey and orange peel adorning the exterior;

Full Sail Amber by Full Sail Brewing Company, Hood River, Oregon, USA – American Amber/Red Ale – Substantial body packs a full load of malt, with chocolate, toffee and sweetness, balanced by a spiced, earthy hoppiness.
Have fun with your style and with "typing" your friends - dive into the beer styles available to you, and enjoy merging your personality with the delights of variety in craft beer.
Cheers!