Clydesdales , Shires & Horse - Drawn Beer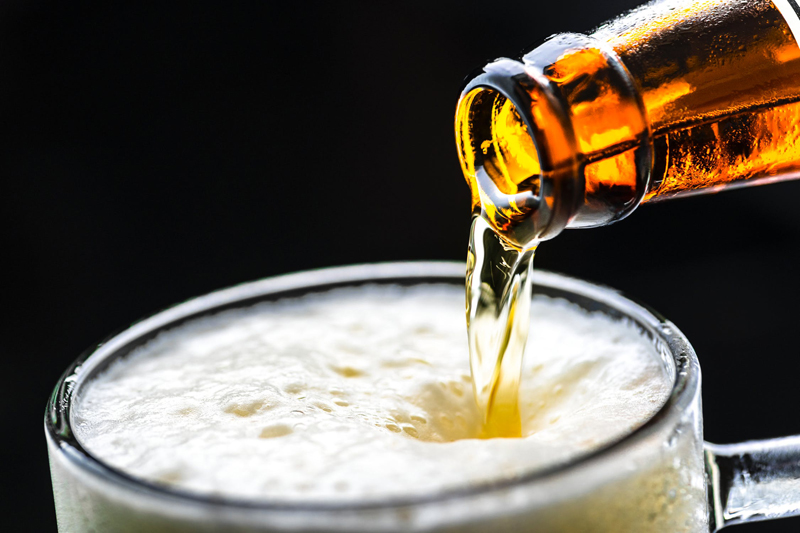 Everyone seems to be familiar with Anheuser-Busch and the famous Budweiser Clydesdales, those stately Scottish-bred horses with superior strength and grace. These big boys were originally bred for hauling coal and working in the labor industry. At the Glasgow Exhibition in Scotland (1826), they received the honorary title, "Clydesdales," and were soon used as carriage and draft horses.

The Clydesdales' first cousin, the Shire horse from the Shires of England, is a beautiful beast – a "gentle giant" – with feathered legs and substantial height. These horses were descendants of the Old English Black Horse, those courageous brutes that carried armored knights in the days of King Arthur and his Round Table. With their great power and bulk, these equines soon became an agricultural and industrial stand-by, and gained prowess as draft horses, delivering huge loads of brew through muddled country roads to the local taverns.

Tradition bestows enduring honor upon the stately Shire. As a symbol of robust character and rich history, it is not unusual to find these sophisticated animals in close proximity to fine craft brewing establishments. Anderson Valley Brewing Company in Boonville, California, USA is home to 4 Shires – two geldings (Duke and Dan) and two yearling colts (Max and Zach). These glorious creatures can be seen playing in the fields surrounding the brewery, or harnessed in stately grace, ambassadors-of-distribution to the local brewpubs and restaurants.

Hook Norton Brewery in the United Kingdom, is known for their three gentle Shires.

Hereford & Hops (a clever substitute phrase for "Beef & Beer"), with locations in Escanaba Michigan, Wausau Wisconsin and Bay City Michigan, displays 6 top-breed horses. Known as the Bay City Shires, they are elite show-stoppers, with their largest boy standing 18.1 hands (6 foot 3 inches) from the withers (shoulder) to the ground.

At Hereford & Hops, you can grill your own steak and drink a finely crafted beer such as Whitetail Ale or Clearly Red – then, meander down the hall into the adjoining stables that resemble meticulously-kept quarters for royalty. The Bay City Shires may also be seen in local parades, pulling a restored, antique brewery-wagon from England, or as escorts for a luxuriously-appointed white carriage.

If you like the association of horses and beer, you are not alone. In 1986, the champion Kiwi racehorse, "Bonecrusher," who enjoyed a diet infused with Guinness Stout, won the WS Cox Plate in a heart-stopping display of determined spirit.

Honorary Horse Namesakes of Beer

Molson Breweries of St. John's, Newfoundland, Canada serves-up Black Horse Beer with a "Newfie" saying under each bottlecap. Black Horse is golden and refreshing, and you may find yourself telling the bartender, "I'm blowed up like a gernet! God luv ya cotton socks b'y." (I can't eat another bite. Thank you very much.)

Workhorse Porter, Victory Brewing Company, Downingtown, Pennsylvania, USA is a deep mocha brown, with walnut-colored head that dissipates to a wispy coat of tawny cream. Flavors of chocolate, caramel and roasted malts abound, with whispers of citric hops and molasses.

McNeill's Dead Horse IPA, McNeill's Brewery, Brattleboro, Vermont, USA pours out a jewel-toned amber-orange. The nose is full, with hops playing the title role. The hearty, bold sweetness of the malt is toned-down by the citric bitterness and unique profile.

Crazy Stallion, City Brewery, LaCrosse, Wisconsin, USA is an American malt liquor that presents itself as honey gold, with a bright, white head. The fruity, apple aroma blends with a nutty, malt sweetness, and moves into a creamy mouthfeel before departing with a barely perceptible note of hops.

Dark Horse Tres Blueberry Stout, Dark Horse Brewing Company, Marshall, Michigan, USA shows its muscle as it pours inky black. A fresh blueberry profile lays-out over the coffee-and-brown-bread body, with roasted malts and hints of chocolate coming to the fore.

Dark Horse 3 Guys Off the Scale Old Ale, Dark Horse Brewing Company, Marshall, Michigan, USA brews this mahogany barleywine powerhouse with 12.2% abv. The plum and black-cherry backbone warms your throat with alcohol and resinous pine notes.

Dark Horse Belgian Amber Ale, Dark Horse Brewing Company, Marshall, Michigan, USA greets you with the symphony of fruit – banana, apple, grapes, figs, and cherries – producing an ale with a sweet front, and tartness on the sides to the finish.

And then there is Three Horses Beer, a Malagasy beer brewed at the Star Brewery, Tana, Madagascar, Africa. Oddly enough, the only languages spoken in Madagascar are Malagasy and French – but the beer carries an American name. Speculation has it that this is precipitated due to the popularity of American culture on the island. Three Horses is pale yellow with a light body and a characteristic balance that is typical of European pilsners – sweet, yet touched with grapefruit-hop bitterness.

On Madagascar, resources are limited and bottles are recycled at a substantial rate. The female workers sanitize the used bottles with bleach and water. They are then passed to an inspector with a HUGE NOSE, who sniffs the bottles for any perceptible odors of residual beer. If he smells beer, the bottle is returned to the bleach-bath. I guess that's really "winning by a nose"!

Cheers!
 
You Should Also Read:
Beer Lovin' Party Animals in the Wild
Anheuser Busch , Yuengling & Prohibition
Beer Dogs and Party Animals


Editor's Picks Articles
Top Ten Articles
Previous Features
Site Map





Content copyright © 2023 by Carolyn Smagalski. All rights reserved.
This content was written by Carolyn Smagalski. If you wish to use this content in any manner, you need written permission. Contact Carolyn Smagalski for details.