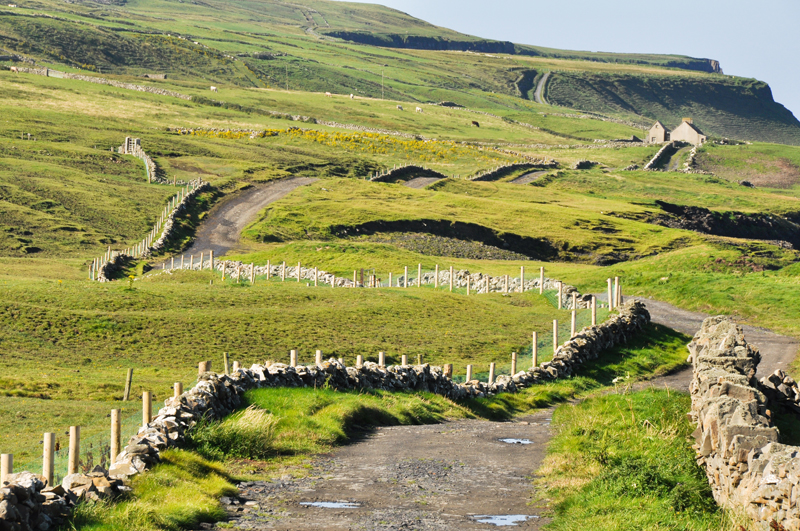 While in many parts of the Northern Hemisphere heavy snowfall if forecast during January, here in Ireland we are getting ready to celebrate the beginning of the Celtic Spring. 1st February is the feast of St. Brigid. The Irish name for February is Imbolc. This comes from the pagan festival of the same name, marking the beginning of springtime.

The word Imbolc is thought to be rooted in old Irish, referring to the return of the ewe's milk with the birth of the first lambs. While many people living in less temperate climates may think January an outrageous time for a sheep to have a baby, I can confirm that we do see the first lambs in lowland fields at the end of January. Indeed, like marking the return of the cuckoo on the calendar, the sighting of the first spring lamb is an important landmark in the rural year.

St.Brigid, one of Ireland's three patron saints, was said to have been a dairymaid. She is often pictured with cows and sheep, as well as the famous St. Brigid's Cross. At the beginning of February the rushes used to weave these crosses are greening. This is St. Brigid's promise of the renewal of the growing season. Traditionally hung over the thresholds in houses and barns, last year's cross, gone yellow and brittle, is burned and replaced with the fresh and green cross on St. Brigid's feast day.

St. Brigid's Day was never a rowdy celebration. Larders would have been low in the old days. The meat that had been salted and preserved from the previous autumn would be running low. The ancient Irish, before Sir Walter Raleigh introduced the potato to the country, had a diet based on oats and barley.
So in the leaner days of dregs of winter the feast would be low key. St. Brigid's Day is also about the household hearth, so if you want to mark this old Celtic feast I would suggest a simple, homely menu of 'Brown Stew' – a casserole of lamb or beef and winter vegetables and soda bread. My vegetarian alternative is a slow cooked barley and mushroom casserole.


Brigid's Day Mushroom and Barley Stew

Quantities are flexible. For every cup of pot barley used, add two cups of water or stock.

In a heavy based pan, melt a large knob of butter; sauté a large onion, 2 cloves of garlic, two ribs of celery and plenty of leafy celery top. Add in as many chopped mushrooms as you like. A combination of types – field, porcini, chestnut,Chinese – is best, but ordinary ones are fine. Add the barley and briefly stir so that it gets coated with some of the butter. Season with two bay leaves, a blade of mace, salt, pepper and a few gratings of fresh nutmeg. Add in mushroom or vegetable stock or water at a ratio of 2 cups of water to each cup of barley used. Add a further ½ cup of liquid.

Simmer slowly over a very low flame for about 50 minutes. You can also put the ingredients into a slow cooker and slow cook it if you prefer.

For dessert, seed cake is essential. The seeds symbolize the new growth that is beginning to rumble underground even if that ground is still covered with snow.


Bee's Poppy Seed Cake

Heat the oven to 180C/350F/Gas Mark 4. Prepare a 9" square cake tin by either greasing and flouring it or inserting greaseproof paper.

1. Cream together 1 cup of butter and 1 cup of sugar.
2. Beat in 1 TBSP vanilla extract and gradually beat in 2 large whole eggs.
3. Add 1 ½ cups of self-rising flour and 1 oz of poppy seeds.
4. Beat in ½ of thick plain yoghurt and beat to a smooth batter. Pour into the pan and sprinkle fine, granulated (caster) sugar on top. Alternatively, you can bake plain and just dust with confectioner's/icing sugar when it comes out of the oven.

Bake for 35-40 according to your oven type. Checking at 25 minutes is recommended since ovens are individuals,too!

Happy St. Brigid's Day!
You Should Also Read:
The Hearth in the Irish Home
Thee Festival of Brigit
Celtic Spirituality and Ireland


Related Articles
Editor's Picks Articles
Top Ten Articles
Previous Features
Site Map





Content copyright © 2022 by Bee Smith. All rights reserved.
This content was written by Bee Smith. If you wish to use this content in any manner, you need written permission. Contact Bee Smith for details.