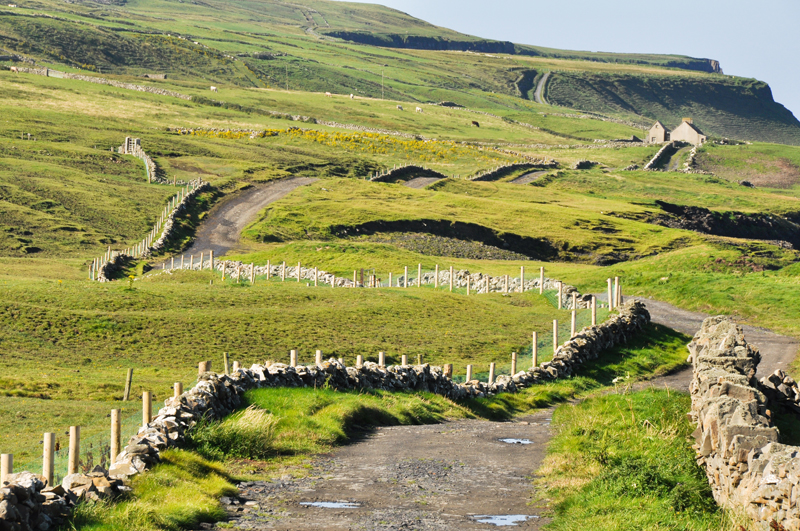 St. Brigit's Day, 1st February, is an interesting confluence of pre-Christian, early Christian and post-Christian cultures. Known as both saint and goddess, there are as many legends as there are spellings of her name. Her festival, coinciding with the pagan cross-quarter day of Imbolc, marks the return of springtime. With snow falling outside that might be a bit of a hard sell. Imbolc, however, has a linguistic link to the return of the ewe's milk and early lambing. Certainly, in the low lying fields in Ireland, pristine lambs will soon begin to appear.

So, too, will the rushes that grow on less fertile, soggy, land begin to green. It is from these rushes, newly green, that the famous, swirling St. Brigit's cross is woven. While it may seem a distinctly Irish custom, the cross itself incorporates many cross-cultural religious symbols. The woven center is what Latin American's might know as a 'God's eye.' The swirling, swastika shape comes from Hindu and Tibetan Buddhist roots and was reversed and perverted into a symbol by the Nazi party in 1930s Germany.

While the shape of four legged St. Brigit's cross is the most well-known and woven across Ireland at the beginning of February, there are also three legged versions. In County Fermanagh, these are set up in barns to bless and watch over the sheep and cows that were so special to St. Brigit. As the daughter of a slave woman and noble father, she started life as a dairy maid and never lost her loving knack with cows or sheep. So kind was she to them that she could coax a third milking from cows if there were guests or needy persons turning up unexpectedly on her doorstep.

Over the days surrounding 1st February there will be celebrations around Ireland. These may be simply a case of teaching primary school children how to weave the St. Brigit's cross. There may be a Mass celebrated at a local St. Brigit's well. Since she is considered a patron of poets and bards, there are concerts in various parts of the country.

There are two places in Ireland that have close associations with St. Brigit. One is in Faughart, Co. Louth, near the Gap of the North. This is the legendary birthplace and humble beginning to one of Ireland's three great saints - two men, Columcille and Patrick, and this one, iconic woman who shared her name with Ireland's most famous goddess. There has been a festival with many events in and around Faughart since 2007.

Kildare also holds a public vigil on St. Brigit's Eve, 31st January, each year. There is a ceremony of prayer led by the Brigidine nuns of Solas Bríd, and a candle lit march from the Old St. Brigit's well at the National Stud to the newer shrine a short distance away.

It was in Kildare that St. Brigit established her abbey in a place that had previously housed a pagan fire temple to the goddess Brigit. An eternal flame was tended there continuously until Henry VIII dissolved all monasteries. The eternal flame tending custom was revived by the Brigidine sisters in 1992.

You can learn more about both the goddess and saint Brigit in this anthology.



You Should Also Read:
Mary of the Gaels
St. Columcille Ireland's Other Patron Saint
St. Patrick Banishing Ireland's Snakes


Related Articles
Editor's Picks Articles
Top Ten Articles
Previous Features
Site Map





Content copyright © 2022 by Bee Smith. All rights reserved.
This content was written by Bee Smith. If you wish to use this content in any manner, you need written permission. Contact Bee Smith for details.