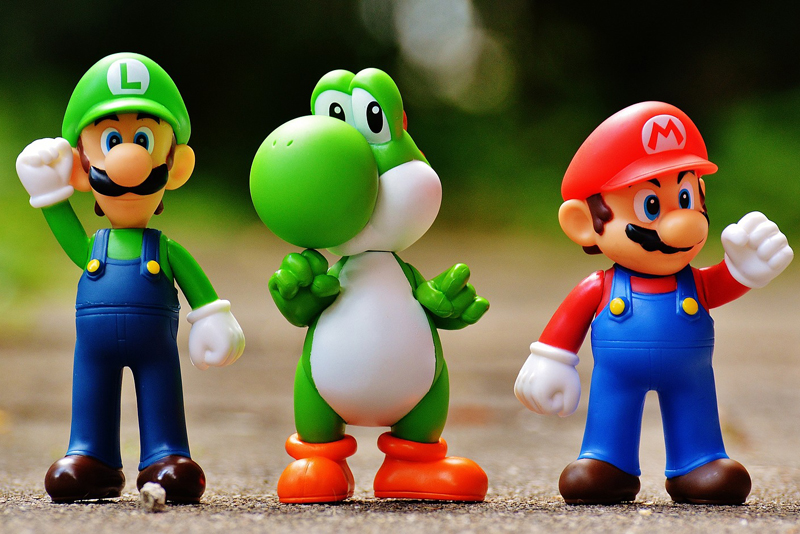 I picked up Donkey Konga (the first one) after I got Donkey Konga 2, because of the great song list in Donkey Konga. The graphics aren't quite as good, but it's just as much fun!
In essence you get 30 reproductions of songs to sing along with - from classics like Louie Louie to classic music songs, from Legend of Zelda to the Pokemon theme song. I really LOVE this song collection and think they provide songs that all ages will enjoy.
There are different levels of gameplay, from beginner to advanced. In fact, if you do really well, you can earn remix versions of songs and buy truly advanced versions to play along with. Plus, there are multiplayer versions that let multiple players play together or in competition with each other.
There are mini-games to test your skills, and a shop where you can trade in your earned points for new bongo sets.
I've heard some people say they get bored after a few months of playing the same songs over and over again. Heck, most games out there only keep your interest for a week or two! Plus, half the fun here is simply playing along. If you were in a band, would you complain on tour that you were tired of playing the same songs? :)
Really, you get all the fun of Donkey Konga 2 plus a far better song set. The minor drop in graphics really isn't a big deal at all. Of course it'd be great if, like with the XBox, you could simply download new song sets that you enjoyed. That way they could let you buy one game, and then download whatever types of songs you liked to sing. Kids could download the kid songs, adults could download the classic rock songs, and teens could go for the pop-hip-hop stuff.
However, until Nintendo gets its online act together, I don't mind them coming out with a whole series of Donkey Konga games, each with a different song set. I'll gladly collect them all! I'll just keep lobbying for the download option for the future.
Buy Donkey Konga from Amazon.com


Related Articles
Editor's Picks Articles
Top Ten Articles
Previous Features
Site Map





Content copyright © 2023 by James Shea. All rights reserved.
This content was written by James Shea. If you wish to use this content in any manner, you need written permission. Contact Lisa Shea for details.