Internet Browser on your Wii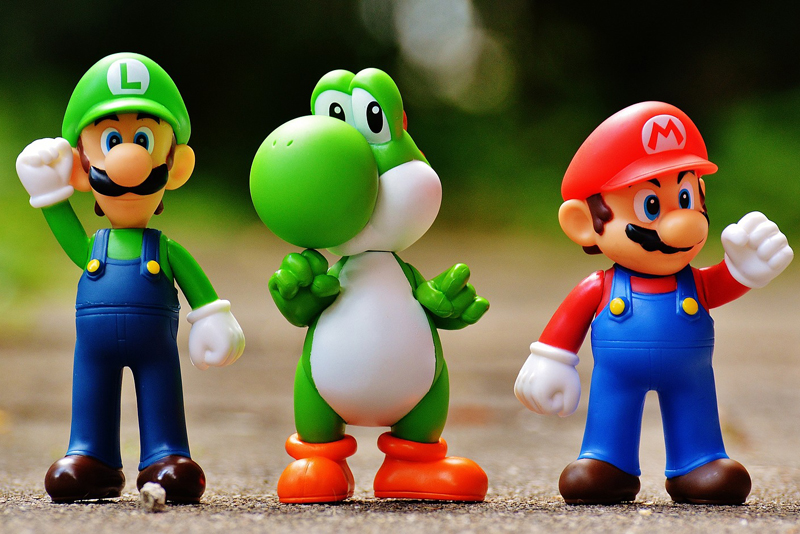 Starting January 26, 2007, your Wii can surf the internet on your wide screen TV! This is great in theory, but a little hard to use in practice.
To begin, you have to download the browser test. This doesn't come down as a standard update, like the News and Weather Forecast updates do. Instead, you have to go into the "shop" area, into the Wii Gear. The browser will be available in that area. It is *free* - but they are just putting it in the shop area for you to download that way.
The download screen is cute - it shows a Mario running across the screen, gathering up coins! As the download progress occurs, he turns the bricks over his head solid. Soon he gets to the third brick and rings up lots of coins to show the download is complete. It takes about five minutes for a full download.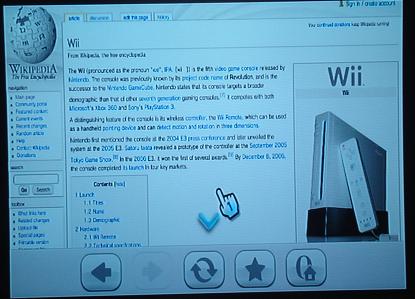 Here's the first page we went to - the Wikipedia entry on the Wii! To do this, first we had to click on the button to say we wanted to see a web page. We then were shown a keyboard on the screen, and had to select each letter in order - w, i, k, i, etc. to get through wikipedia.com. Luckily they don't make you type in the https:// part or the www part.
Once we got onto the Wikipedia page, we hit the 'favorites' button to make this part of our favorites list. That way we'd never have to type it again, we could just hit the favorites list to choose it.
Note that once we were ON the Wikipedia page, we did have to select the search box and type in the "wii" letters to go to that particular page. So there is always going to be a bit of letter by letter typing going on as you navigate a site, if it requires text entry.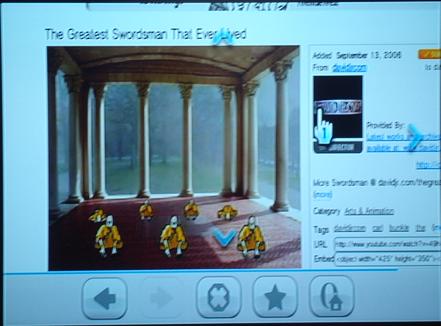 What's really great is the video sites, for example YouTube.com. You can lounge back on your couch with friends, put YouTube on your TV and surf through thousands of really funny clips.
This is especially great with the "series" of clips, like the summary-of-Yu-Gi-Oh 5 minute clips where there's one for each episode. You can page one after another and have great fun making fun of the series.
You can hang out watching music videos, watching previews of upcoming shows, or watching the network-sponsored short movies that help fill in mid-season gaps in normal TV shows.
Here's a view of the BellaOnline main page. It shows one of the problems with the browser. You can barely see any of the page of content on your screen, even though you're probably doing this on a large screen, widescreen format TV that's far bigger than your computer monitor is. The navigation buttons on the bottom are simply much too big. They should have better customization options to let you easily read and scroll on your screen.
But again, this is just a trial version of the browser, while they figure out what works and doesn't work. I'm sure we'll see many refinements to this going forward - and it really is great fun to watch some of the entertainment-related videos and music on the TV screen!


Related Articles
Editor's Picks Articles
Top Ten Articles
Previous Features
Site Map





Content copyright © 2022 by Lisa Shea. All rights reserved.
This content was written by Lisa Shea. If you wish to use this content in any manner, you need written permission. Contact Lisa Shea for details.