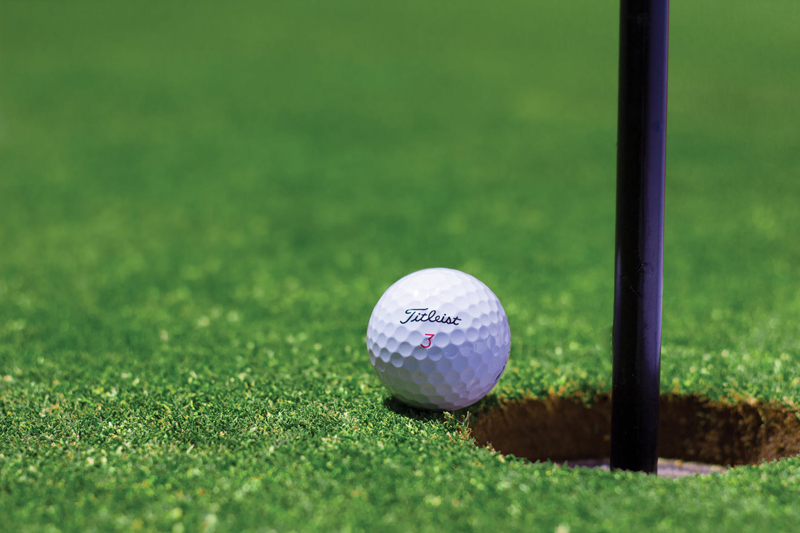 To play 9 or 18 holes of golf in one day for any 78 year old person is an amazing feat. To play 36 holes of golf in one day for a woman at that age is close to phenomenal. Then getting a hole-in-one on the 35th hole that day is surprising and having his hole-in-one happen to be your 6th it is bizarre. That is how this event took place this past June 2003.

It all happened when a good friend from Arizona was visiting her parents and stopped by to see if I would be able to play golf the next day. Of course I said yes and arranged a tee time and called two more gals to make a foursome. We were ready to tee off at 10:00 a.m. the weather was a bit chilly but never that bad for golf. We had one of our usual betting games going which the selected first person teeing off could choose her partner for the remainder of that hole. On alternating holes each player gets to choose her partner. Of course it depends on just how good a tee shot one gets as to who gets picked for that hole. Scores are totaled up and the score card is marked accordingly as to who won that hole.

With this betting format it usually comes out about even and every person gets a chance to play each other. Our bets are usually a dime but something you would think it was a million when it came down to that final putt. No one wants to lose that dime and makes a big deal when they win and a bigger deal if they lose. These are all friendly games and make our golf game more interesting. It keeps us paying attention especially when you are picked for a partner and you goof up, you will surely be told about it in a friendly way, because they may be the next person to goof a shot.

At the end of the 18 holes we went into the club house to settle our bets and have a sandwich. Our guest announced she wasn't ready to call it a day so we agreed to go another round. One gal could not continue so we called another friend and she hurried out to play. We organized our clubs and carts to go again and now the weather was great and we had another betting game going. This round robin type of betting game suited us just fine so we continued to get ready to tee off. All of us play a similar game except our guest could hit a long ball but many times she would goof up on her short game so we all were pretty even. What could be better, beautiful day, good friends, great golf course, and money on the side we were having a great time.

It came to our 35th hole which is the par three #17 I was not the lead player who would get to pick a partner. I teed off second, I used a seven iron and it felt great the ball was going straight at the green. I saw it roll up to the pin and I hear the first girl yell she was picking me for a partner. I reached down to pick up my tee and I heard the girls screaming, I looked up and the ball was gone. A hole-in-one we all were excited about that and was yelling at other golfers on the course about the hole-in-one. The other two players had to tee off after that but were not even close. Chalk that one up for a few dimes as winners.

On the last tee box, one of the gals asked me if that was my first hole-in-one and I had to shake my head no. I told her it was my sixth and they really blasted me saying that was not fair, that's crazy to have that many, saying are you sure? I explained to them that my husband always said, "It isn't how good a golfer you are its how often you play." I had to list all hole-in-ones that covered over the past 50 years of playing golf. We had our share of celebrating in the club house paying for drinks for my playing partners and a few other club members.

A little side line to this event was that my husband had passed away earlier in March and he was an avid golfer. He also had five holes in one during his time of playing golf and previously had one on this exact same hole. After my ball fell in the hole on #l7 it crossed my mind my husband was there and helped the ball to fall into the hole, giving me one up on our record of five each. It was a day worth remembering!

By Letta Meinen



You Should Also Read:
Heart of Texas views of Mill Creek
Have fun with Hole-in-ones-promotions - sponsors - prizes
Games people play during their golf game


Editor's Picks Articles
Top Ten Articles
Previous Features
Site Map





Content copyright © 2022 by Letta Meinen. All rights reserved.
This content was written by Letta Meinen. If you wish to use this content in any manner, you need written permission. Contact Sandy Eggers for details.