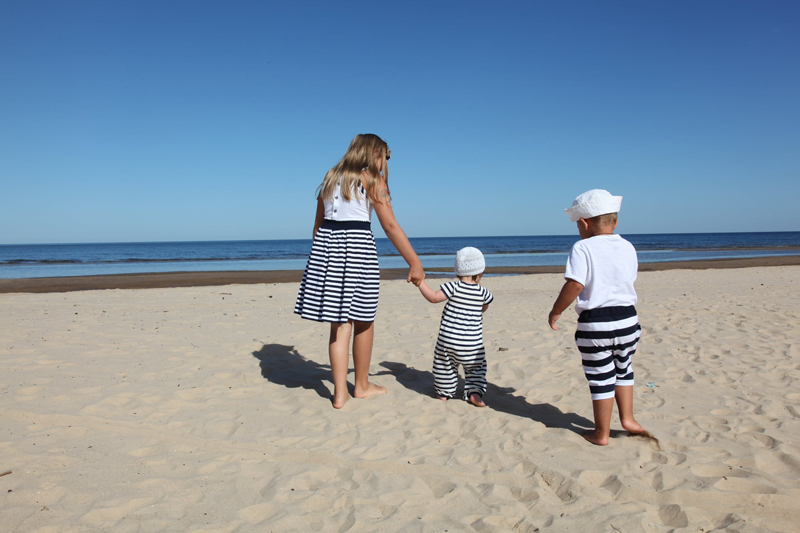 Deciding what to pack for your baby's vacation can be tricky. Even though babies are small, they use a lot of stuff. To start your packing list, pay attention to what you use for your baby the week before your trip. Jot down items as you think of them and consider the following ideas.

For sleeping: If you're driving to your destination, a portable bassinet or bed can be a major convenience. Your baby may sleep better in a familiar bed and you won't have to deal with potentially unsafe hotel cribs. If you're flying and don't want to lug a bed along, consider bringing your baby's own crib sheets. For an even easier option, just have your baby sleep with you.

If your baby is a light sleeper, bring a small fan for white noise (or use the fan option on the room's air conditioner unit). Bring clothespins to cinch the drapes shut and keep the room darker. You may also wish to pack a familiar blanket or two. An extra blanket can serve as nursing privacy, a sunshade, and play blanket. Don't forget pajamas, a baby-monitor if you'll need one, and a nightlight. A book light is useful if nighttime reading might disturb the baby.

For eating: In addition to whatever breast/bottle feeding equipment you need, pack small plastic dishes, spoons, and disposable or vinyl bibs if your baby eats solid foods. Cheerios or goldfish crackers can be a lifesaver in cranky situations. For a shorter trip, you'll probably want to do without a highchair; your baby can eat on your lap or standing in front of a low table. For longer trips, you could rent a highchair or bring a portable seat that straps to a chair (these fold down pretty small). Small Ziploc bags come in handy for packing snacks.

For bathing: Bathe with your baby or take an inflatable baby tub to use in the adult tub. It may be easier to give smaller babies a sponge bath. Don't forget baby soap, shampoo, nail clippers, and a toothbrush.

For dressing: If your baby rarely needs a change of clothes, bring one outfit per day plus a couple of extra. If your baby isn't so tidy, bring two outfits per day plus several extra. One-piece outfits take up less space. Don't forget a sunhat, bathing suit, socks, lots of one piece undershirts, and whatever cold weather items (snowsuit, hat, mittens) you need. If you'll have access to a washing machine, pack laundry detergent in a re-sealable bag.

For changing: Bring a changing pad and as many diapers and wipes as you can fit in your suitcase, you'll probably have to buy more at your destination. Disposable changing pads are useful for public bathrooms. Take plenty of plastic bags in all sizes; they are invaluable for bagging up dirty clothes and diapers. Also bring hand sanitizer and diaper rash cream (babies are more prone to rashes when traveling). Don't forget swim diapers if you'll be in the water.

For driving: Bring your own car seat if you're flying, even if you don't need it on the plane. You can usually rent car seats with your rental car, but this can get pricey and you never know about the seat's safety. If you plan on checking your car seat with your luggage, put it in a large clear plastic bag, (airlines sometimes have these, but don't depend on it). It will help keep the seat clean and hopefully undamaged.

For playing: You won't need many toys. You'll likely be away from your hotel a large part of the day and babies can make toys out of nearly anything. You will want a few small toys to keep baby busy while waiting at restaurants or when you're out shopping.

For getting around: You can gate-check your stroller before boarding the plane. You may also consider skipping the stroller and relying on a baby carrier. Young babies do best in a sling or front carrier; older babies can sit in a baby backpack. Carrying your baby frees you up in a way a stroller can't, you'll be able to negotiate public transportation, crowded shops, and stairs much more easily.

For safety: Take plastic outlet covers, a small first aid kit, the number of your pediatrician, infant Tylenol and a thermometer, and any medications your baby needs.




You Should Also Read:
Packing your baby's carry-on bag


Related Articles
Editor's Picks Articles
Top Ten Articles
Previous Features
Site Map





Content copyright © 2022 by Kimberly Misra. All rights reserved.
This content was written by Kimberly Misra. If you wish to use this content in any manner, you need written permission. Contact Tiffiny Spire for details.