Gluten Free Beer & Party Food for Celiacs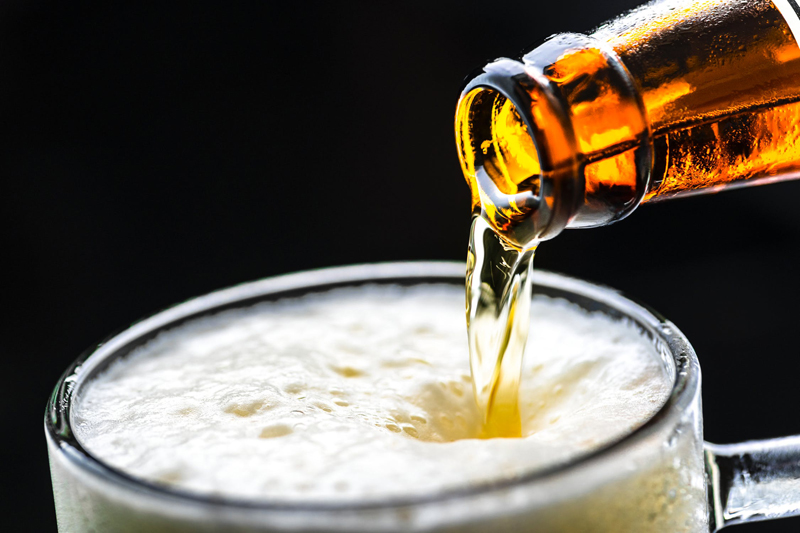 For the typical craft beer enthusiast, the idea of "Friday" launches the imagination into elaborate plans for the weekend – kicking back with good friends, sampling the latest Brewer's Choice, and chowing-down on pizza, pasta, crackers and cheese. What seems so good to the average Joe can be enormously depressing if you have been diagnosed with Celiac (Coeliac) Disease.

The introduction of gluten (a protein found in the grains of barley, wheat, rye, spelt, oats, kamut and triticale) into the diet of a Celiac causes an autoimmune reaction within the villi of the small intestine, where the villi begin to flatten and atrophy. Antibodies immediately attempt to attack the gluten and, at the same time, attack the intestine. This can result in abdominal bloating, diarrhea, gas, major weight loss, bones that fracture easily, an unexplained count of red blood cells, headaches, anemia, irritability, inability to concentrate, and tooth discoloration. Untreated over time, these symptoms can develop into more complex conditions such as osteoporosis, central and peripheral nervous system disorders or malnutrition.

Being diagnosed with Celiac Disease can be a double-edged sword. On the one hand, you can finally take control of your symptoms and make your life better. On the other, the idea of altering your entire lifestyle in order to live a quality life can be devastating.  The only acceptable approved treatment for this condition is zero tolerance. Most Celiacs, therefore, need to develop effective "support systems" that will help them maintain their diets on a daily basis, especially in social or emotional circumstances.

In the world of brewing, Celiacs are not alone!
Brewers of craft beer are beginning to step up to the plate by focusing on the needs of these Beer Lovers, and are adding daily to the growing variety of gluten-free ales and lagers: Dragon's Gold and Tavern Ale from Bard's Tale; Honey Passover from Ramapo Valley Brewery; La Messagère from New France Beers; Discovery Beer, Premium Lager and Explorer Stout from Green's Discovery; O'Brien Premium Lager from O'Brien Brewing; Bi-Aglut from Bi-Aglut; Hambleton Ale's Gluten Free Beer from Nick Stafford's Hambleton Ales; Fine Ale Club Against the Grain by the Fine Ale Club; and Heron Gluten Free Wheat Free Beer by Heron Foods.

But what about party food to go along with that Bard's Tale?

What's your pleasure?  Party dips, pizza or pasta?
 
Gourmet Party Dips
SerenDIPity Gourmet Specialties makes "wickedly fun & delicious dip mixes & bagel spreads" that can be used with gluten-free crackers, bagels and veggies. These mixes are gluten-free, and sport such creative names as "Getting' Piggy Widdit", Ya Gotta Jump, Chive & Wail!, "Bacon Love" in the Afternoon, and "It's Okay Bayou" Cajun Dip Mix. SerenDIPity founder and "DippyChick" Chris Hanisco has been featured in the Eagle Tribune and Carriage Towne News in New Hampshire for her creative energy in producing incredibly tasty treats for a wide cross-section of party-goers. Order online at https://www.dippychick.com or visit one of the local New Hampshire farmers' markets, open air markets or the annual "Made in New Hampshire Expo" for that personal touch.
 
Pizza, Crisps and Italian Entrees
Under the skilled hand of top New York pastry chef John Muscarello, Carbs A Weigh creates delicious stove-top Pizza, Pepperoni Pockets, Cheese Crisps and Italian Entrees that are Wheat-Free, Gluten-Free and low-in-carbs, under the names Comfy Cuisine and Comfy Carbs.

Order online at http://www.carbsaweigh.com or check the distribution page at Carbs A Weigh to determine if local distribution is available in your area.
To the Celiac, these are a touch of heaven in an otherwise bland world – a touch that is all the more noticeable because of Muscarello's uncompromising commitment to creating flavorful comfort foods with an explosion of eye-appeal. The pizza crusts and pasta are made from a blend of three imported cheeses and a product made with an egg base - a winning combination that packs-a-punch for the salivating taste-buds!

Corporate Sales Manager Howie Sanders speaks of their dedication to creating foods that make life easier for folks with Celiac Disease or those with other dietary restrictions. This dedication spills over to all areas of his life. You may see Sanders doing a demo at a mom-and-pop grocery store, Celiacs meeting or kids' pizza party –complete with chef's hat, hotplate and skillet; or teaching tennis to kids; or – the ultimate sacrifice – donating one of his kidneys to a local woman and past tennis student. His motto is "One person can make a profound difference in other people's lives."

Seems like a reason to celebrate!
Anyone for pizza and beer?

Cheers!

For books on the Gluten Free lifestyle, view: Gluten Free Book List 
You Should Also Read:
Celiacs Guide to Gluten Free Beer
Hybrid Beer for Celiacs - Gluten Free Beer Recipe
Special Diet Info at SerenDIPity Gourmet Specialties


Related Articles
Editor's Picks Articles
Top Ten Articles
Previous Features
Site Map





Content copyright © 2023 by Carolyn Smagalski. All rights reserved.
This content was written by Carolyn Smagalski. If you wish to use this content in any manner, you need written permission. Contact Carolyn Smagalski for details.