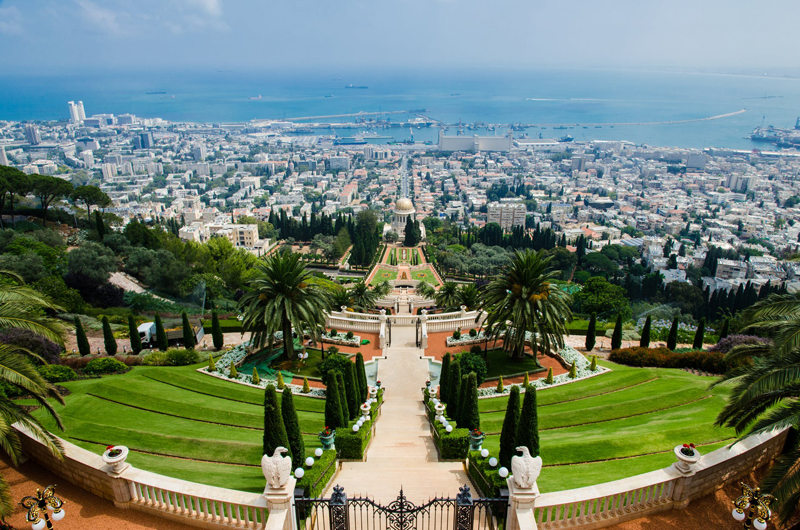 "[Life] brings each one of us crises as well as victories. Our own lives and even the lives of the central Figures of the Faith have been fraught with agony as well as blessing, with failure and frustration and grief, as frequently as with progress. This is the nature of life." – Bahá'í Universal House of Justice,
Quickeners of Mankind,
p. 117
So, if bad things happen to good people, what are we supposed to do about it? That is what religion has addressed from time immemorial, and the Bahá'í Faith is just the latest chapter in that long history. It is interesting that psychology and philosophy, human constructs instead of divine, now also agree that catastrophe is in the eye of the beholder. Medical researchers have discovered that how a person responds to difficulties is critical to health, and further, that the specific response is a within the individual's control.
Much religious and philosophical teaching addresses calamity and suffering, providing explanations as a framework of meaning to assist followers to weather trials and catastrophes. Repeatedly, religion reminds mankind that spirit is more important to happiness than material means. The Bahá'í Faith makes an even stronger point that tests and difficulties are not only inevitable, but also a positive and necessary part of personal development, steps in the process of transformation to and discovery of the importance of spiritual growth. Suffering is both a reminder and a guide that stimulates change and self-improvement.
Spiritual growth is important to Bahá'ís because they believe this material world is only temporary, and the true nature of man is eternal spirit, not flesh: "That which he needs in the world of the Kingdom must be obtained here. Just as he prepared himself in the world of the [womb]...so, likewise, the indispensable forces of the divine existence must be potentially attained in this world.... In that world there is need of spirituality, faith, assurance, the knowledge and love of God. These he must attain in this world so that after his ascension from the earthly to the heavenly Kingdom he shall find all that is needful in that eternal life ready for him.... It is a world of perfections; virtues, or perfections must be acquired [here]." -- 'Abdu'l-Bahá,
Promulgation of Universal Peace,
pp. 225-226
From a Bahá'í point of view, the world is just chock full of opportunities for spiritual growth! Calamities, great and small, internal or external, self-inflicted or undeserved, can assault us daily. And with the increase in communication worldwide, we can be exposed to a steady diet of other peoples' misery in addition to our own. We can also turn that connection around and use it for support.
How often has it seemed like nobody in your family or community understood the problem you were trying to deal with? Have you used the Internet to connect with someone who had 'been there and done that,' so to speak? BellaOnline is all about that kind of information and support!
Medical research into the processes by which the stress of trauma seems to cause both mental and physical illness is making some interesting discoveries about the importance of the meaning people ascribe to their experiences. Religion is all about meaning, and this could be the beginning of strong bridges of harmony between science and religion, a key tenet of the Bahá'í Faith.
Nobody -- not even God, as recorded in religious scriptures -- ever said developing a spiritual response to life's tests would be easy, however. No matter how specific the guidance or clear the answer, applying it to personal difficulties and avoiding or ameliorating suffering will be exhausting and often less than perfectly successful.
The stress-hardy, according to several studies, accept that the best they can do is to struggle, to be patient with themselves and with others, and to mine the experience for important insights along the road to personal development. The religious faithful do that, and trust that no matter how painful or what the source of the trial, they are in the care and protection of a loving God. Both believe the purpose of their lives, including the painful parts, is for their own good.
Two resources which have helped me over the rough spots are compilations of excerpts from the Bahá'í Scriptures:
Fire and Gold: Benefiting From Life's Tests
, compiled by Brian Kurzius (George Ronald). One source is
Special Ideas
but it is also available at Amazon.com, Bahá'í BookSource International, George Ronald Publishers, and libraries.
Divine Therapy: Pearls of Wisdom from the Baha'i Writings,
compiled by Annamarie Honnold. (George Ronald) Available from
Special Ideas
You Should Also Read:
Calamity to me
Dealing with Grief
How Bahá'í Prayers Helped me Cope


Related Articles
Editor's Picks Articles
Top Ten Articles
Previous Features
Site Map





Content copyright © 2022 by Cheryll Schuette. All rights reserved.
This content was written by Cheryll Schuette. If you wish to use this content in any manner, you need written permission. Contact Cheryll Schuette for details.