Gluten Free Beer for Celiacs is REAL BEER !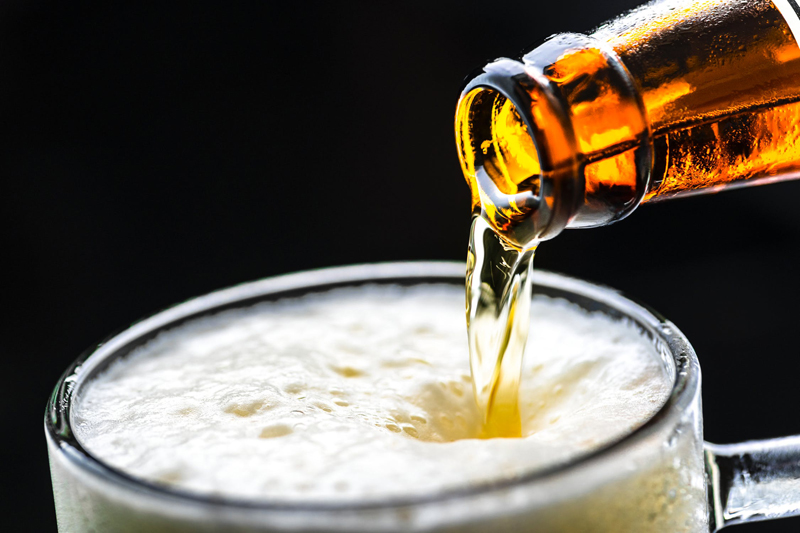 Here you are, all foxed-up for an evening on the town. You have that shiny Pantene-look to your glistening hair, Maybelline has added a sultry come-hither sexiness to your eyes, and those tight-little denims force second glances from every red-blooded American male you pass.

You love the adventure of exploring new and delightful craft brews, and can't wait for a go-around of gourmet beer and French food at your local brasserie. In the back of your mind, you recall the last time you had such fun, and the ensuing abdominal discomfort you suffered.

One explanation could have been a simple one. It is not unusual to drink beer out of a bottle in the United States. If you were in Belgium, where every beer style and signature has its own specialty glass, drinking from the bottle would be taboo. When using a glass, you allow the CO2 in the beer to dissipate into the atmosphere before it is introduced into your stomach, avoiding the feeling that you are a bloated, hot air balloon.

The possibility exists, however, that you are suffering from a condition known as Celiac Disease, also known as Gluten-sensitive Enteropathy, Gluten Intolerance, Nontropical Sprue or Celiac Sprue. In the US, it is estimated that 1 in every 133 people suffer from Celiac Disease, where the average time-spread between first symptoms and diagnosis is 10 years.

Celiac Disease is an autoimmune disorder that launches when a person with sensitivity to gluten ingests foods or beverages that have E1A gluten proteins in their makeup, notably: barley, wheat, rye, spelt, oats, kamut and triticale. These proteins cause a reaction in which the villi within the small intestine flatten and atrophy, making them incapable of absorbing nutrients from ingested food or beverages.

The results can range from abdominal bloating and diarrhea to anemia, osteoporosis, malnutrition, and, as some studies suggest, "a death rate that is 2.6 times higher among those whose diagnosis was delayed for a year, and 3.8 times higher for those who weren't diagnosed for 10 years."

For those who love beer, pasta, bread and cereals, the thought of living without these foods is so great that the potential Celiac delays getting tested, while suffering from the deteriorating effects of the disease. They fear becoming second-class citizens – those who have to "eat and drink weird food" and, more importantly, give up real beer.

Relax, Celiacs!

Gluten Free Beer is REAL BEER!

According to the Alcohol, Tobacco Tax and Trade Bureau (ATTTB), formerly known as the Bureau of Alcohol, Tobacco and Firearms, beer is defined under the 1991 United States Internal Revenue Code as follows:

"Beer, ale, porter, stout and other similar fermented beverages (including sake or similar products) of any name or description containing one-half of one percent or more of alcohol by volume, brewed or produced from malt, wholly or in part, or from any substitute thereof."

As further evidence of Gluten Free Beer's validity, the Association of Brewers - in their newly revised 2005 Beer Style Guidelines - state:
"…as much as it is possible, beer character is not described in terms of ingredients or process. These guidelines attempt to emphasize final evaluation of the product and try not to judge or regulate the formulation or manner in which it was brewed, except in special circumstances that clearly define a style."

It's time to celebrate, Celiacs!
A new category has been introduced in the Brewers Association 2005 Beer Style Guidelines in the Hybrid/Mixed Styles section that is of historical note: Gluten Free Beer.
Subcategory I is defined for "Gluten free malt-based beer made from malted grains" where a minimum of 51% of the fermentable carbohydrates are from malted grains. Subcategory II is defined as "Gluten Free Beer", within which all other gluten free beer would be categorized.

This is great news. In addition to the great Gluten Free Beers already developed by Bard's Tale Beer, Ramapo Valley Brewery, New France Beers, Green's Discovery, O'Brien Brewing, Bi-Aglut, Hambleton Ales, Fine Ale Club and Heron Foods (available in Sainsburys Supermarkets in the UK), this new category in the Brewers Association Guidelines opens up the world of experimental brewing to a greater portion of the population. The results will be the presentation of a greater selection in fine craft beer for the Celiac, with greater satisfaction in social pleasure.

Cheers!br>
For books on the Gluten Free lifestyle, view: Gluten Free Book List
 
You Should Also Read:
Ask the Beer Fox - Is Bud Safe for Celiacs ?
Gluten Free Beer & Party Food for Celiacs
Hybrid Beer for Celiacs - Gluten Free Beer Recipe


Related Articles
Editor's Picks Articles
Top Ten Articles
Previous Features
Site Map





Content copyright © 2023 by Carolyn Smagalski. All rights reserved.
This content was written by Carolyn Smagalski. If you wish to use this content in any manner, you need written permission. Contact Carolyn Smagalski for details.